Access CareConnect Provider mobile app (iOS and Android) or CareConnect Provider Web.
The Home page in CareConnect provides an overview of data summarized from Students, Attendance, Subsidies/Time Sheets, and Billing. Here you can view number of students enrolled, a table view of attendance records, count of subsidies time sheets and payments, and a total amount of outstanding invoices for your private pay programs if any available.
This guide will show you how to navigate through the different sections in the Home page.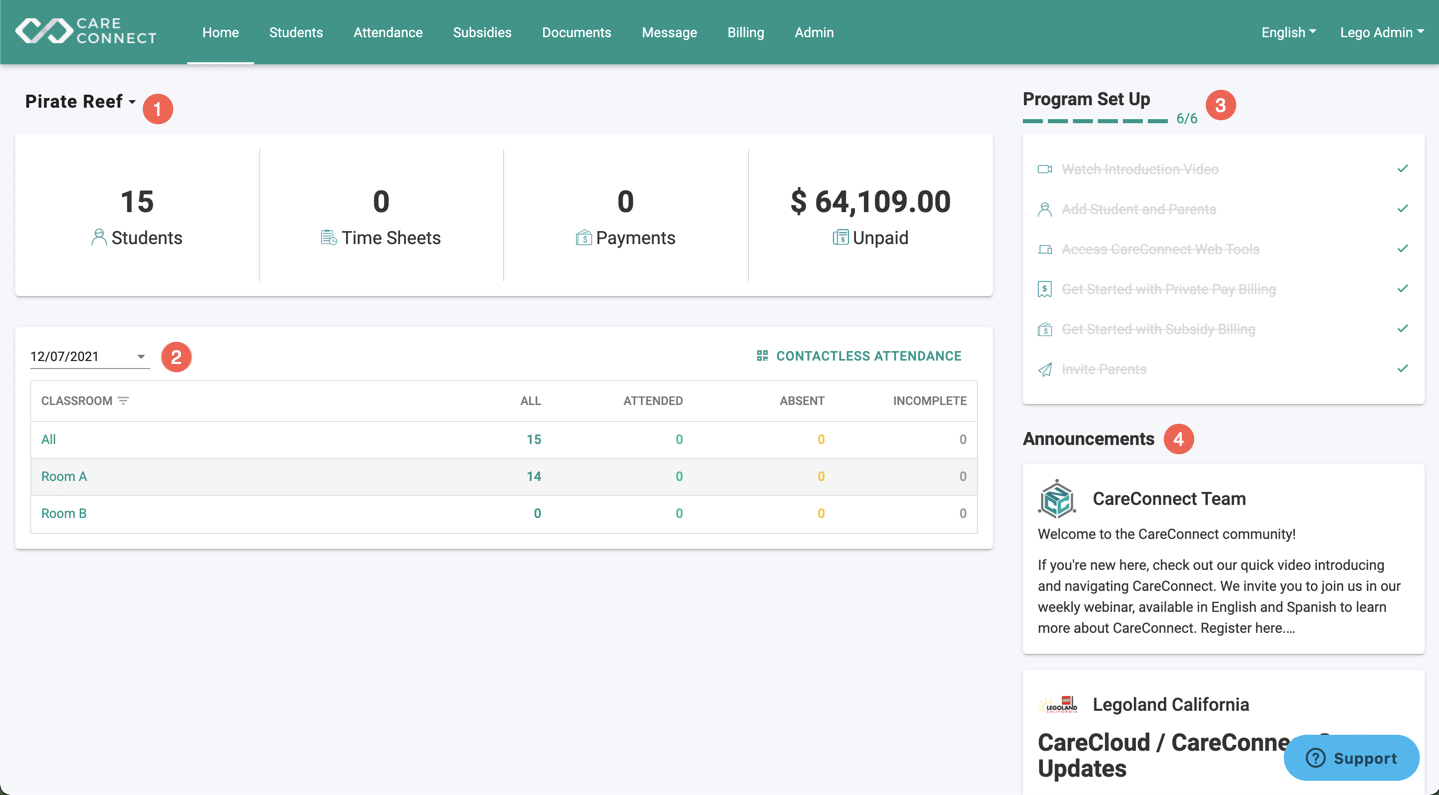 1. Site selection & Data table
The Site displayed is the default site that you have chosen in the Admin page or your administrator may have set up for you. You can click on

to switch between the different Sites you have access to and view that site's records of students count, subsidy time sheets and payments counts, and total unpaid amount.
2. Attendance
By default, the attendance summary shows the current time's attendance information for all students within the selected Site. You can click on

to open up the calendar to switch between any days to view the attendance summary for that day in the selected Site.
TIPS:
You can click on the header row in the attendance summary to filter or sort classrooms. Clicking on the CLASSROOM header will allow you to filter out classes. Clicking on ALL, ATTENDED, ABSENT, OR INCOMPLETE header will sort the classrooms numerically.
is a quick way to access the selected site's QR code for contactless attendance usage.
3. Program Set Up
This is your quick access to the knowledge based articles to learn more about CareConnect from enrolling students, accessing web tools, billing process, etc. Once you have reviewed a topic, that topic will be checked off as completed.
4. Announcements
This lists the different announcements from the CareConnect Team to your Agency and/or connected subsidy childcare Agency.
Click on the the specific announcement will open the announcement to view the entire content.