Access CareConnect Provider mobile app (iOS and Android) or CareConnect Provider Web.
This article will provide an overview of the student tab and explains the functions of each button on the student module. When you need help with adding students, group editing their tags or status, sending PINs to parents, or fixing any students' information, this page will guide you through on how to find and update this information.
I. Video Tutorial
II. Written Tutorial
1.

Navigation and Search Options
When logging into CareConnect and accessing to the Students Module at the top, you will be directed to the All Students section with a list of all students in your program. Near the top of the page is a set of different operational buttons: Add, Group Sends PIN and Video Tutorial.
Add
Under +Add, there are different actions to enroll students into CareConnect: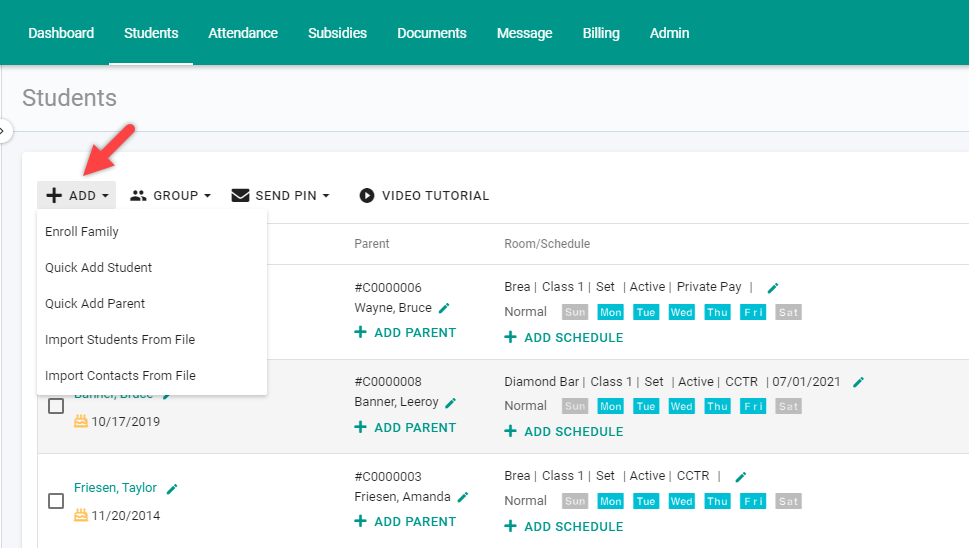 Group
Under the Group selection, you can delete, update/remove tags, or change statutes for many students at once. You can click on the group drop-down to either update current students' information or delete batches of students.
Steps: Select student(s) -> Click on Group -> Choose a desired action (update/delete)
Update: Group updates students' tags and statues. you can create/remove multiple students' tags altogether or alter their status.

To create/remove a tag, follow the tag with Enter key

Delete: Remove the selected student(s) completely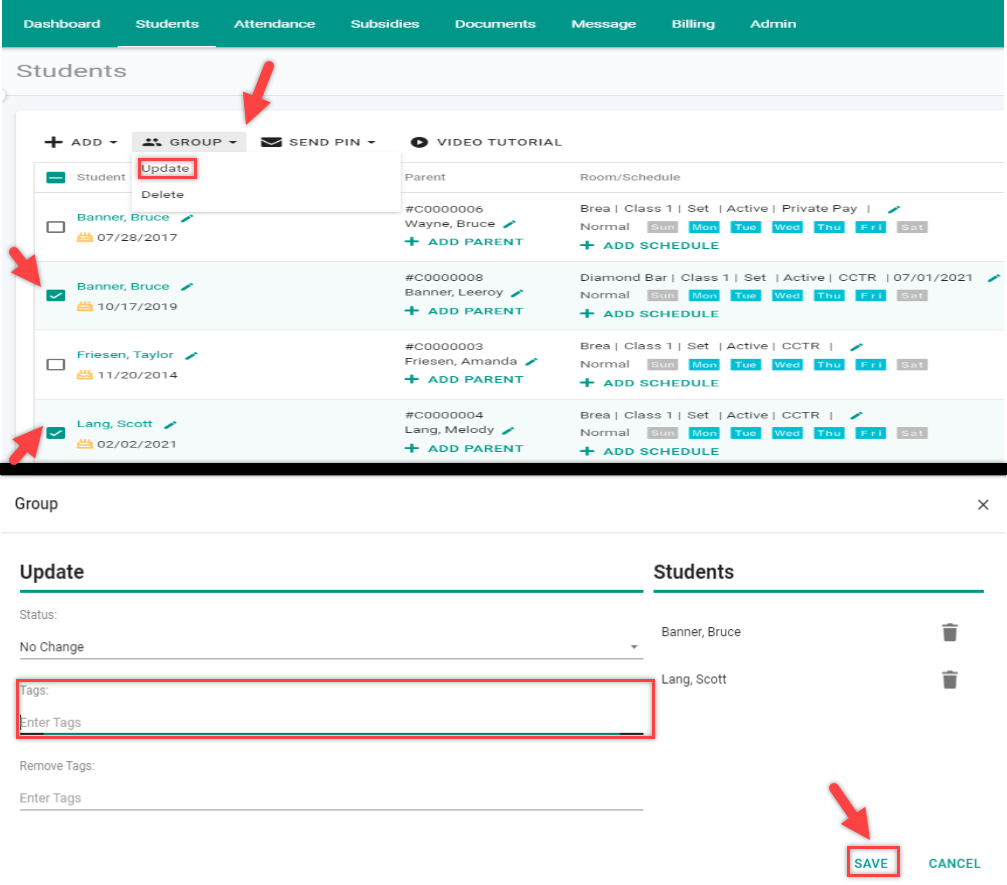 Note: Once Delete is selected, the system will reconfirm the student(s) that are to be deleted.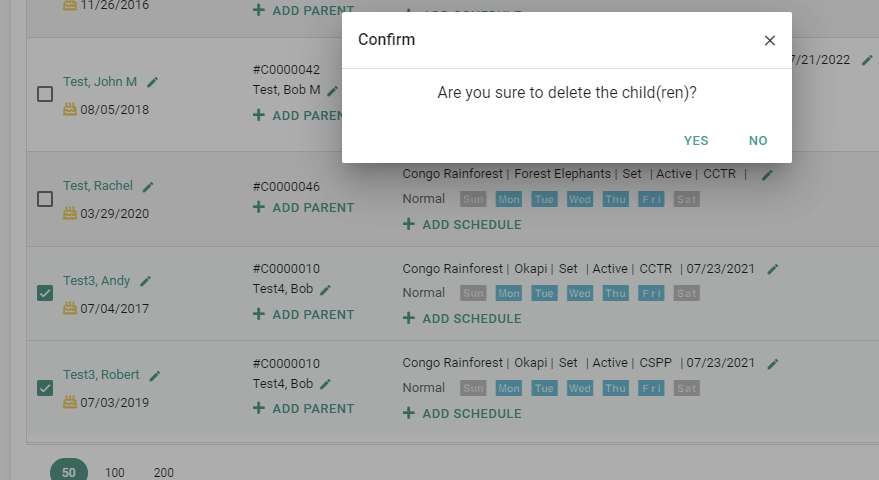 Send PIN
Under the Send PIN, select the action to send the PINs to parents. You may need to send parents' PINs when they forget their PINs that are required to sign in/out students.
Steps: Select student(s) -> Click Send PIN -> Select Email Sign-in Guide or Text Sign-in PIN
Email Sign-in Guide: Send each parent's PINs in the guide through email.
Text Sign in PIN: Send parents' PINS via text.

Filter students
If you need to find a specific student, you can filter them out with 3 ways: search bar, site & classroom, and more filters
Search Bar: Search by student's name, parent's name, emergency contact name, or family ID.
Site & Classroom: Filter students based on specific classrooms.
More Filters:

Start Date: Filter students that are active after the start date
End Date: Filter students that are active before the end date
Student Status: Filter students by their enrollment status [Active, Pending, Inactive, or Graduated]
Student Tag: Filters students with a specific tag(s)
Program: Using this filter you can search students under specific program(s) [CCTR, CSPP, PP, Summer program, etc.]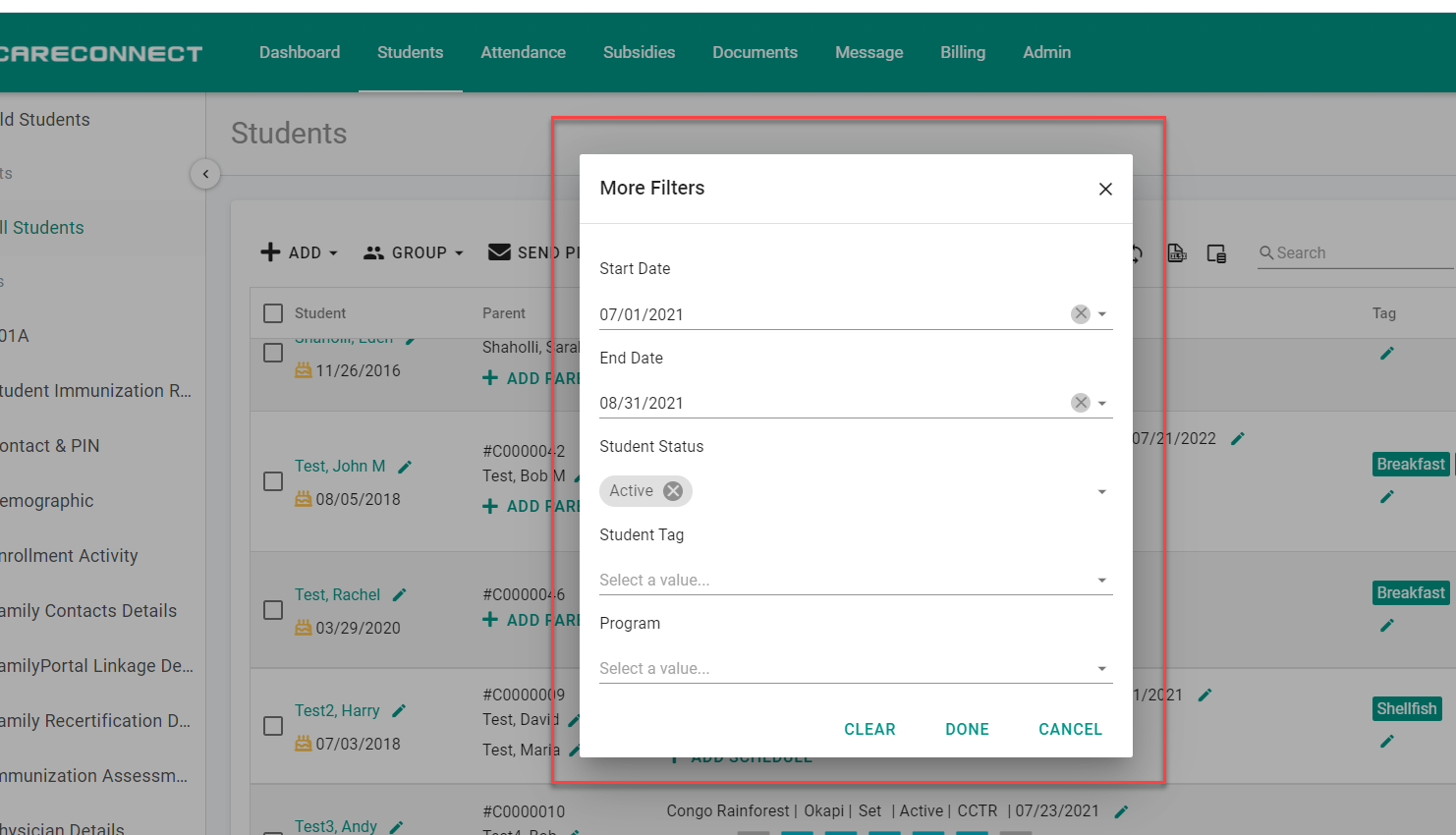 Export All Data
You can export the student module page by clicking on the Export All Data icon. This generates a list of students from your search result in an Excel sheet.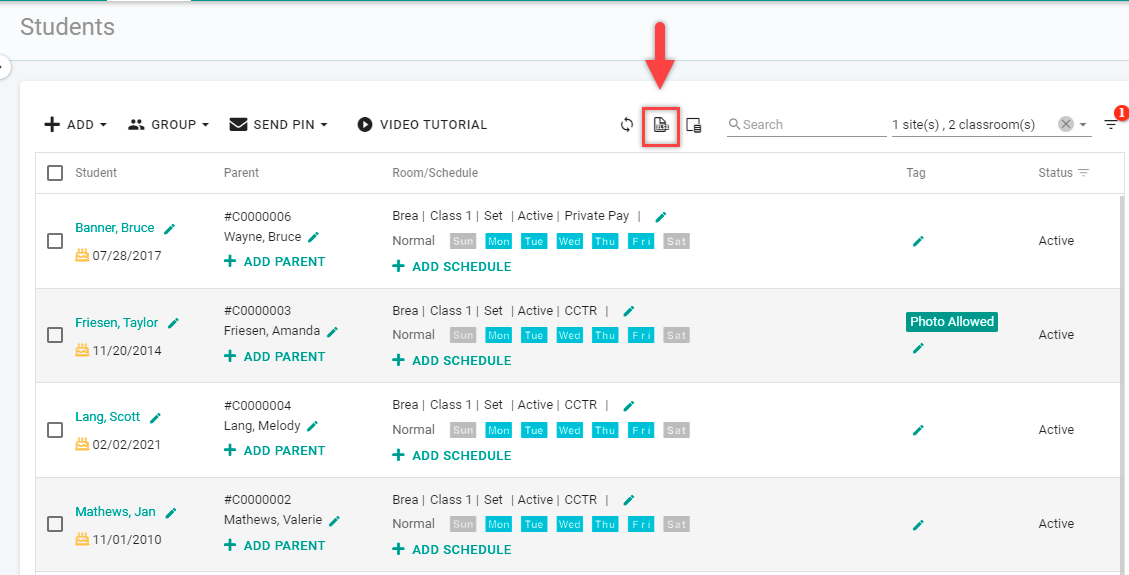 Refresh
If you need to refresh the page without losing the filtered information that you have added, you can manually refresh your page using the Refresh icon. This displays any newly updated or added information.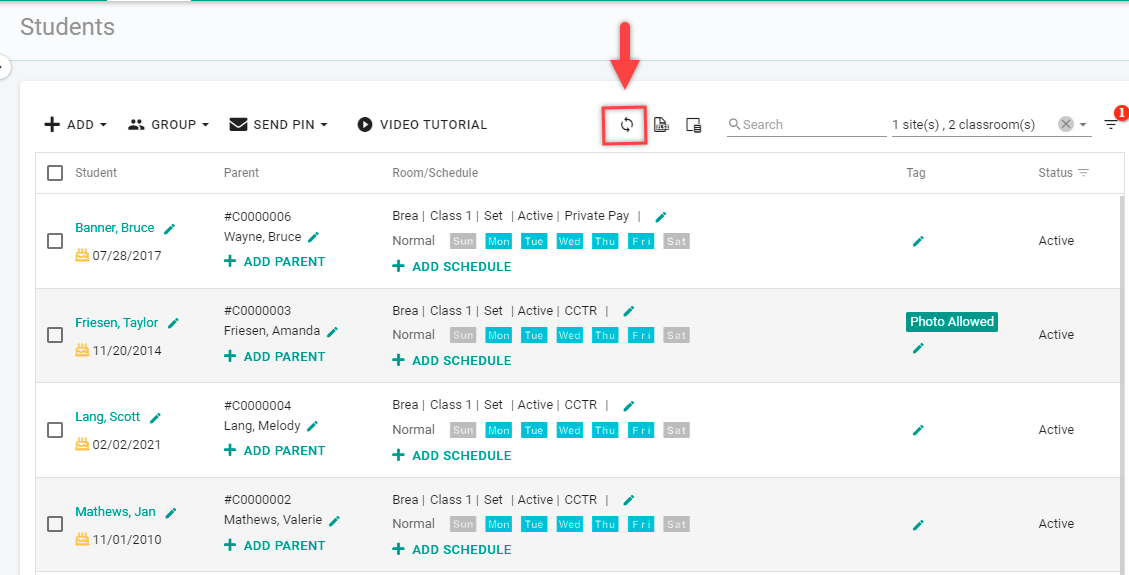 Column Chooser
The Column Chooser allows you to add or remove the columns being displayed. You may need to filter the information that's displayed when you want to focus on a specific section of a student. You can use this feature by clicking the symbol and selecting or unselecting the columns you wish to see. The column types are:
Student: Displays the student's first and last name and their D.O.B
Parent: Displays Family ID and the parent's first and last name
Room/Schedule: Displays the site & classroom, status, and program
Tag: Displays any tags a student has on file
Status: Displays the current enrollment status of a student
2. Search Results Display Columns
Student Column
Under the Student Column, select the pencil icon to quickly update students' general information such as First Name, Middle Name, Last Name, and Date of Birth.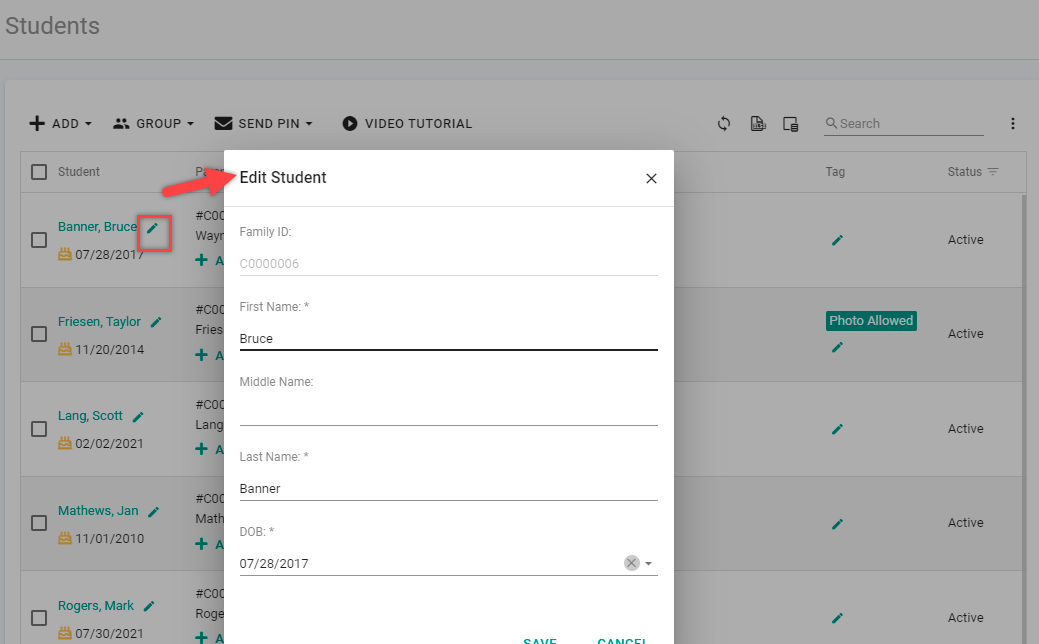 Parent Column
Under the Parent Column, select the action to update Parent's general information such as First Name, Middle Name, Last Name, and Cell Phone. You can also disable or enable the pick-up authorization for the listed parent.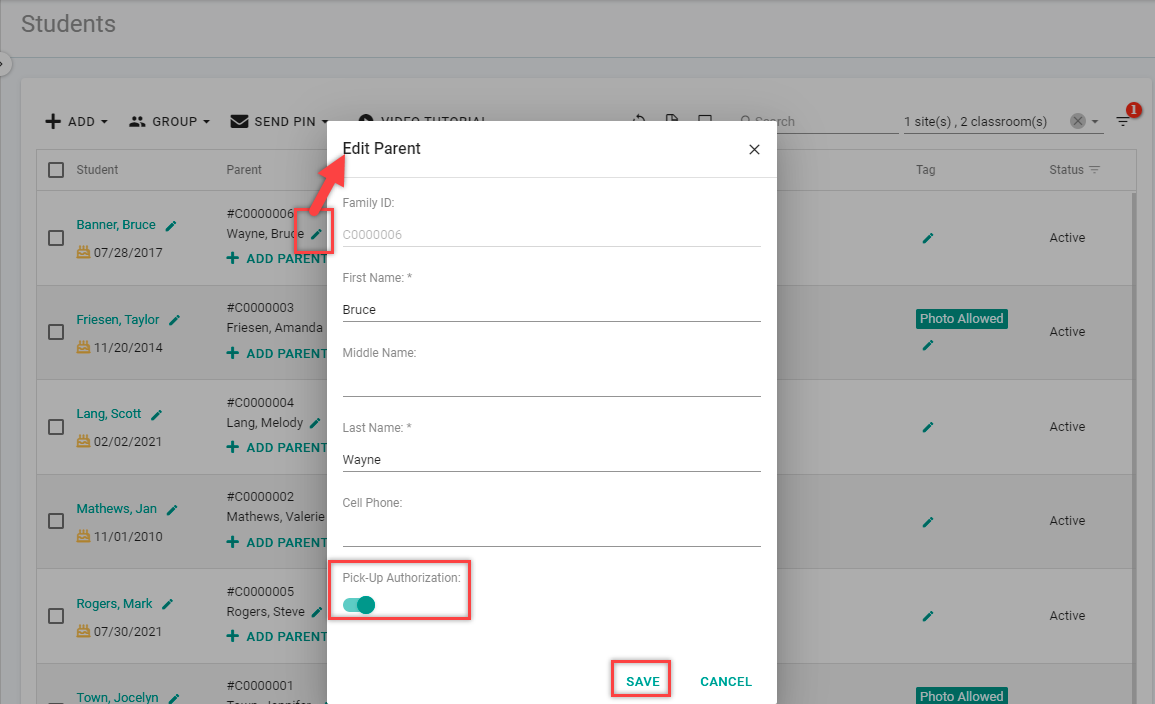 Room/Schedule Column
Under the Room/Schedule Column, select the action to update the student's enrollment information.
This section allows you to edit or add a student's schedule:
(1) Clicking on the pencil icon, you can edit the program, site, classroom, start date, and end date by choosing from the information in the dropdown menu.
(2) Selecting the Add Schedule feature allows you to add a new schedule that includes the program, site, classroom, start date, and end date for the student.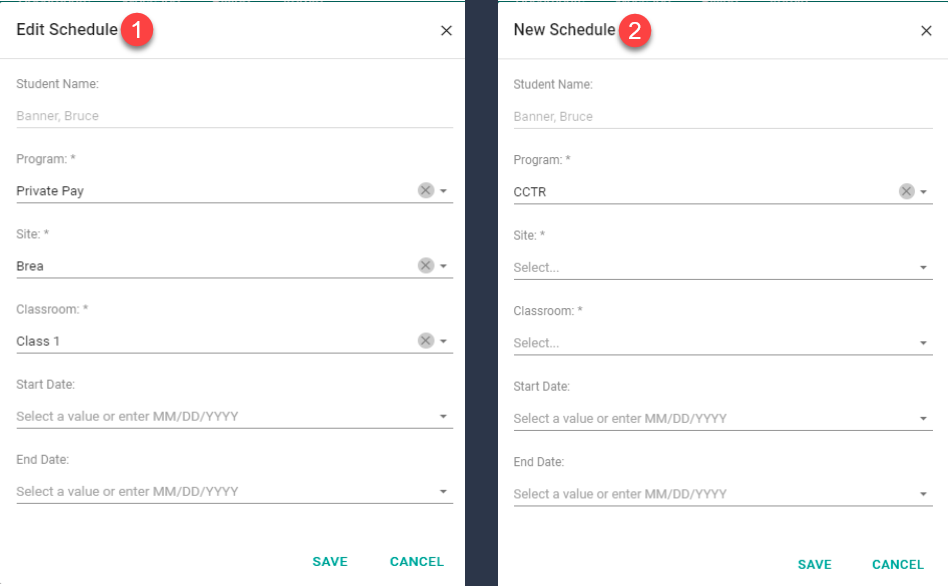 Tag Column
Under the Tag Column, you can select tags that you hope to show on the overview page for a specific student.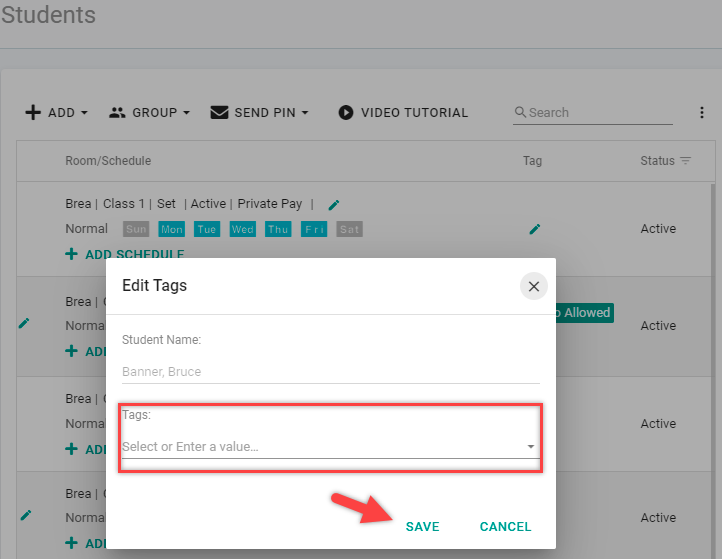 Status Column
The Status Column displays the current state of the student. You can see one of the following four statuses:
Active: Currently enrolled in a program
Inactive: Not currently enrolled in a program
Tips: if the student has previously enrolled but dropped out due to some reason, the status will also be shown as inactive.
Pending: Enrolled in a program but is waiting for a start date
Graduated: Once actively enrolled in a program but finished under the program
You are not able to change the student's status from the menu below. You need to click on the student's name and change the status from the respective student's profile.