Access CareConnect Provider mobile app (iOS and Android) or CareConnect Provider Web.
CareConnect offers agencies and families the convenience of collecting online electronic payments via Autopay. Autopay allows staff to assess expected revenue in advance and families do not need to worry about submitting payments each month.
This article will address the process of how an agency or center can collect payment card information for auto pay including:
A. How to enable Auto Deduction
B. How to register for a Stripe account
C. How to enter card information for parents
A. Enable Auto Deduction
Go to your Admin module → Billing → Payment tab


Note: To enable the Payment tab, the Configuration tab must have the Enable Online Payment ON. Once turned ON, please refresh your page to see the Payment tab.

Enable Auto Deduction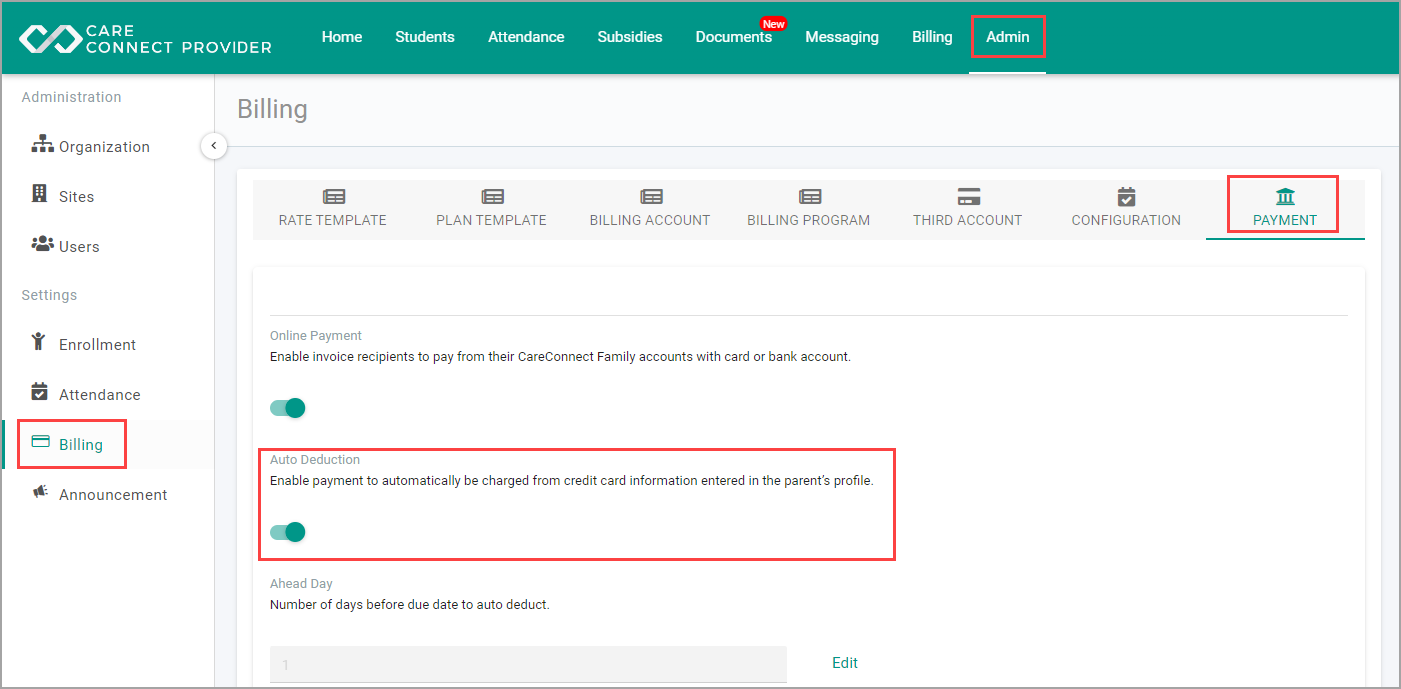 B. How to register for a Stripe account
Please refer to the following link to learn How to create and link a Stripe account to CareConnect
Once done, feel free to select the pencil icon to rename the Stripe account for internal tracking.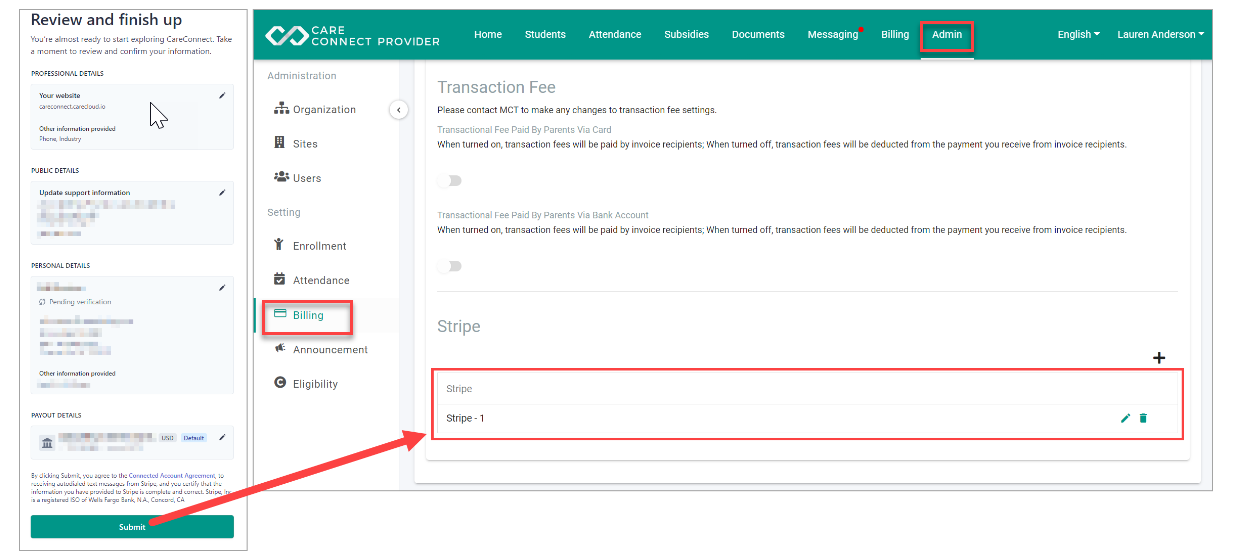 C. How to enter card information for parents
In order to process electronic payments, enter the card information for Parent A. This can be done one of two ways:
I. From the Family Profile, find the Parents/Guardians section, and in the Parent box, click to Set Up Card.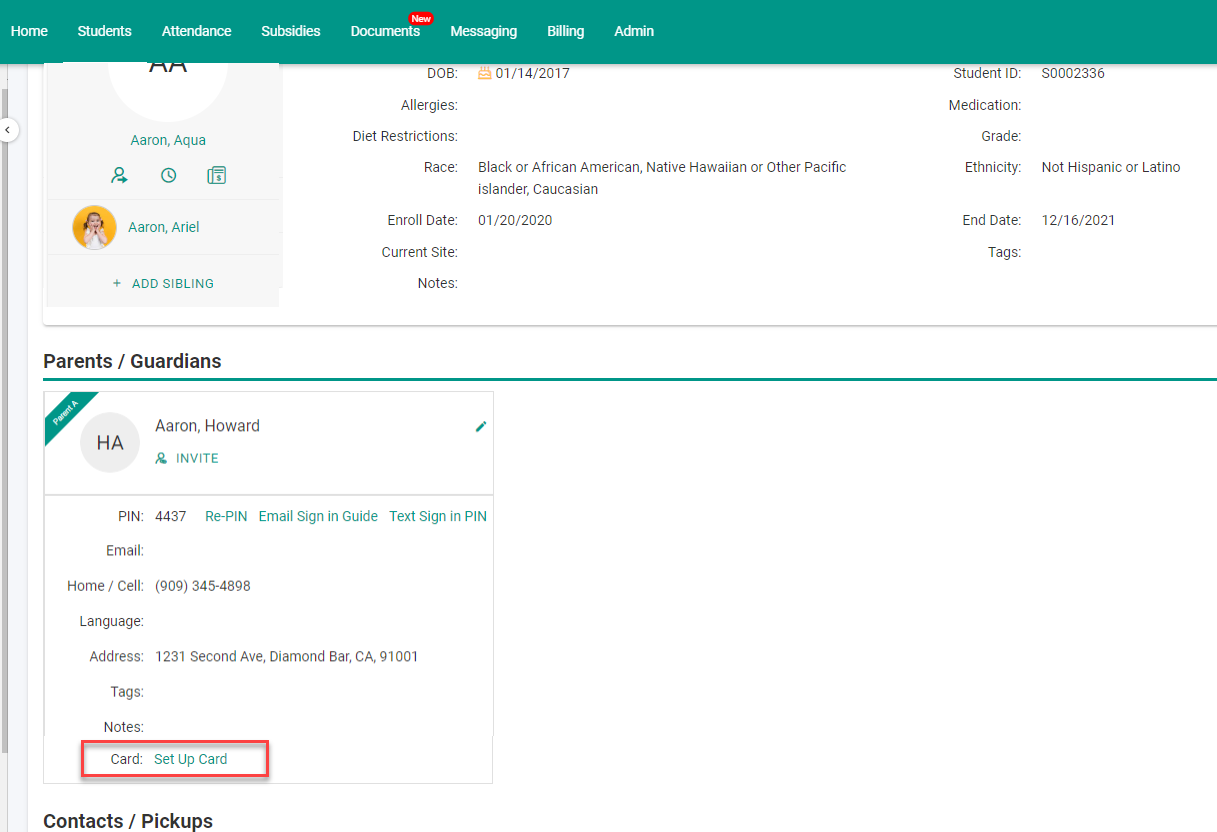 II. Or, from the Billing module → Overview return the desired site list of parents. Select the +Set Up Autopay link to transition to the Student → Profile tab. In Parents/Guardians, and in the Parent A box, click Set Up Card.

A pop-up window will appear for you to enter the parent card information; select Create.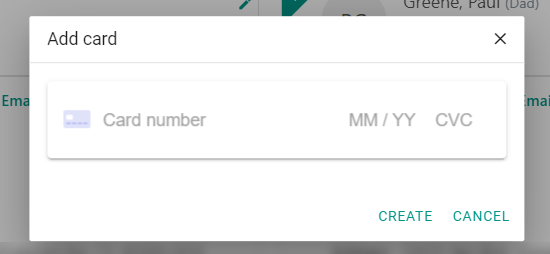 When saved, only the last 4 digits of the card number will appear in the parent profile view. If the card number or expiration date is not valid, the system will alert you in red font.
Now, depending on the Ahead Day value within your Admin module, payment will auto-deduct as the due date of an invoice approaches for the family. To learn more about the Ahead Day, please click here.
To learn how to manually Get Payment, please click here.