Access CareConnect Provider mobile app (iOS and Android) or CareConnect Provider Web.
English:
In CareConnect, the tag is a quick way to identify students or family members by different keywords. There is no limit on how many tags can be used in each record.
The Tag Details page allows you an easy way to manage all available tags, such as creating a tag, editing a tag, or printing a report of all tags used. This guide will provide different uses under the Tags Details page under the Students Module.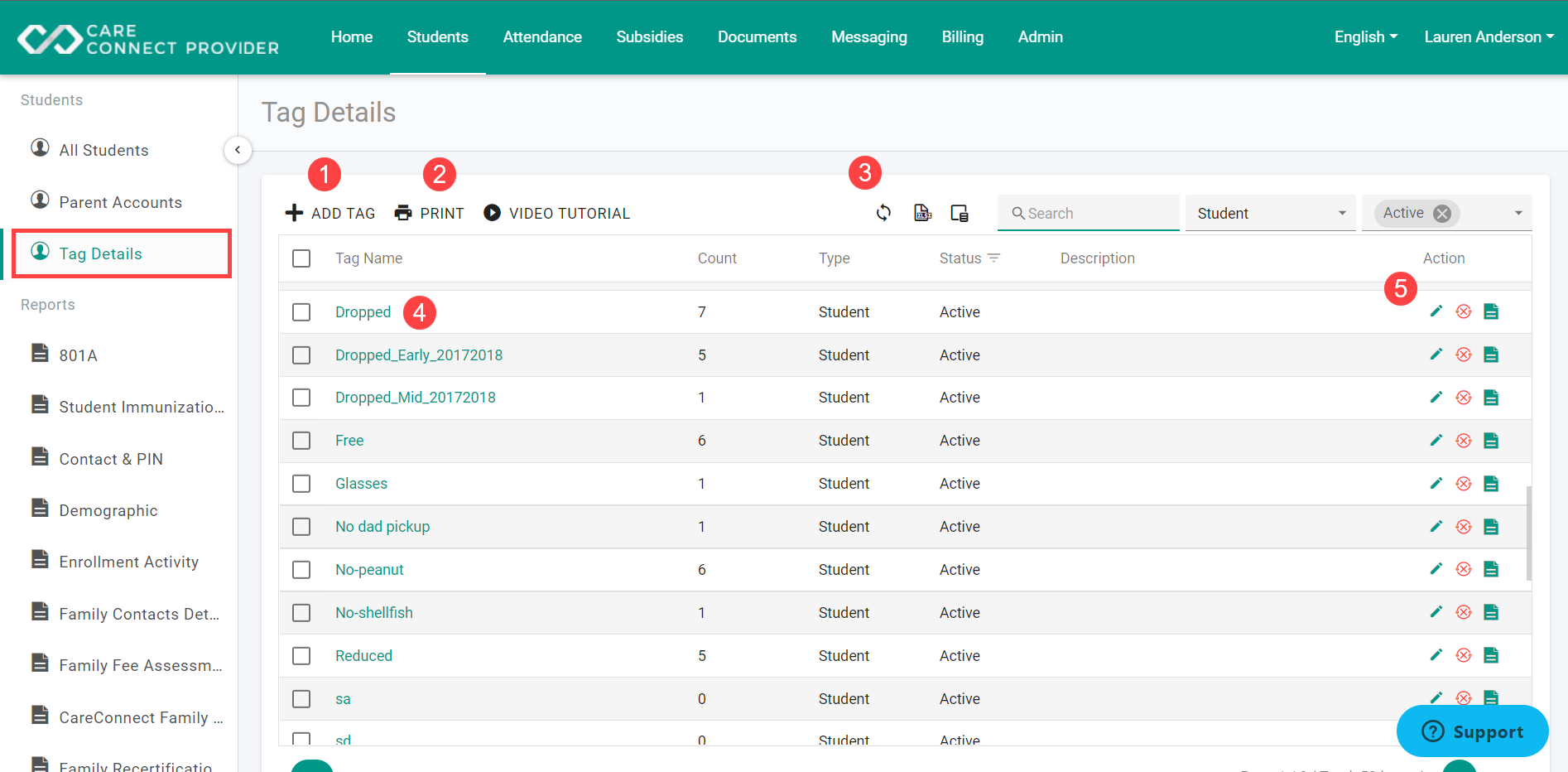 1. Add Tag:
Click Add Tag to quickly create a new tag. A pop-up window will open to fill out the details for this tag:
Tag Name: The name for this new tag.
Type: The tag type is to determine whether the tag can be either for a student or a parent.
Status: The tag status shows the current state of the tag.

If a tag is voided, it cannot be added to a student or parent until it is activated again.

Description: This is an optional field to describe the current tag.
TIP: By default, the tag type is set to Student, and the tag status is set to Active assuming that you'll soon add students to this new tag.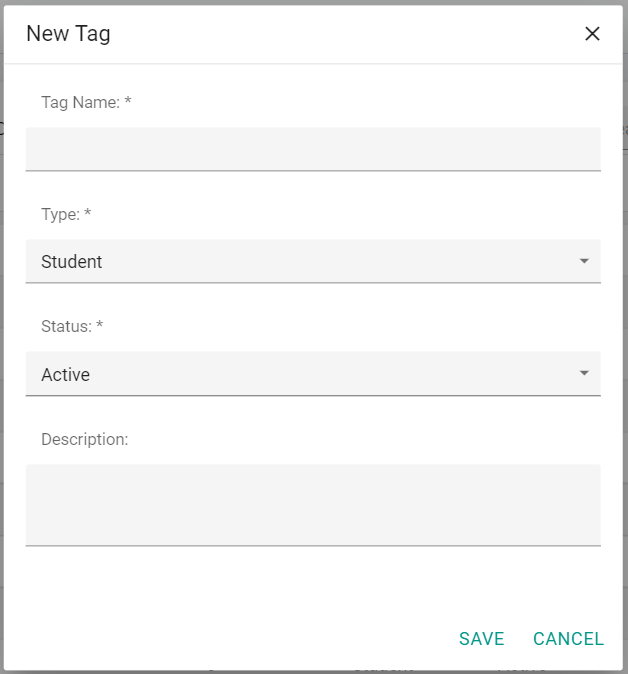 2. Print:
Select a tag → Click Print to preview the selected tags' details including students or parents attached with chosen tags and their details.
export the Tags Details as a .xlxs file
refresh the information on the Tags Details page
TIP: Click on the name header to sort students or parents based on a specific header. For example: By clicking on the "Student" header, each tag will sort alphabetically based on the student's name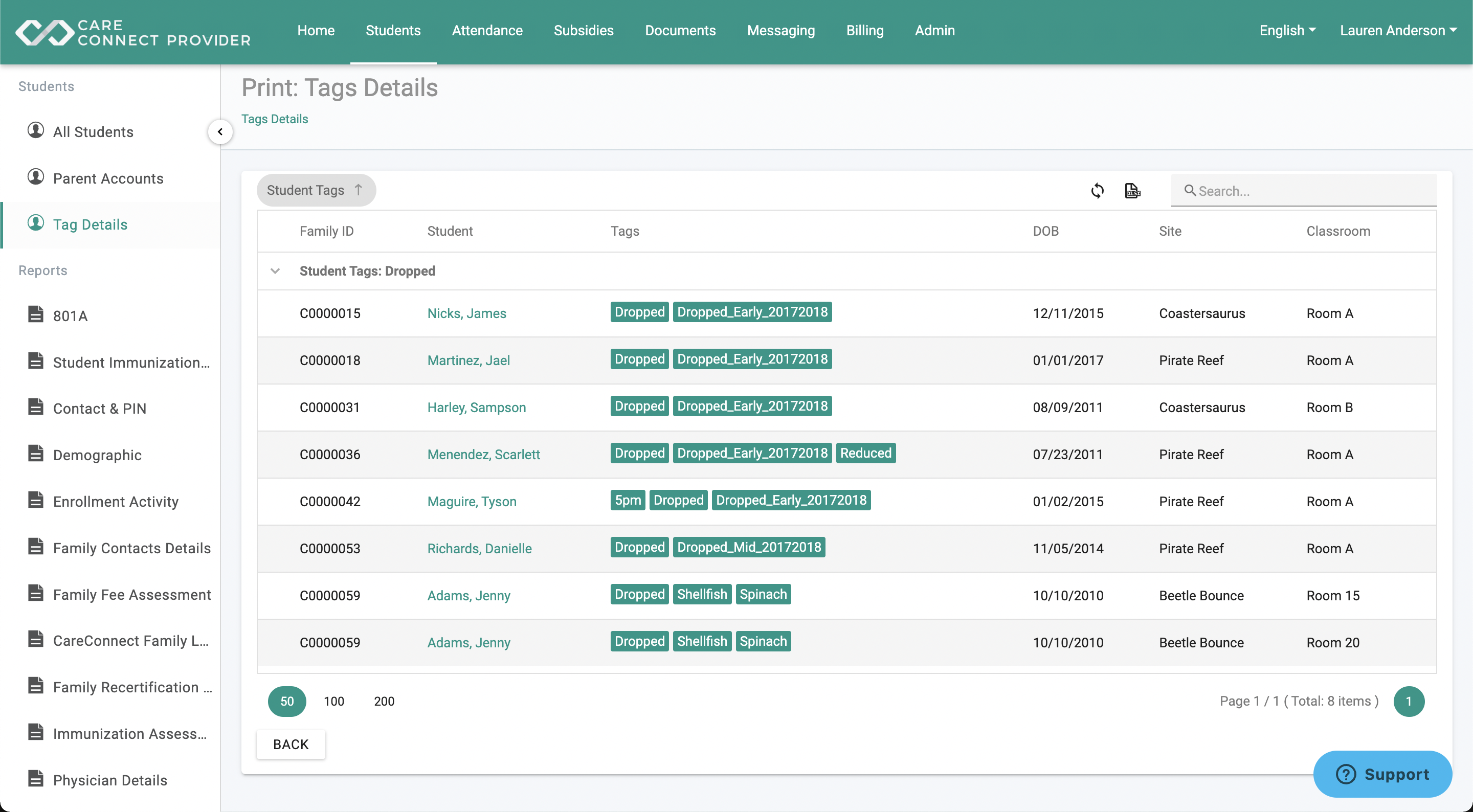 3. Filter Options:
refreshes the page without resetting the other filter that has been applied on Tags Details.
Export the Tags Details page in .xlxs format.
selects/deselect rows that you wish to see/hide on Tags Details.
finds a specific tag by name.
Tag Type is a selection for either a student tag or a parent tag. Student tag type selection is the default selection; change the tag type to Parent if you need to view parents' tags.
Tag status is a to view all tags by each status. Active tag status selection is the default selection; change the tag status to Voided to view the deactivated tags.
4. Tag Details
To view each tag's information in detail --> Click on the specific tag name.
a. EDIT: update the tag's name, status, or description
b. +ADD: associate the tag with more students
c. Details table:
Family ID: the student's family ID
Student: clickable to go into the student's family profile
Tags: all the tags for that specific student, including the currently viewed tag
DOB: student's DOB
Site: clickable column to filter out specific site
Classroom: clickable column to filter out specific classroom
Action: delete button can disassociate the student from the current tag in that row
5. Actions
quickly edit the tag's name, status, and description
void the current tag; if the tag is in use, voiding the tag will remove all students from that tag
view the log history of the tag: log time of each tag action, log the content of change being made, and the user who made the change to the tag
Español:
En CareConnect, la etiqueta es una forma rápida de identificar a los estudiantes o miembros de la familia mediante diferentes palabras clave. No hay límite en la cantidad de etiquetas que se pueden usar en cada registro.
La página Detalles de Etiqueta le permite administrar fácilmente todas las etiquetas disponibles. En esta sección puede crear una etiqueta, editar una etiqueta o imprimir un informe de todas las etiquetas utilizadas. Esta guía proporcionará diferentes usos disponibles en la página Detalles de Etiquetas, localizado en el Módulo de Estudiantes.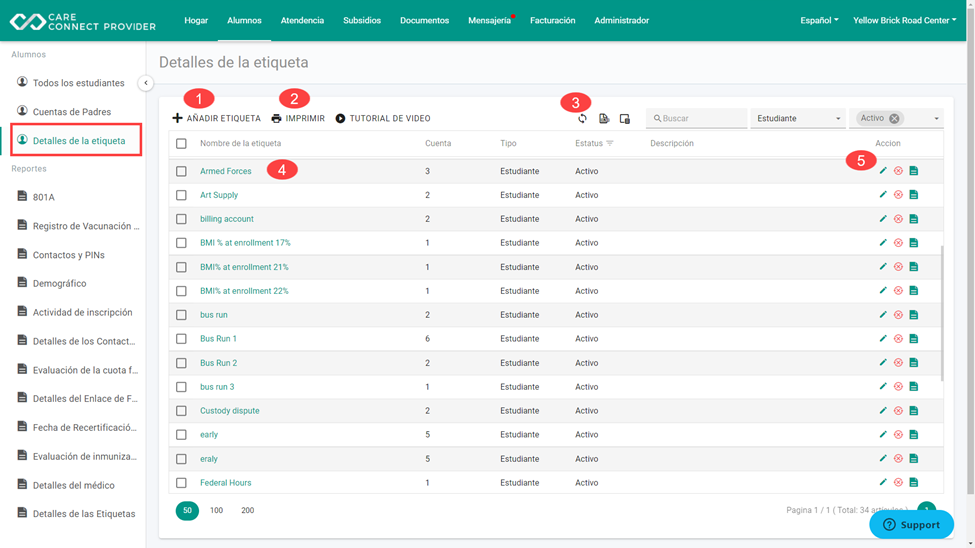 1. Añadir Etiqueta:
Haga clic en Anadir Etiqueta para crear rápidamente una nueva etiqueta. Se abrirá una ventana emergente para completar los detalles de la etiqueta:
Nombre de la etiqueta: el nombre de esta nueva etiqueta.
Tipo: El tipo de etiqueta es para determinar si la etiqueta será para un estudiante o un padre.
Estado: El estado de la etiqueta muestra el estado actual de la etiqueta.

Si se anula una etiqueta, no se puede agregar a un estudiante o padre hasta que se active nuevamente.

Descripción: este es un campo opcional para describir la etiqueta actual.
SUGERENCIA: De manera predeterminada, el tipo de etiqueta se establece en Estudiante y el estado de la etiqueta se establece en Activo, suponiendo que pronto agregará estudiantes a esta nueva etiqueta.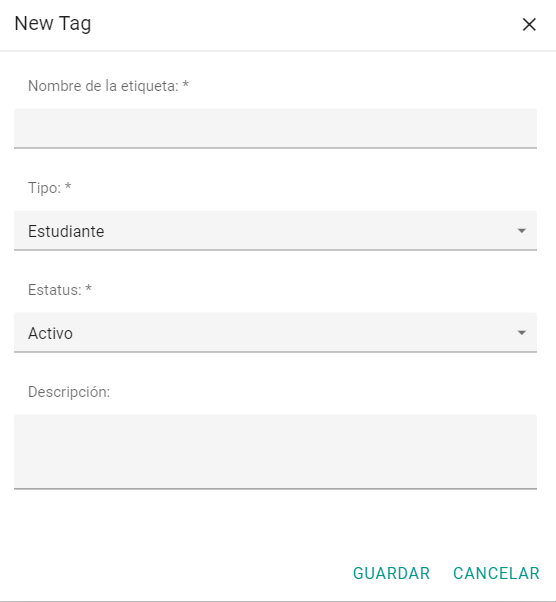 2. Imprimir:
Seleccione una etiqueta → Haga clic en Imprimir para obtener una vista anticipada de los detalles de las etiquetas seleccionadas, incluidos los estudiantes o padres ligado con las etiquetas elegidas y sus detalles.
exportar los Detalles de las Etiquetas como archivo .xlxs
actualizar la información en la página Detalles de Etiquetas
SUGERENCIA: Haga clic en el encabezado del nombre para ordenar a los estudiantes o padres según un encabezado específico. Por ejemplo: al hacer clic en el encabezado "Estudiante", cada etiqueta se ordenará alfabéticamente según el nombre del estudiante.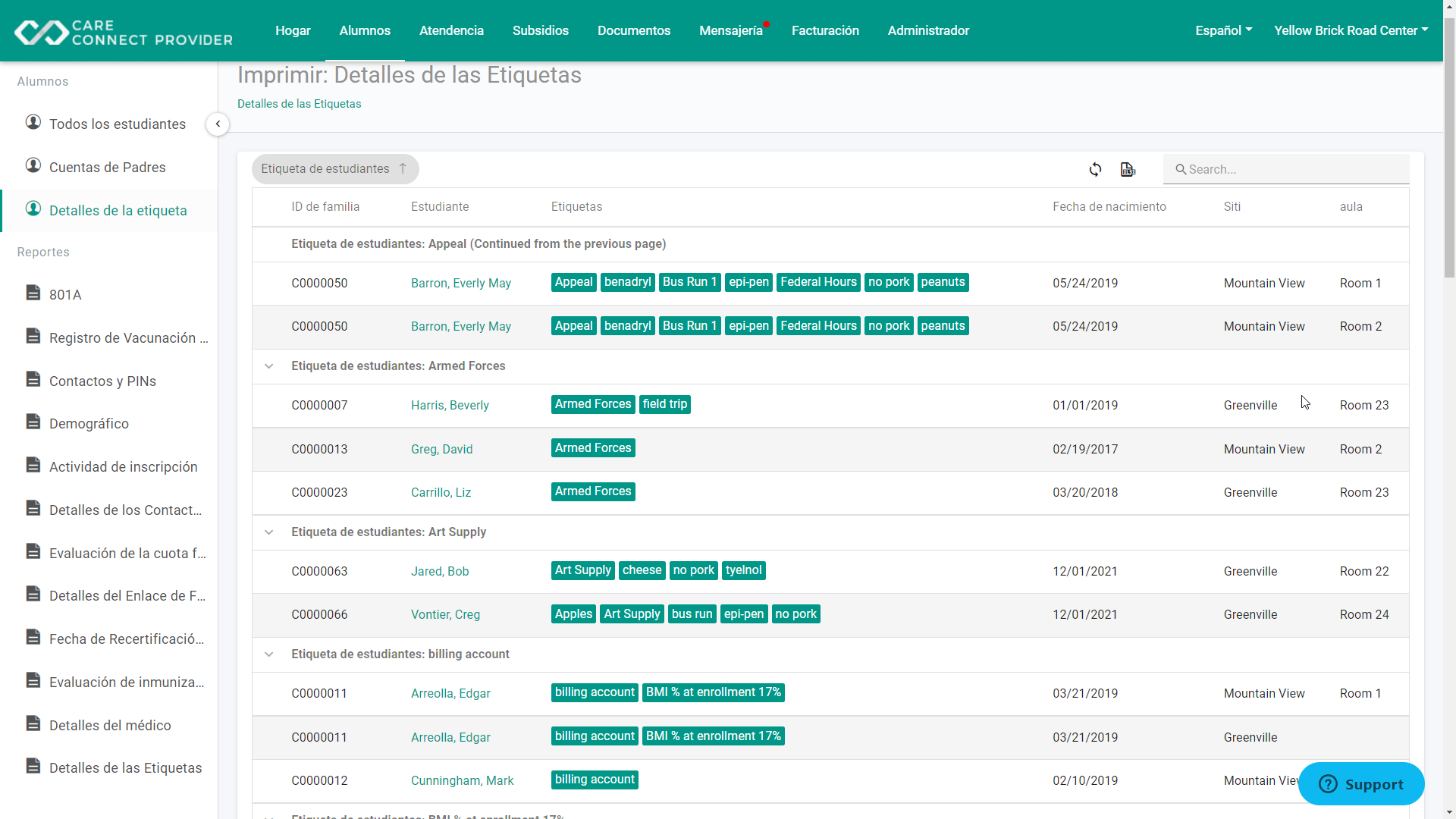 3. Opciones de filtro:
actualiza la página sin restablecer los otros filtros que se han aplicado en Detalles de Etiquetas.
exporta la página Detalles de Etiquetas en formato. xlxs.
selecciona/deselecciona las filas que desea ver/ocultar en los Detalles de Etiquetas.
encuentra una etiqueta específica por nombre.
Tipo de Etiqueta es una selección para una etiqueta de estudiante o una etiqueta de padre. La selección del tipo de etiqueta de Estudiante es la selección predeterminada; cambie el tipo de etiqueta a Padre si necesita ver las etiquetas de los padres.
El estado de la etiqueta es para ver todas las etiquetas por cada estatus. La selección de estado de etiqueta Activa es la selección predeterminada; cambie el estado de la etiqueta ha Anulado para ver las etiquetas desactivadas.
4. Detalles de la Etiqueta
Para ver la información de cada etiqueta en detalle --> Haga clic en el nombre de la etiqueta específica.
EDITAR: actualice el nombre, el estado o la descripción de la etiqueta
+AÑADIR: asociar la etiqueta con más alumnos
Tabla de detalles:
Identificación Familiar: el numero de identificación familiar del estudiante
Estudiante: se puede hacer clic para ir al perfil familiar del estudiante
Etiquetas: todas las etiquetas para ese estudiante específico, incluida la etiqueta que se ve actualmente
Fecha de nacimiento: fecha de nacimiento del estudiante
Sitio: columna en la que se puede hacer clic para filtrar un sitio específico
Aula: columna en la que se puede hacer clic para filtrar un aula específica
Acción: el botón Eliminar puede desasociar al estudiante con la etiqueta actual de esa fila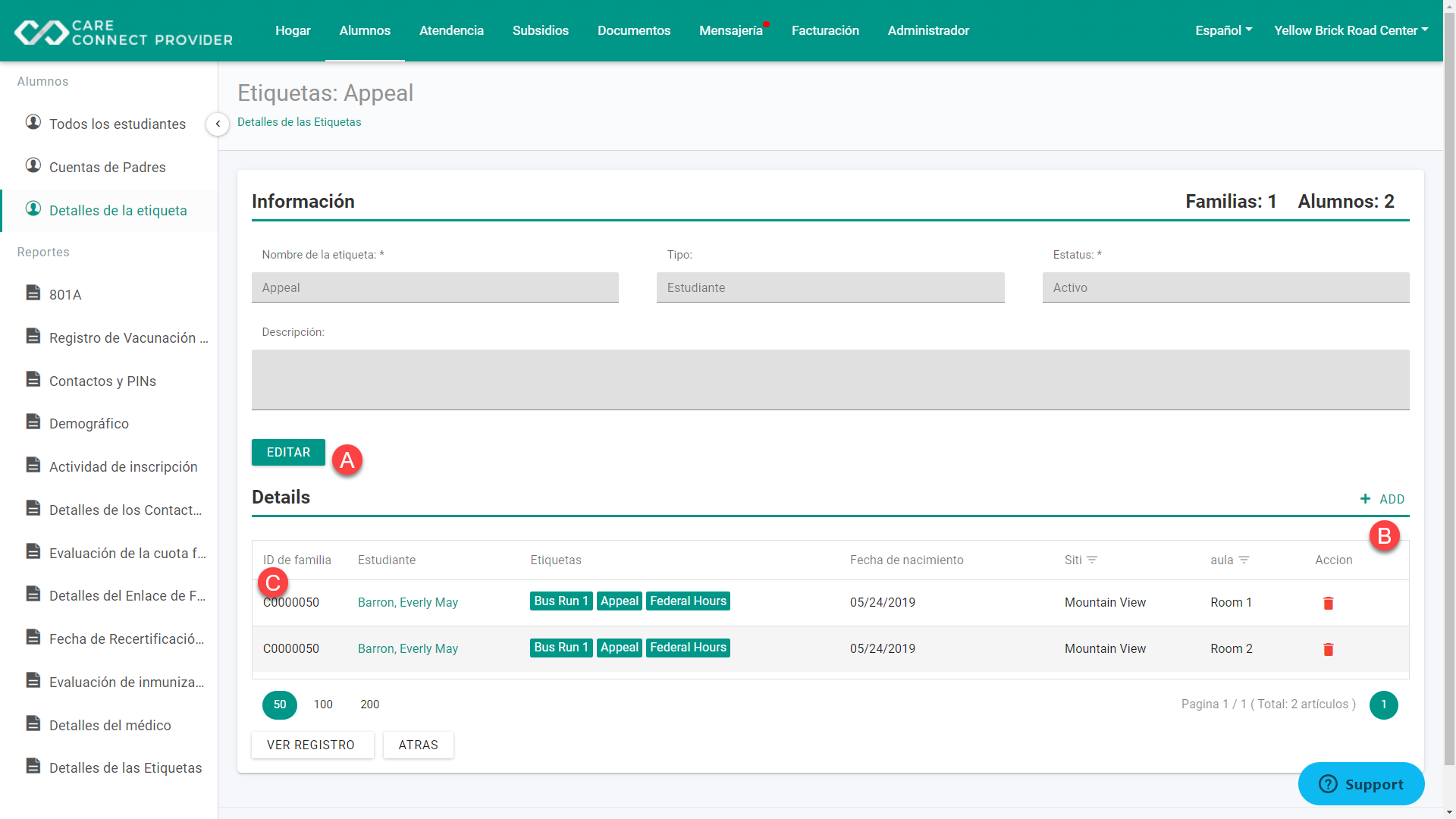 5. Acciones
edita rápidamente el nombre, el estado y la descripción de la etiqueta
anula la etiqueta actual; si la etiqueta está en uso, anular la etiqueta eliminará a todos los estudiantes de esa etiqueta
ver el historial de registro de la etiqueta: tiempo de registro de cada acción de etiqueta, contenido de registro del cambio realizado y el usuario que realizó el cambio en la etiqueta