Access CareConnect Provider mobile app (iOS and Android) or CareConnect Provider Web.
Family Ledger in CareConnect provides specific student(s)' family billing information such as account balance, payment balance, and recipient. Furthermore, it includes detailed transactions, plans, and logs for that family. You can use the family ledger to view all billing-related details for the entire family. This guide explains features such as (printing/creating invoices, creating plans, changing plan status, etc) for a specific family in their ledger page.
Overview: introduces Account/Payment Balance, Recipient, etc.
Transactions: lists all the invoices and payments posted for the family.
Plans: list any recurring/pending plans added for the family.
Logs: gives a view of historical log information of all changes made to the family's billing.
To access a family's ledger, select the desired Student Name from Overview/Plans/Transactions within the Billing Module.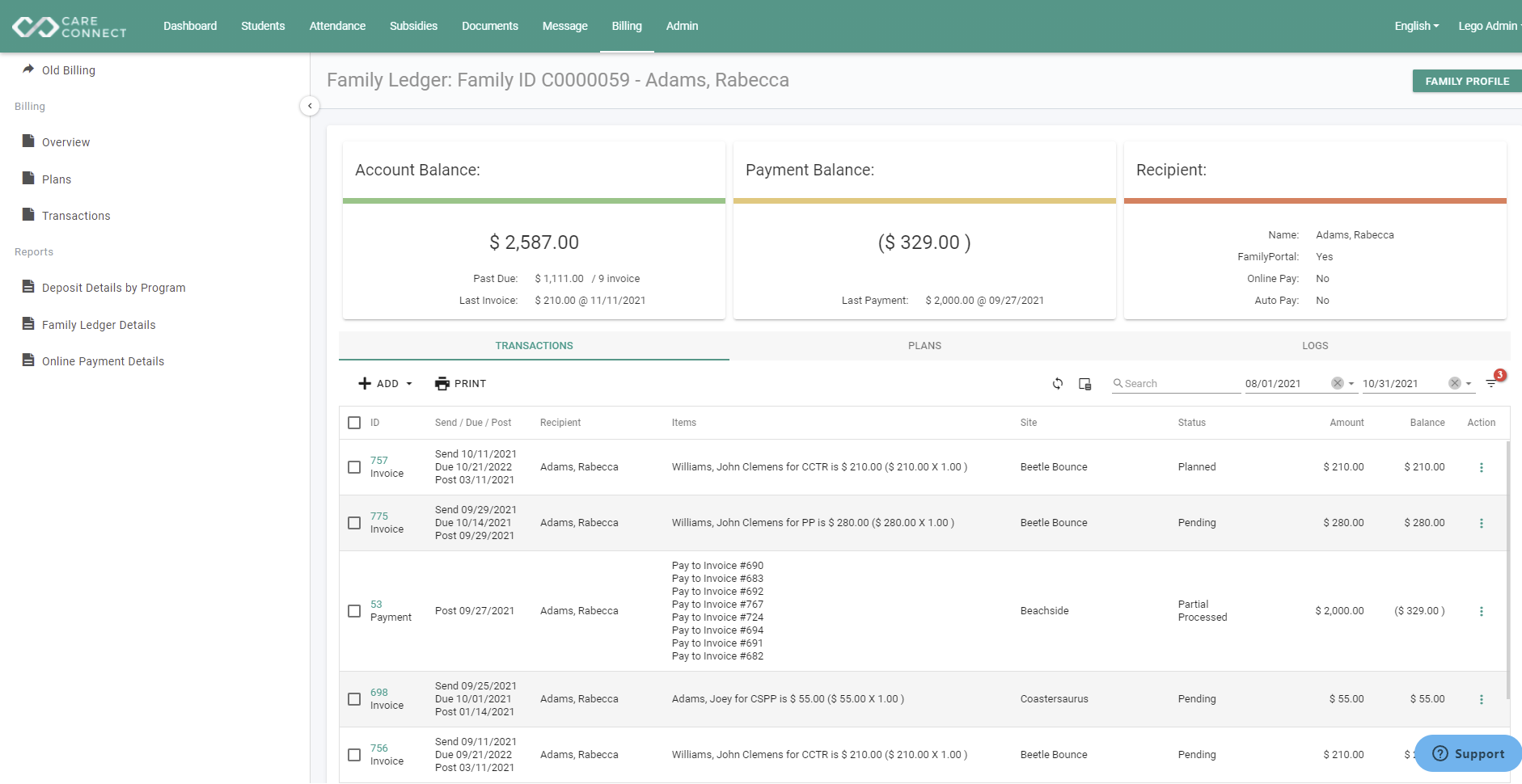 1. Overview
A family's ledger gives you a simple and quick overview of the family's balances and payments information:
a. Family Profile: This is a quick shortcut to view the family and student's enrollment profile.
b. Account Balance: This shows the family's total credit amount and owed amount; or the sum of balance that is due soon or past due and payment balance.
c. Payment Balance: This shows the total credit amount from the family if they have paid more than what they owe.
Note: you can use the existing Payment Balance to Apply the payment to other Invoices. If you need a more detailed explanation of the differences between account and payment balances, click here.
d. Recipient: This shows the recipient in the family who is receiving the invoice including his/her access to FamilyPortal, OnlinePay, and Auto Pay.
Note: Auto Pay is whether or not Parents allow an auto deduction from their account when an invoice has been sent out.
e. Transactions, Plans, and Logs: These 3 sections give a detailed explanation of all invoices/payments for a specific family.
Note: In each of these 3 sections, there are different action buttons available but below are the common actions available:
* Refresh : allows you to refresh the page without losing the filters that you've added
* Column Chooser : available only in Transactions and Plans; allows you to view the Transactions/Plans section with the selected Columns
2. Transactions
This section lists all transactions available for the family.
This allows a great way to view all invoices available for the family, whether it is a newly generated invoice not yet sent to the family to quickly catch errors before it is sent to the family, or a pending invoice that is sent to the family that is pending payment. Payments made by the family are also listed here.
To view an invoice or payment details, simply click on the hyperlink from each Transaction ID.

Transaction Actions:
a.

allows you to add a new invoice or a new payment
Create Invoice: This is to create a new invoice for a single or all student(s) in the family.
Receive Payment: This is to receive an offline payment from the family.
b.

allows you to print any selected transaction
c.

allows different search filters to locate specific transaction(s)
Search Bar: find a specific transaction by its ID
Date Filter: filter transactions by the chosen period
More Filters: filter by invoice status, payment status, or recipient.
d. More actions: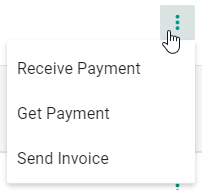 Receive Payment: input payment received in person as check, cash, or other options to apply and distribute to multiple invoices
Get Payment: charges the parent's account through FamilyPortal with the attached bank account or credit card
Send Invoice: sends the invoice to the parent's email and FamilyPortal
3. Plans
This section lists all plans created for the family.
This is helpful to view all plans available for the family, whether it's an inactive plan or a current active plan the family has.
To view plan details, simply click on the hyperlink from each Plan ID.

Plan Actions:
a.

add a plan for only student(s) from this family
b.

filters out plans by plan name, status, or start date
c. More Actions: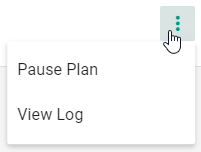 Pause Plan: If a plan is currently active, this action allows you to pause the plan for this family

If a plan is Paused, then you will be able to Resume the Plan to allow the system to continue generating invoices for this family.
To learn more about Plan actions, view Billing Plans for more details

View Log: gives a view of historical log information of all changes made to the chosen plan
4. Logs
This section lists all historical log information of all changes made to the family's billing.
This allows you to track any changes in invoices/payments for this family. There is a search bar to filter based on log content and there's a date filter to search for specific transactions that occur within the chosen periods.