Access CareConnect Provider mobile app (iOS and Android) or CareConnect Provider Web.
English:
If you have students approved under your care with a subsidy childcare Agency(ies), refer to our other article on how to enroll subsidy students in your program.
If you are adding new students to an existing family, refer to our other article on how to add a sibling.
This article will guide you through the steps to enroll new students into your program.
A. Video Tutorial
B. Written Tutorial
1. log in to CareConnect --> Click Students ta at the top --> Click on the All Students section on the left.
2. Then in the students list --> Click ADD --> Select the Quick Add Student option to enroll the new student in your program.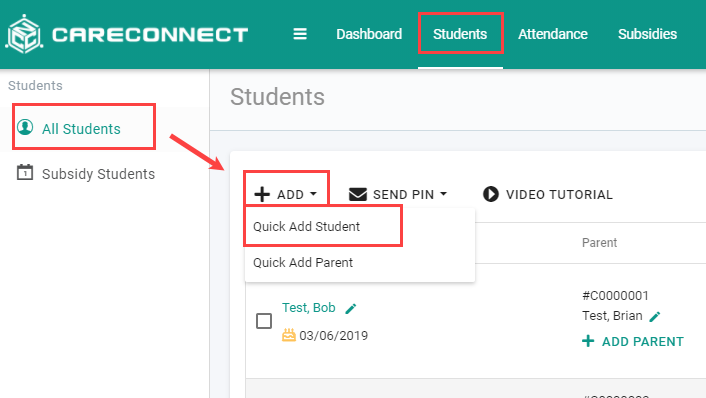 3. A new pop-up window will open to fill out the new student's information. The following fields are available:
First Name

Middle Name

Last Name

DOB
TIP: Fields marked with the * are required.
4. Click SAVE once done to finish creating the new student.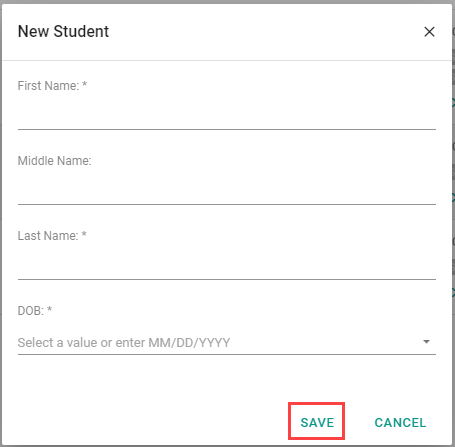 5. The newly added student will be added to your program but without any schedules. You may search for the new student by removing the Site & Classroom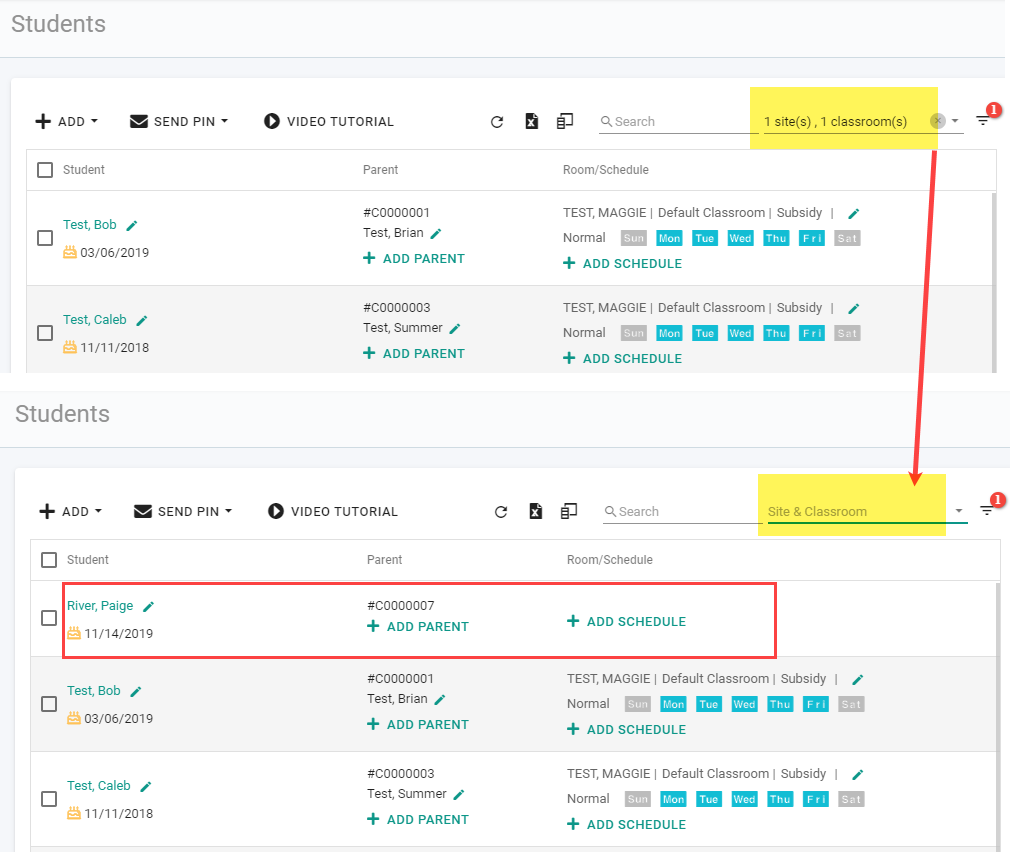 Español:
Si tiene estudiantes aprobados bajo su cuidado con una(s) agencia(s) de cuidado infantil subsidiado, consulte nuestro otro artículo sobre cómo inscribir estudiantes subsidiados en su programa.
Si está agregando nuevos estudiantes a una familia existente, consulte nuestro otro artículo sobre cómo agregar hermanos.
Este artículo lo guiará a través de los pasos para inscribir nuevos estudiantes en su programa.
A. Tutorial de video
B. Tutorial escrito
1. Inicie sesión en CareConnect --> Haga clic en Estudiantes en la parte superior --> Haga clic en la sección Todos los estudiantes a la izquierda.
2. Luego, en la lista de estudiantes --> Haga clic en AGREGAR --> Seleccione la opción Agregar estudiante rápidamente para inscribir al nuevo estudiante en su programa.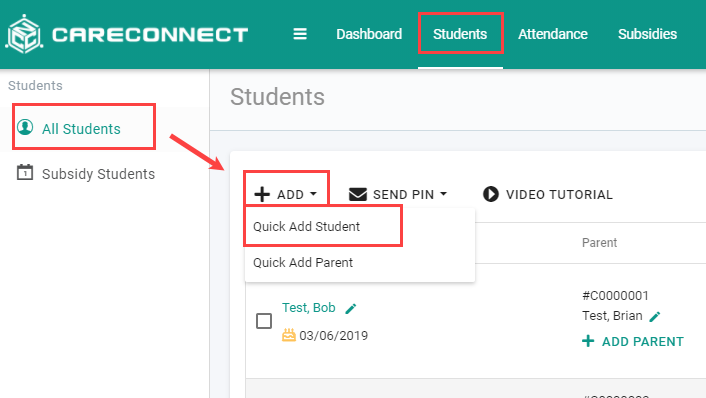 3. Se abrirá una nueva ventana emergente para completar la información del nuevo estudiante. Están disponibles los siguientes campos:
Primer nombre
Segundo nombre
Apellido
Fecha de nacimiento
SUGERENCIA: Los campos marcados con * son obligatorios.
4. Haga clic en GUARDAR una vez hecho para terminar de crear el nuevo alumno.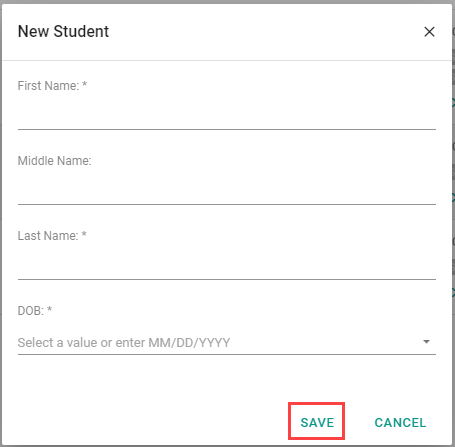 5. El estudiante recién agregado se agregará a su programa, pero sin ningún horario. Puede buscar al nuevo alumno eliminando el sitio y el aula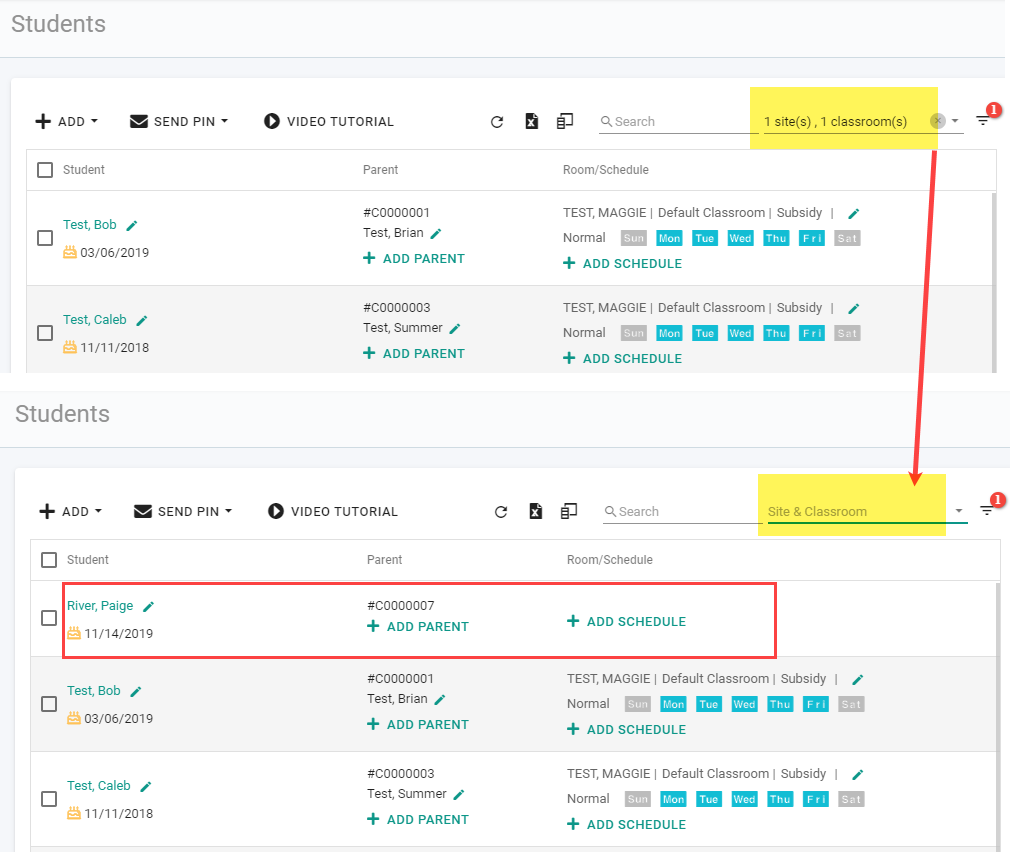 Chinese:
如果您的学生已获得补贴儿童保育机构的批准,请参阅我们的另一篇文章,关于如何将补贴学生注册到您的項目中。
如果要将新学生添加到现有家庭中,请参阅我们的另一篇有关如何添加同级的文章。
本文将指导您完成将新学生注册到您的程序中的步骤。
1. 登录到CareConnect->单击顶部的学生标签->单击左侧的"访问所有学生"部分。
2. 然后在学生列表中->单击添加->选择快速添加学生选项,以将新学生注册到您的程序中。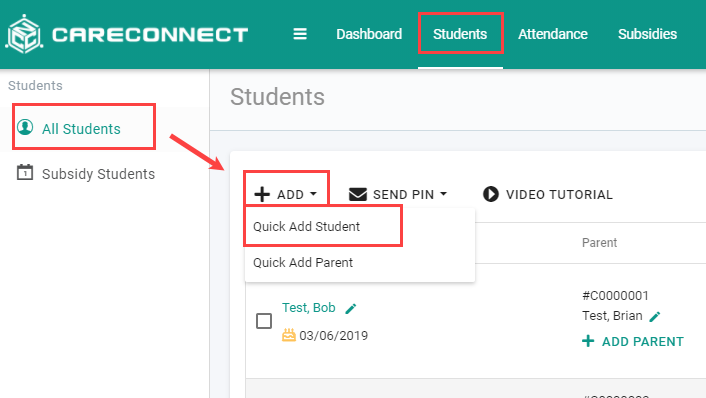 3. 将打开一个新的弹出窗口,以填写新学生的信息。以下字段可用:
提示:标有*的字段为必填项。
4.完成后单击"保存"以完成新学生的创建。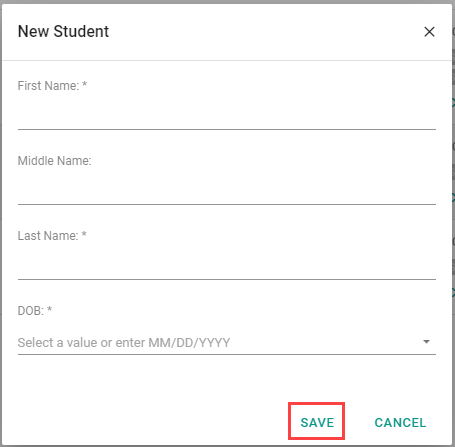 5. 新添加的学生将被添加到您的程序中,但没有任何时间表。您可以通过删除网站和教室来搜索新学生。