Access CareConnect Family mobile app (iOS and Android) or CareConnect Family Web.
English

:
During your sign-in and out process you may encounter a Confirm Attendance page. Please be sure to review any and all changes done to your child's attendance record and confirm to continue. If you choose to skip, please see a staff member for any needed corrections.
When you:
Confirm - The signature will auto-populate for all modified attendance records.
Skip - You will be prompted to the Confirm Attendance page the next time you return until you confirm the changes.
Cancel - Cancel to return to your previous screen.
Note: If your agency or provider requires daily parent signatures, please be sure to select Confirm so that all dates and times have an appropriate signature.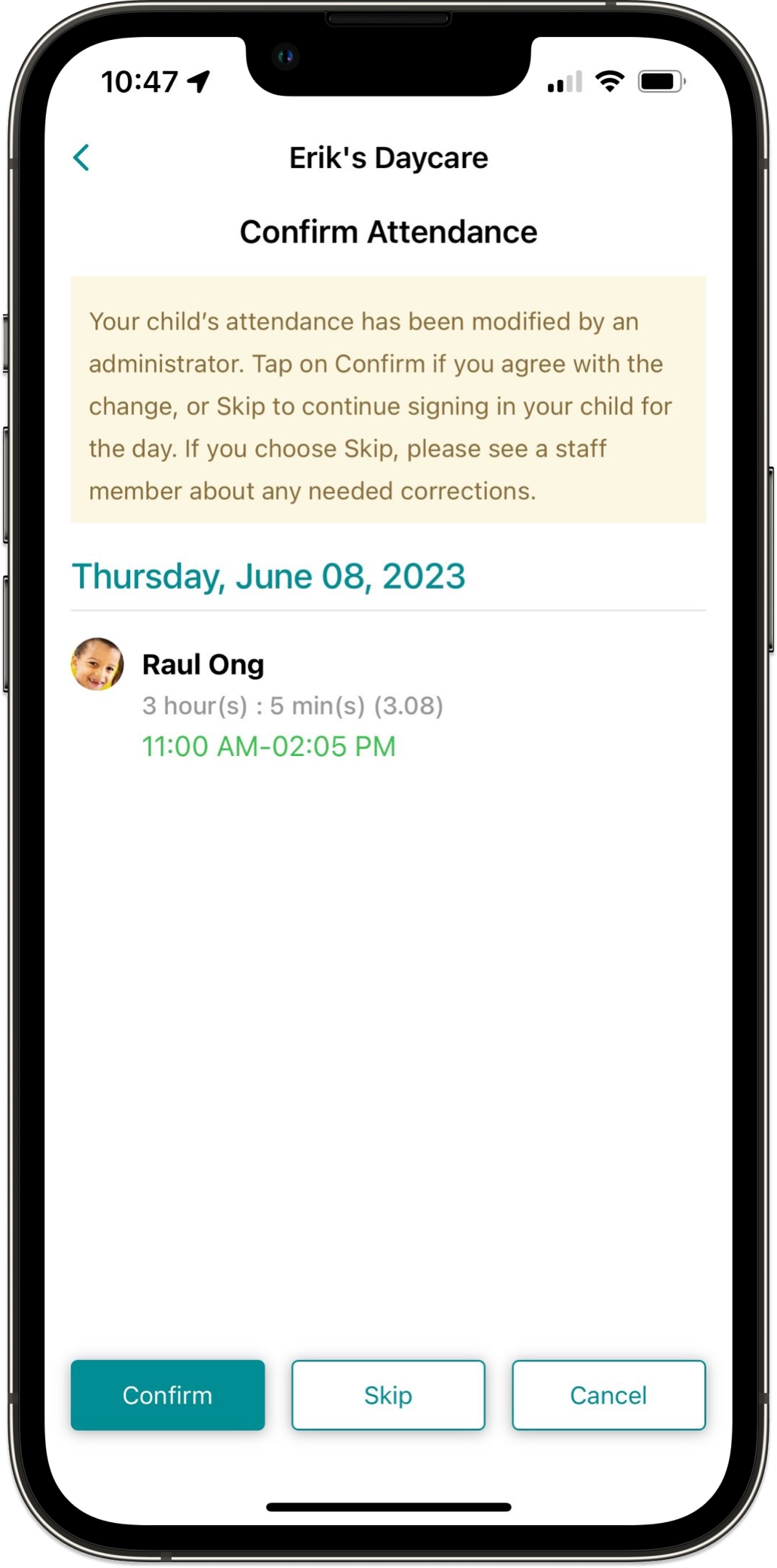 Español

:
Durante el proceso de entrada y salida, es posible que aparezca una página de confirmación de asistencia. Por favor, asegúrese de revisar todos y cada uno de los cambios realizados en el registro de asistencia de su hijo y confirme para continuar. Si usted elige saltar, por favor vea a un miembro del personal para cualquier corrección necesaria.
Cuando usted presione en:
Confirmar - La firma se rellenará automáticamente para todos los registros de asistencia modificados.
Saltar - La próxima vez que regrese, se le pedirá que vuelva a la página Confirmar Asistencia hasta que confirme los cambios.
Cancelar - Cancelar para volver a la pantalla anterior.
Nota: Si su agencia o proveedor requiere firmas diarias de los padres, asegúrese de seleccionar Confirmar para que todas las fechas y horas tengan una firma apropiada.