Access CareConnect Family mobile app (iOS and Android) or CareConnect Family Web.
English

:
In your CareConnect Family account, you will have access to different features such as viewing your children's attendance, managing your active childcare application, the ability to receive and submit documents, and more coming soon.
If your connected childcare Agency sends you any documents, you will be able to view and complete those documents electronically or download and upload the forms as needed.
Videos:
I. Receiving the Document
When your connected childcare Agency or Provider sends you a new document, you will receive a notification via email to log in to CareConnect to view its detail.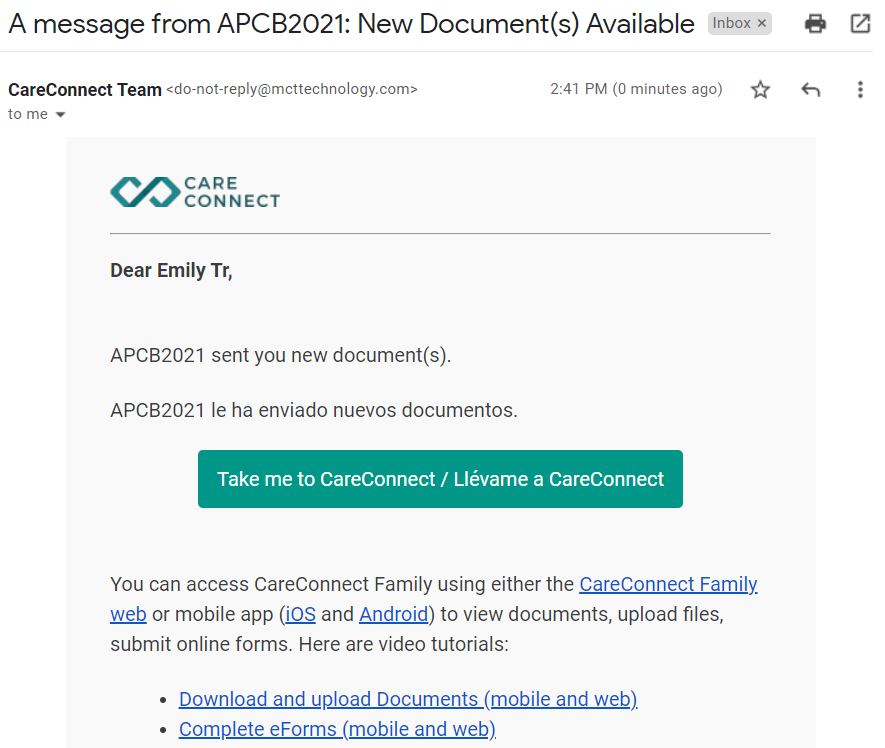 II. Accessing Your Documents
Start by logging into your CareConnect account, locate and tap on the childcare Agency that sent you documents in the My Connections portion of your Home page.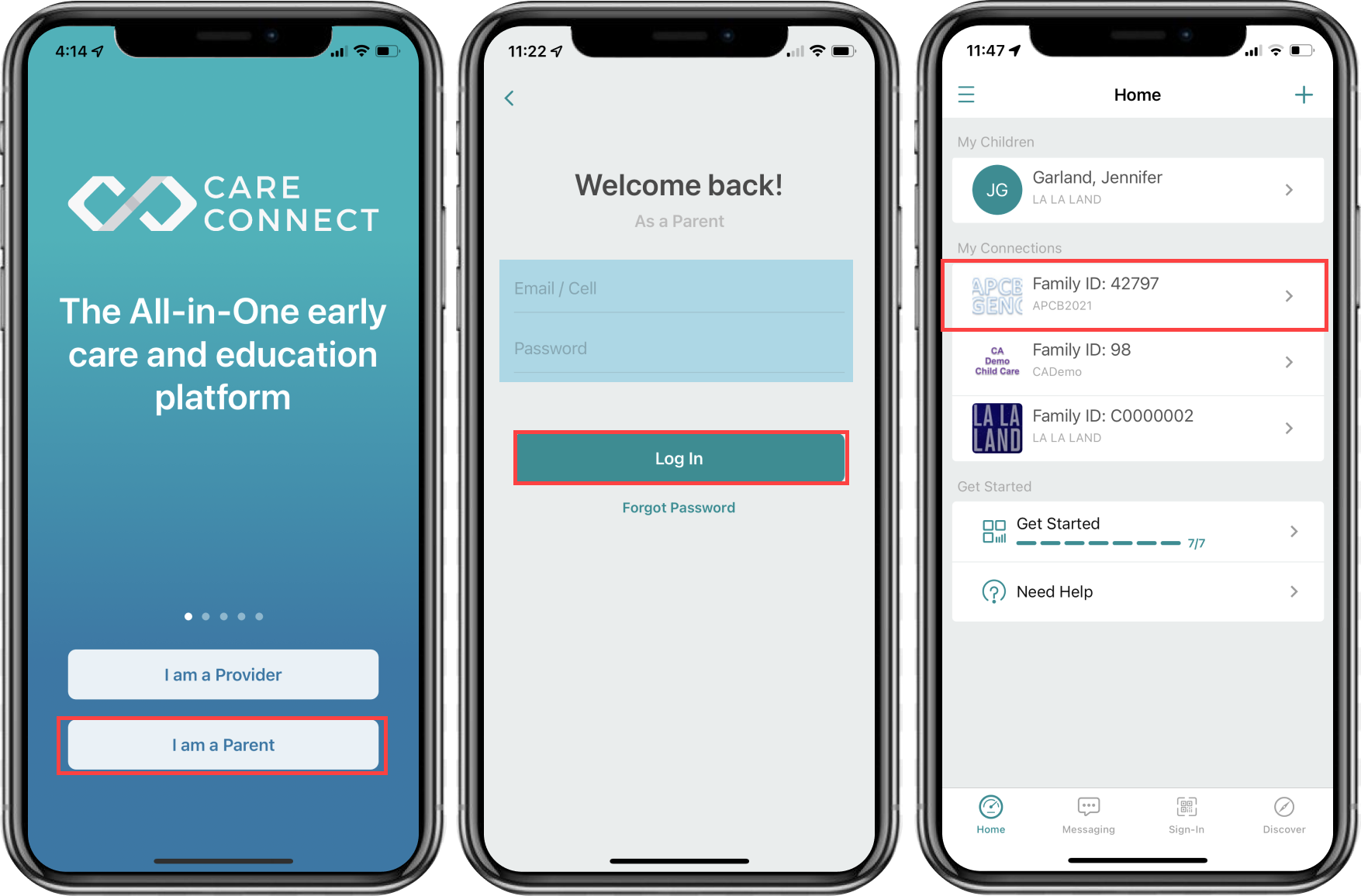 You will be redirected to the Documents section. There are 4 tabs available: Received documents, To Complete documents, Submitted documents, and Forms. On any of these tabs, you may search for a document by title with the

.
By default, you will be taken to the To Complete tab to view all documents that are required to be submitted back to your childcare agency.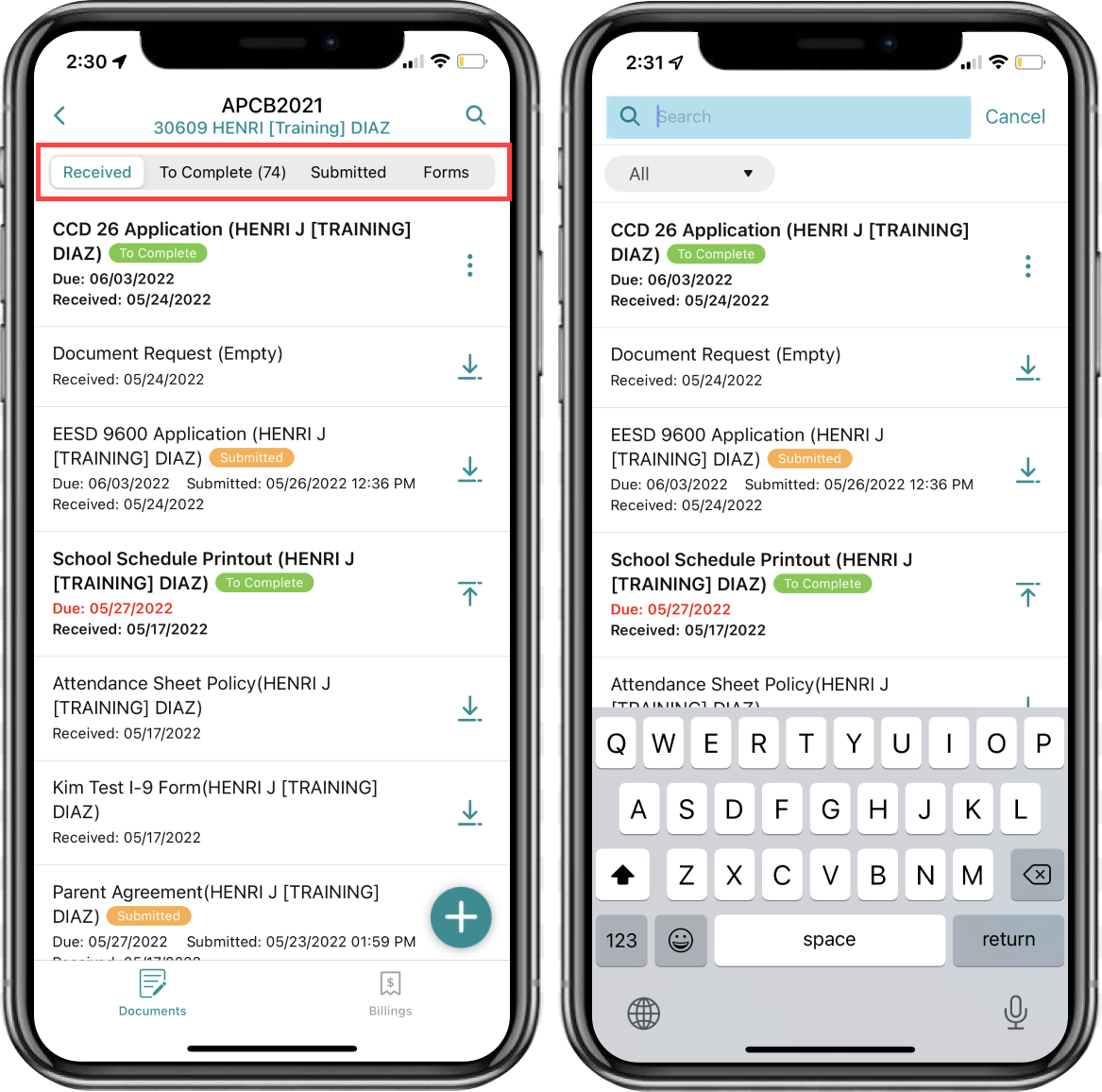 TIP: The search icon also allows you to filter the documents received by the last 7 days, 30 days, and 90 days if you hope to see fewer documents at once by clicking ALL to change the filter date.
A. Under the Received tab:
This is where you'll find all documents you have received that are sent to you.
If the document requires submission and you haven't opened it yet, it will include an Unread status for viewing purposes only.
Each of the documents will have a status next to them, the date it was received in your account, the due date if it is required for you to complete along with different actions:
eForm: This action is where you can view and complete the document electronically within your account. Once done completing the form, click on Submit

Download: This action is where you can download the document to your device by sharing, printing, or saving it on your local device


Upload: This action is where you can upload files for this document from your local device, from browsing your Photo Library, taking a picture or video, or selecting an existing file.

ADD: This action is where you may upload additional documents on top of what is requested from your agency.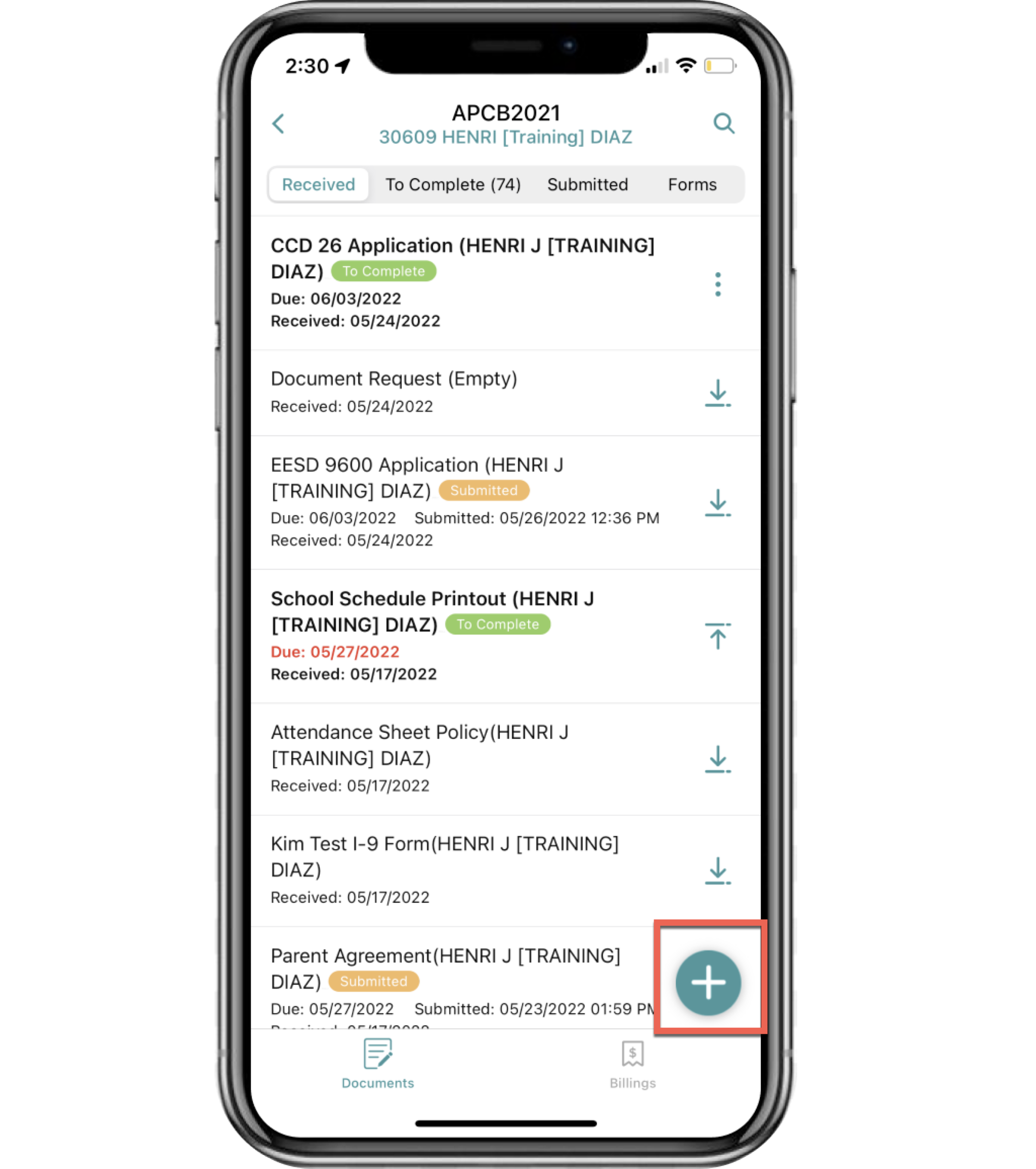 B. Under the To Complete tab:
This is where you'll find a narrowed list of all documents requiring you to complete and submit back.
Different actions available for a document from the Received tab is also available under the To Complete tab for accessing eForm, Download and Upload documents.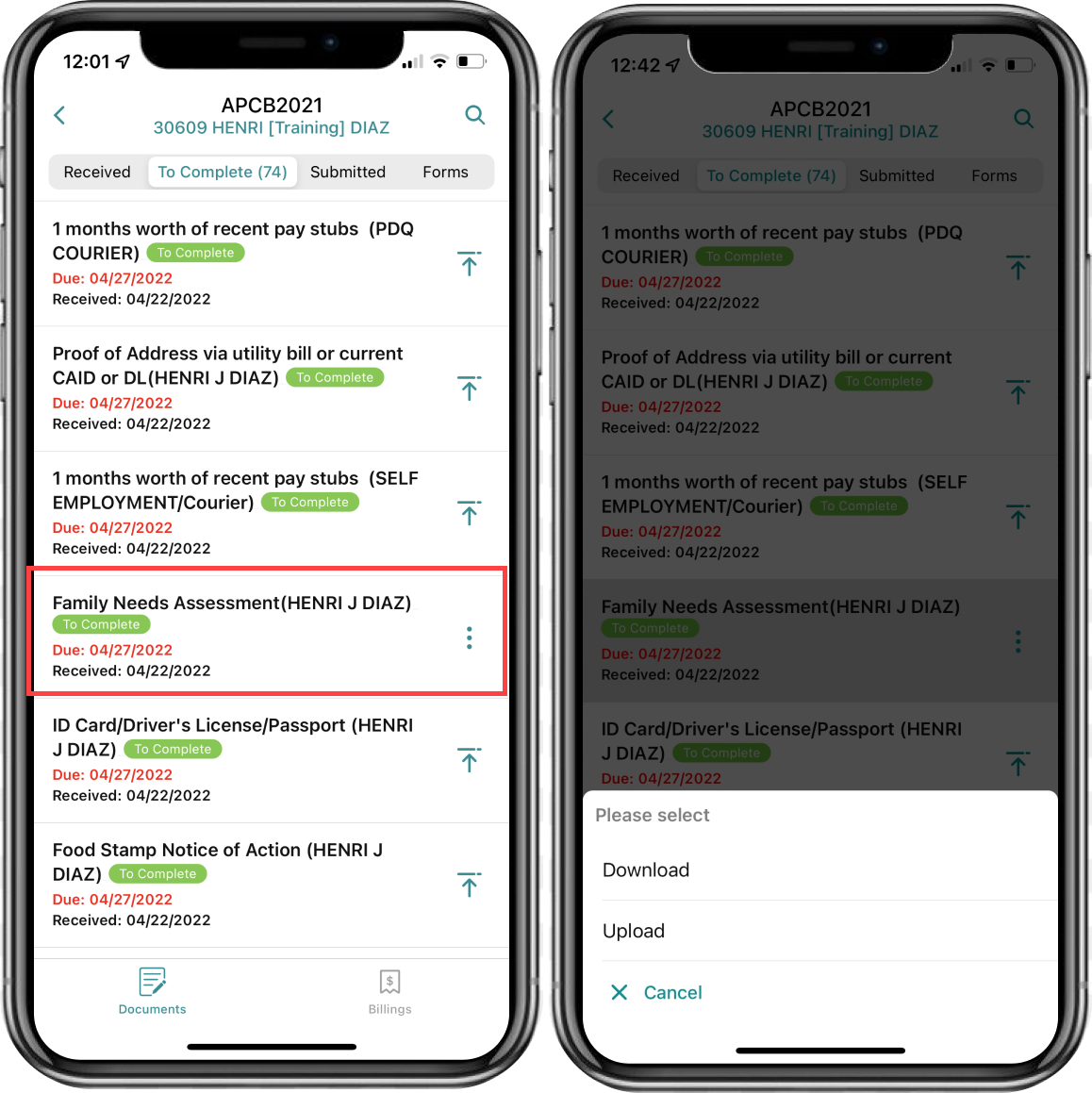 TIP: Some document doesn't show an eForm option, which means it is not available for you to complete electronically. However, you still may download the form requested then fill it out and upload the form to submit this document.
C. Under the Submitted tab:
This is where you will find all documents that you have submitted previously.
You may download a copy of these submitted documents by clicking on the name of the document or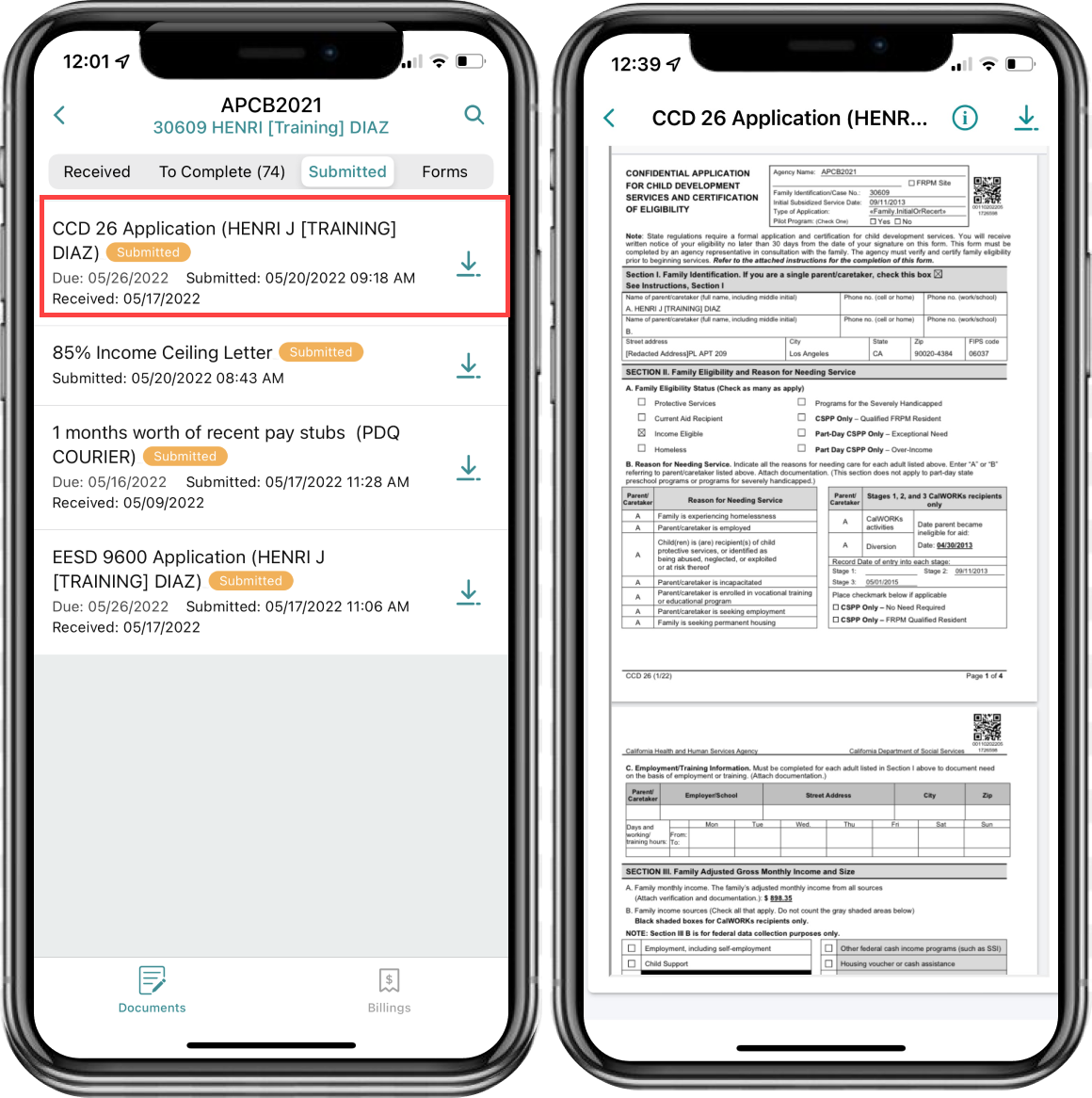 D. Under the Forms tab:
This is where you will find all standard forms available for you to complete at any time and electronically, that are made available to you by your Agency. You may click on the form to fill out the eForm completely online.
1. Select any form that you would like to fill out → select the language for the eForm.
2. Complete all the necessary fields marked with * → Click on Submit you're ready to check all the filled information.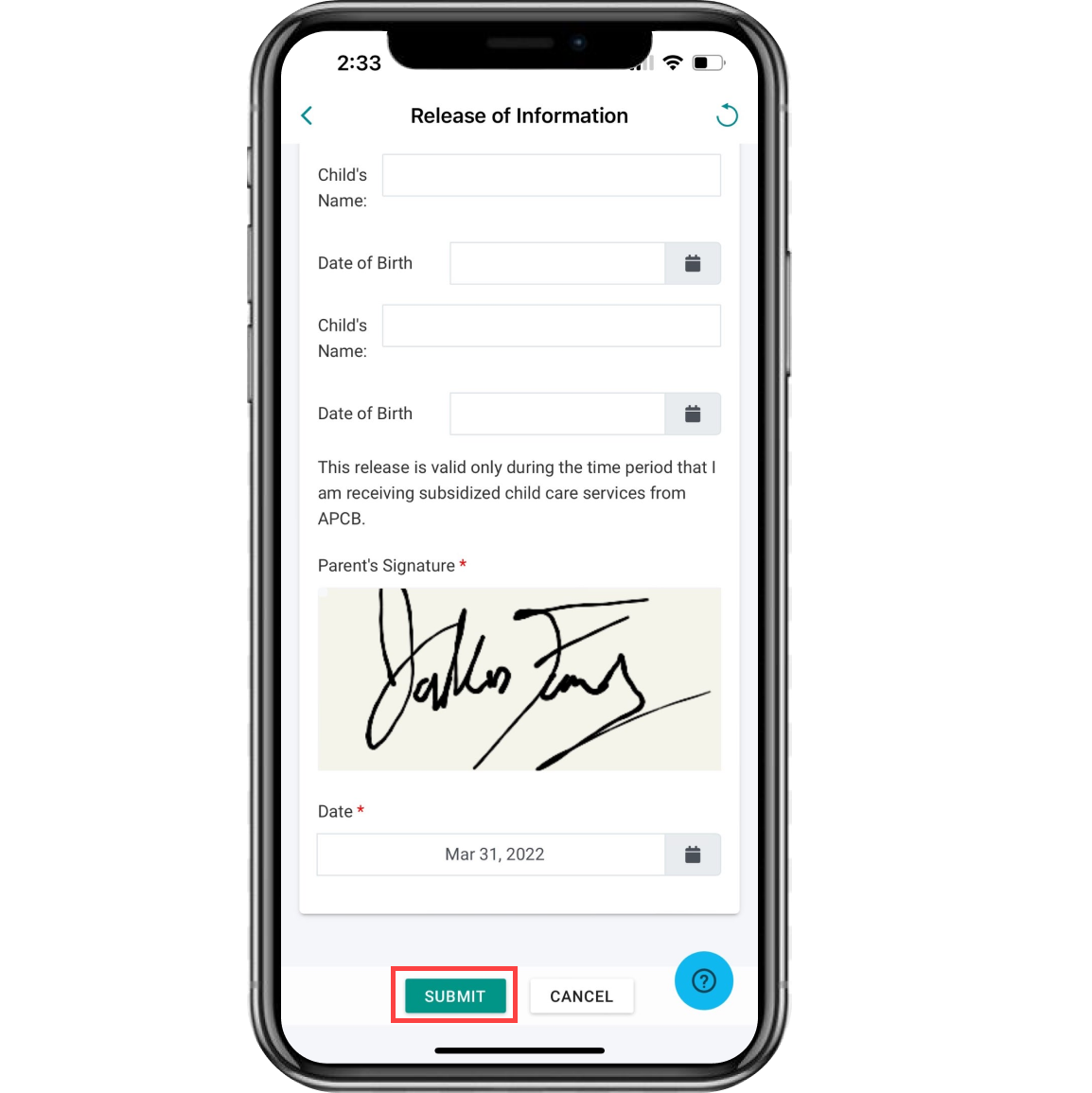 3. Upon submission, you will be redirected to the submitted tab which allows you to view the eForm that you have filled out. You also may save the completed form to your local file or share it as a PDF with the download option.
Español

:
En su cuenta CareConnect Family, tendrá acceso a diferentes funciones, como la visualización de la asistencia de sus hijos, la administración de su solicitud de guardería activa, la posibilidad de recibir y enviar documentos, y otras cosas que se presentarán próximamente.
Si su Agencia de Asistencia Infantil conectada le envía algún documento, podrá ver y completar esos documentos electrónicamente, o descargar y cargar las formas según sea necesario.
Vídeos:
I. Recibir El Documento
Cuando su agencia o proveedor de servicios de guardería conectado le envíe un nuevo documento, recibirá una notificación por correo electrónico para que inicie sesión en CareConnect y pueda ver sus detalles.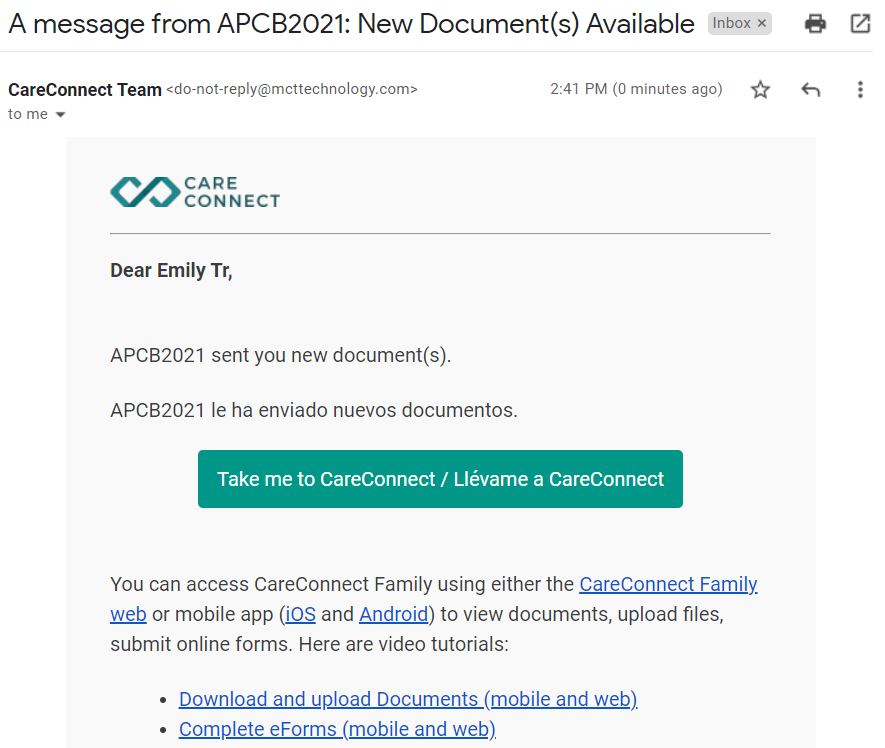 II. Acceso A Sus Documentos
Empieza por entrar en tu cuenta de CareConnect, localiza y toca la agencia de cuidado de niños que te envió los documentos en la parte de Mis Conexiones de tu página de inicio.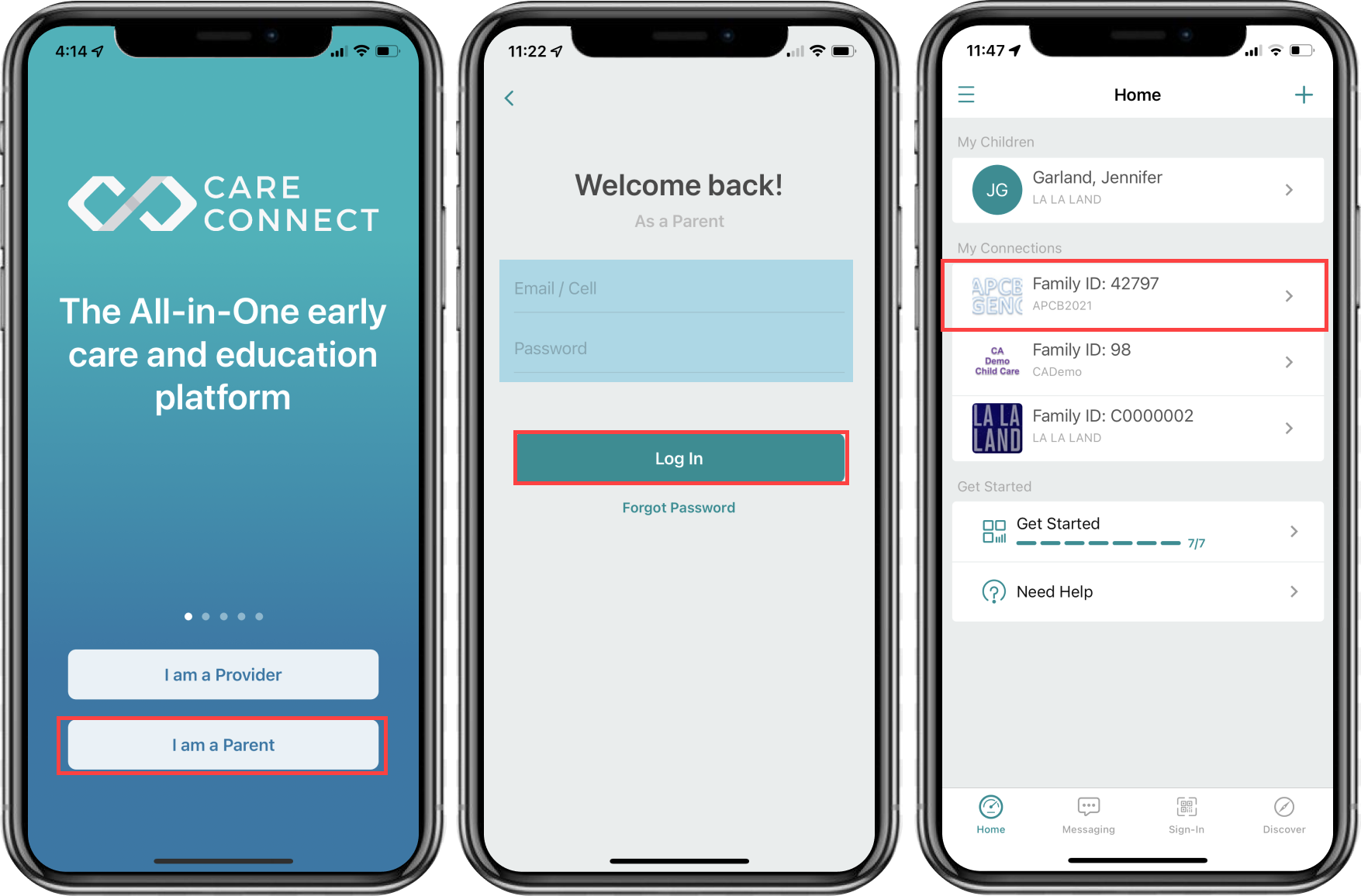 Será redirigido a la sección de Documentos. Hay 4 pestañas disponibles: Documentos Recibidos, Documentos Por Completar, Documentos Presentados y Formularios. En cualquiera de estas pestañas, puede buscar un documento por su título con el botón

.
Por defecto, se le dirigida a la pestana Para Completar, ahí encontraran todos los documentos que su agencia de cuidado de niños requiere ser sometidos.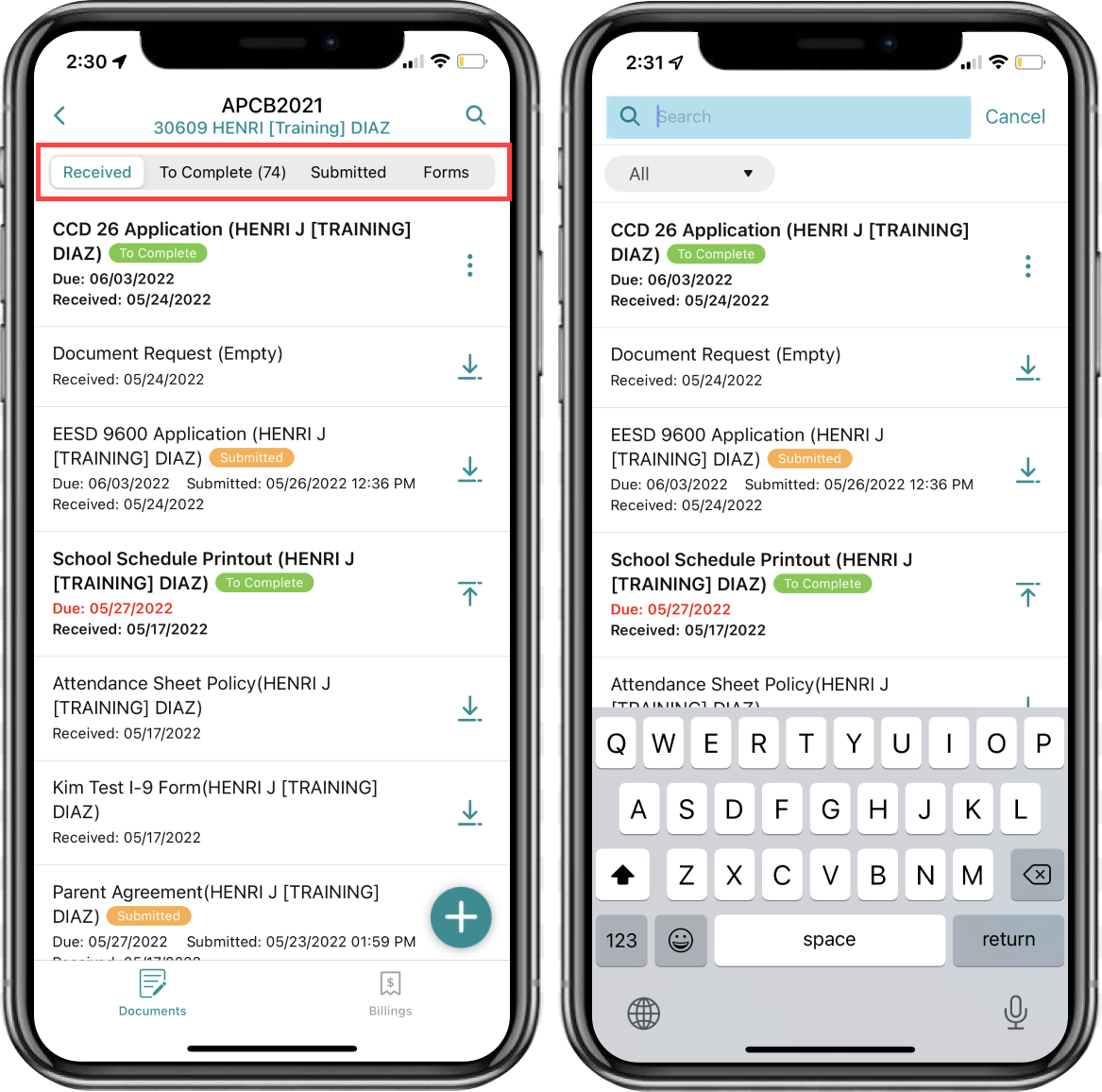 CONSEJO: El icono de búsqueda también le permite filtrar los documentos recibidos por los últimos 7 días, 30 días y 90 días si desea ver menos documentos a la vez, haciendo clic en TODOS ellos para cambiar la fecha de filtrado.
A. En la Pestaña de Recibidos:
Aquí encontrará todos los documentos que ha recibido y que le han sido enviados.
Si el documento requiere un envío y aún no lo ha abierto, tendrá un estado de "No leído" para poder verlo.
Cada uno de los documentos tendrá un estado junto a ellos, la fecha en que fue recibido en su cuenta, una fecha de vencimiento si es necesario que lo complete junto con diferentes acciones:
eForm: En esta acción puede ver y completar el documento electrónicamente dentro de su cuenta. Una vez completado la forma, haga clic en Enviar

Descargar: En esta acción puedes descargar el documento en tu dispositivo para compartirlo, imprimirlo o guardarlo en tu dispositivo local


Cargar: En esta acción puede cargar archivos para este documento desde su dispositivo local, desde la exploración de su biblioteca de fotos, tomando una foto o un vídeo, o seleccionando un archivo existente.

AÑADIR: En esta acción puede cargar documentos adicionales a los que se solicitan a su agencia.
B. En la pestaña Para Completar:
Aquí encontrará una lista reducida de todos los documentos que debe completar y devolver.
Las diferentes acciones disponibles para un documento de la pestaña Recibido también están disponibles en la pestaña Para Completar para acceder a los documentos de eForm, Descarga y Carga.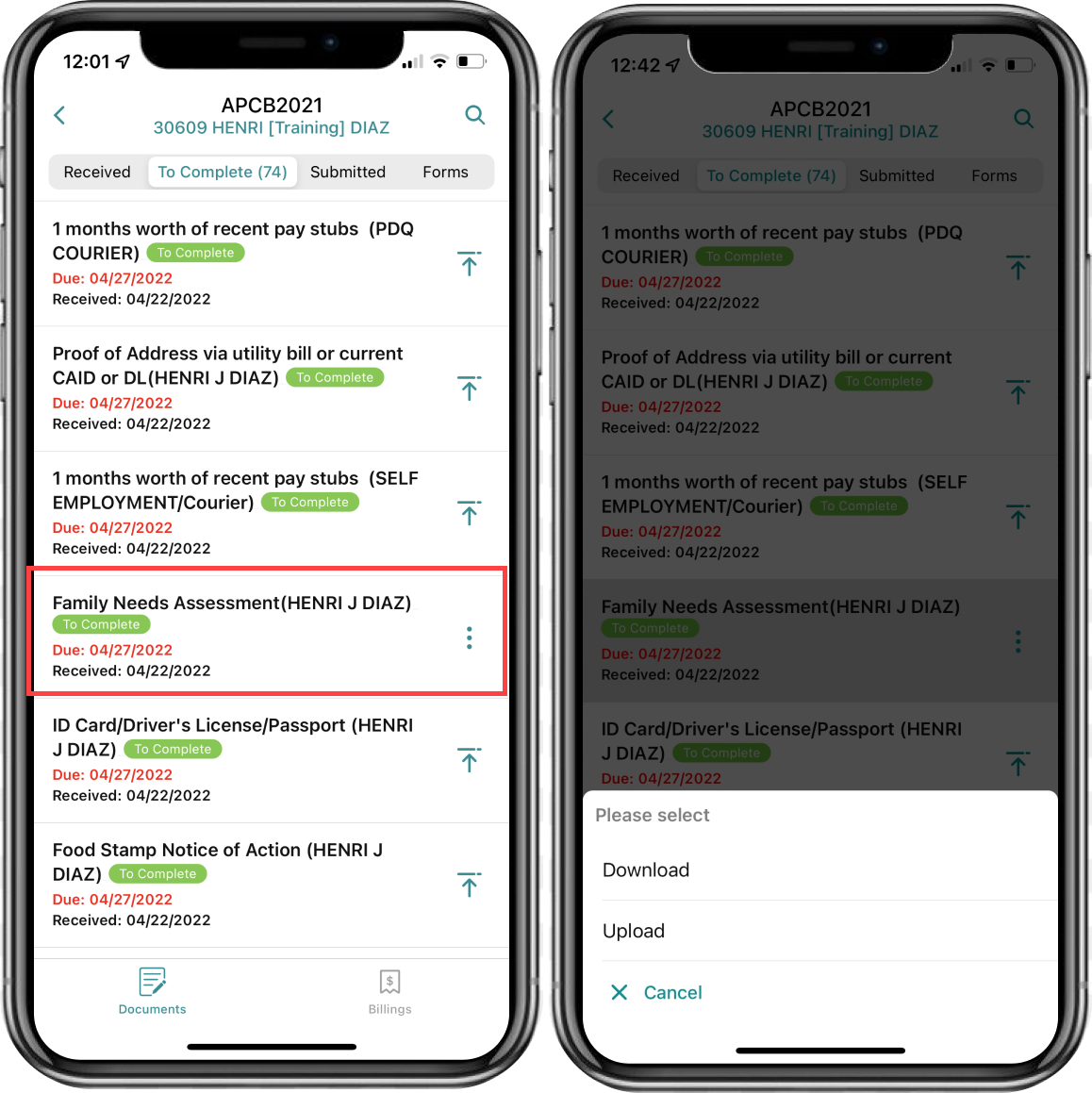 CONSEJO: Algunos documentos no muestran una opción de eForm, esto significa que no está disponible para que usted lo complete electrónicamente. Sin embargo, puede descargar la forma solicitada y luego rellenarla y cargarla para presentar este documento.
C. En la pestaña de "Enviado":
Aquí encontrará todos los documentos que ha enviado anteriormente. Puede descargar una copia de estos documentos presentados haciendo clic en el nombre del documento o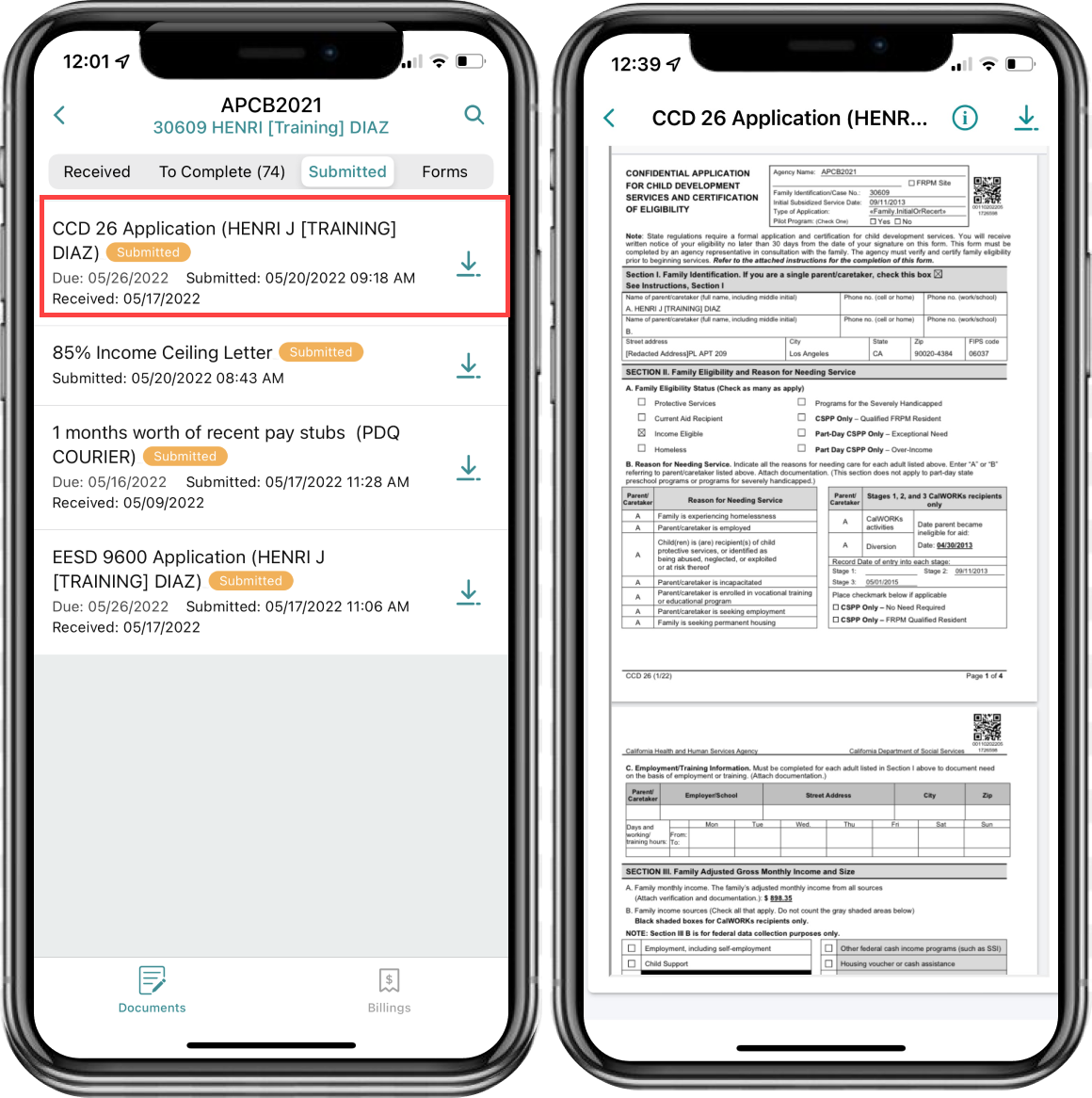 D. En la pestaña Formas:
Aquí encontrará todos las formas estándar disponibles para completar en cualquier momento y electrónicamente, que son puestas a su disposición por su Agencia. Puede hacer clic en la forma para rellenar el eForm completamente en Internet.
1. Seleccione cualquier forma que desee rellenar → seleccione el idioma del eForm.
2. Rellene todos los campos necesarios marcados con * → Haga clic en Enviar que está listo comprobando toda la información rellenada.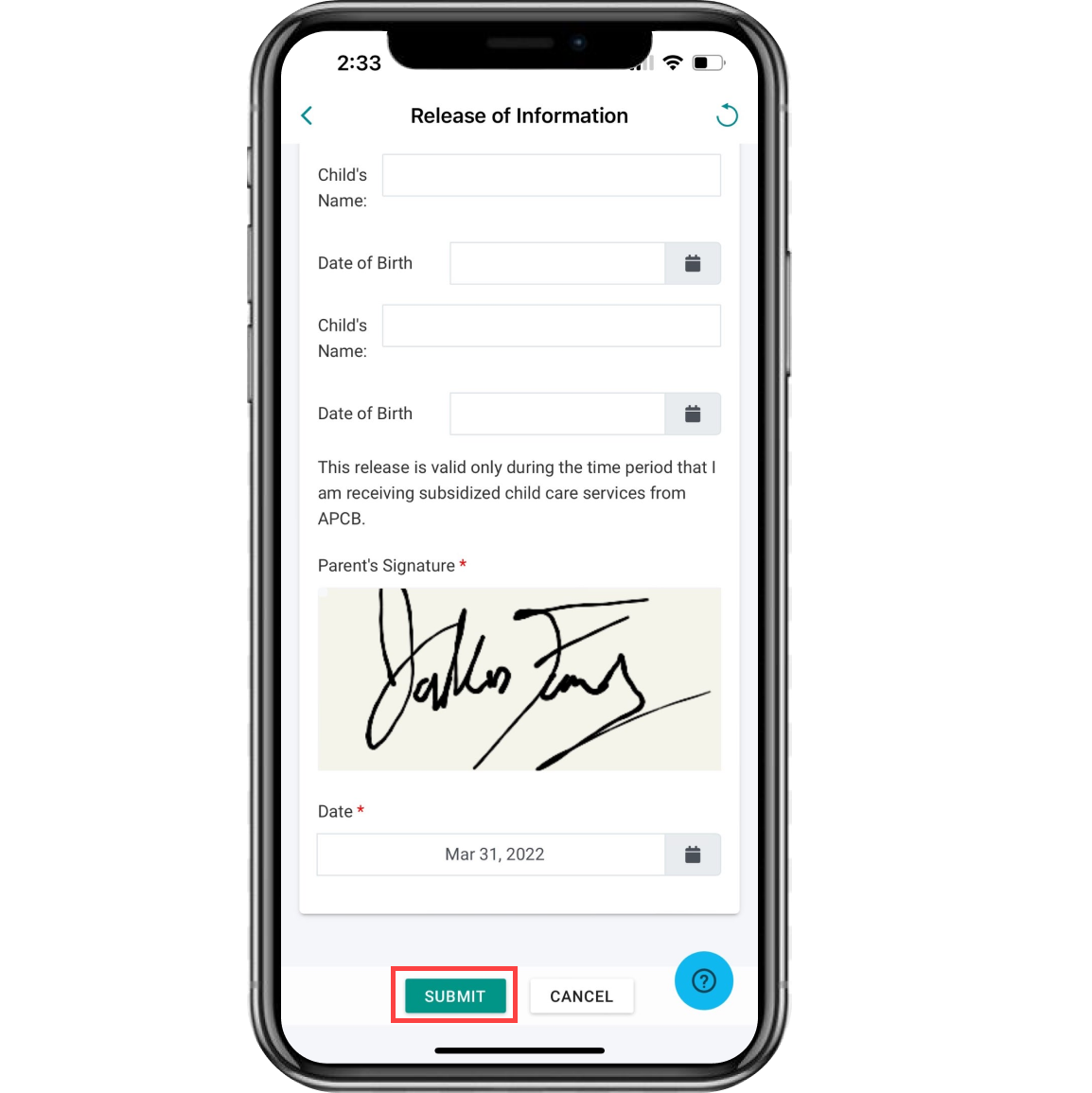 3. Tras el envío, se le redirigirá a la pestaña de envío, que le permitirá ver la forma electrónica que ha rellenado. También puede guardar la forma completada en su archivo local o compartirla como un PDF con la opción de descarga.