Access CareConnect Provider mobile app (iOS and Android) or CareConnect Provider Web.
This guide provides a comprehensive walkthrough of the enrollment process for families connected to external providers within CareConnect. Follow these step-by-step instructions to efficiently manage the enrollment of new students and families.
Enrolling a Family
To initiate the enrollment process for families with external providers, follow these steps:
Step 1: Access Provider Enrollment
In your CareConnect environment, navigate to the Students module.
On the left sidebar, locate and click the Provider Enrollment section to access the Provider Enrollment student list.

Step 2: Initiate Enrollment
Within the Provider Enrollment section, find the +Add button. Clicking this button presents you with two enrollment options:
Enroll Family: Use this option to enter comprehensive information for students and families. This process spans three steps: adding a student, adding a parent, and adding another contact.
Quick Add Student: This option is designed for swift enrollment of individual students with minimal information.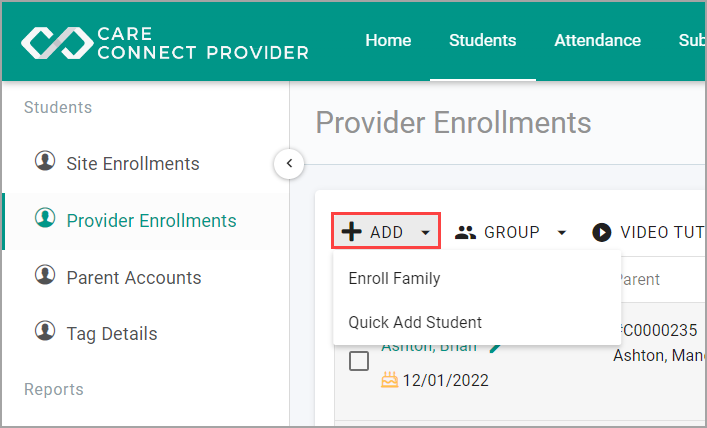 Choose the Enroll Family option to proceed with a thorough enrollment process.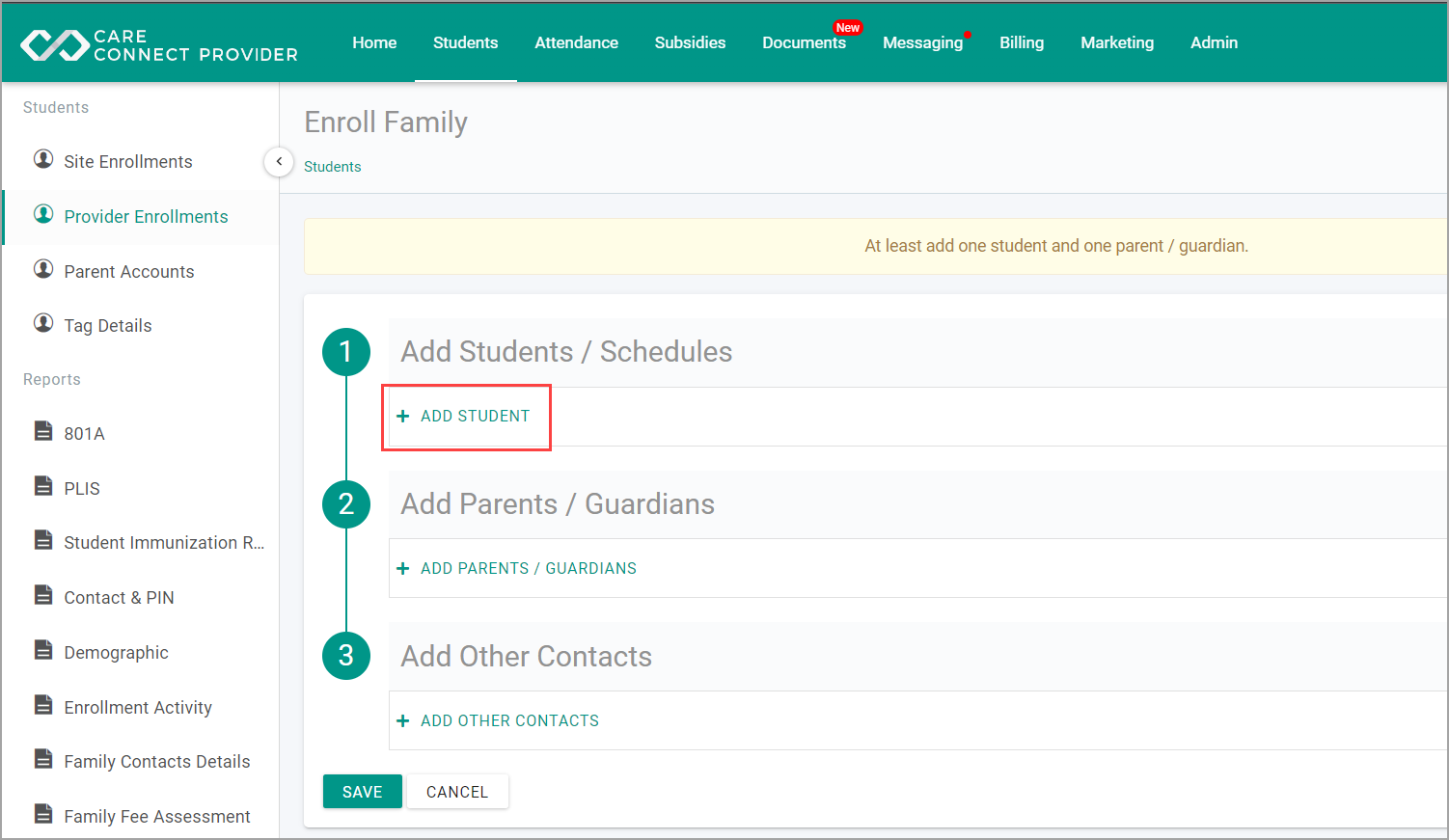 Step 3: Add Students / Schedule
Click Add Student to begin entering details for a new student. Complete the necessary fields including:

Name: Student's full name
Date of Birth: Student'sdate of birth
Race: Student's Race
Ethnicity: Student's Ethnicity
Current Site: 

Decide whether to add the student's schedule. If needed, provide schedule details such as:


Program: Enrolled program
Period start and end date: Enrollment start and end date
Provider: Assigned provider for the Care Schedule

Click Save to confirm the student's schedule.

Proceed to Step 2 or repeat Step 1 by clicking the

Add Student

button to add other siblings on the 3-step summary page.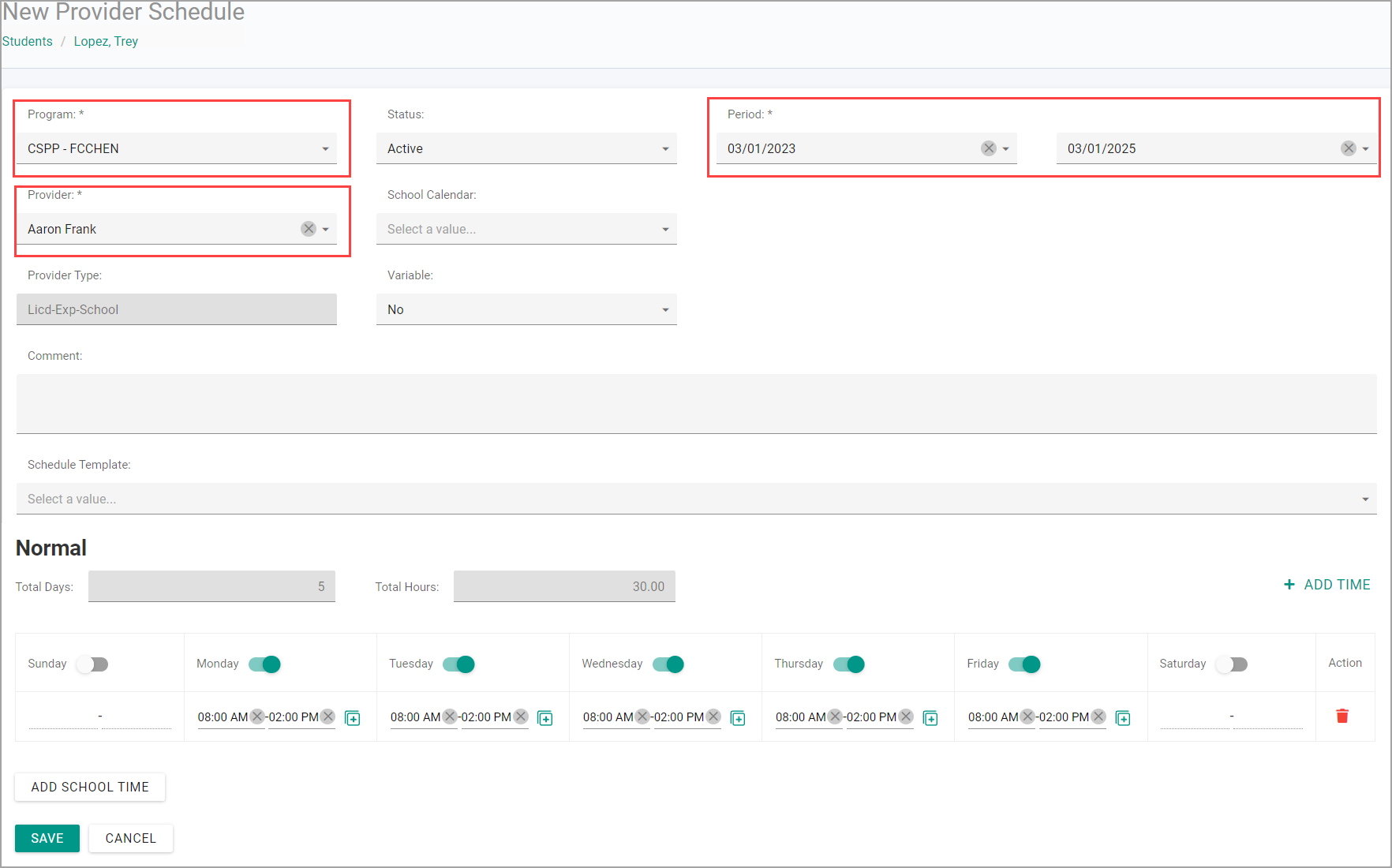 Step 4: Add Parents / Guardians
Click Add Parents/Guardians to add a new parent to the family. Provide relevant information, including:
Name: Parent's full name
Responsibility: Parent's role (Parent A, Parent B, Other)
Relationship: Parent's relation to the student
Proceed to Step 3 or repeat Step 4 by clicking the Add Parents/Guardians button to add a second parent/guardian.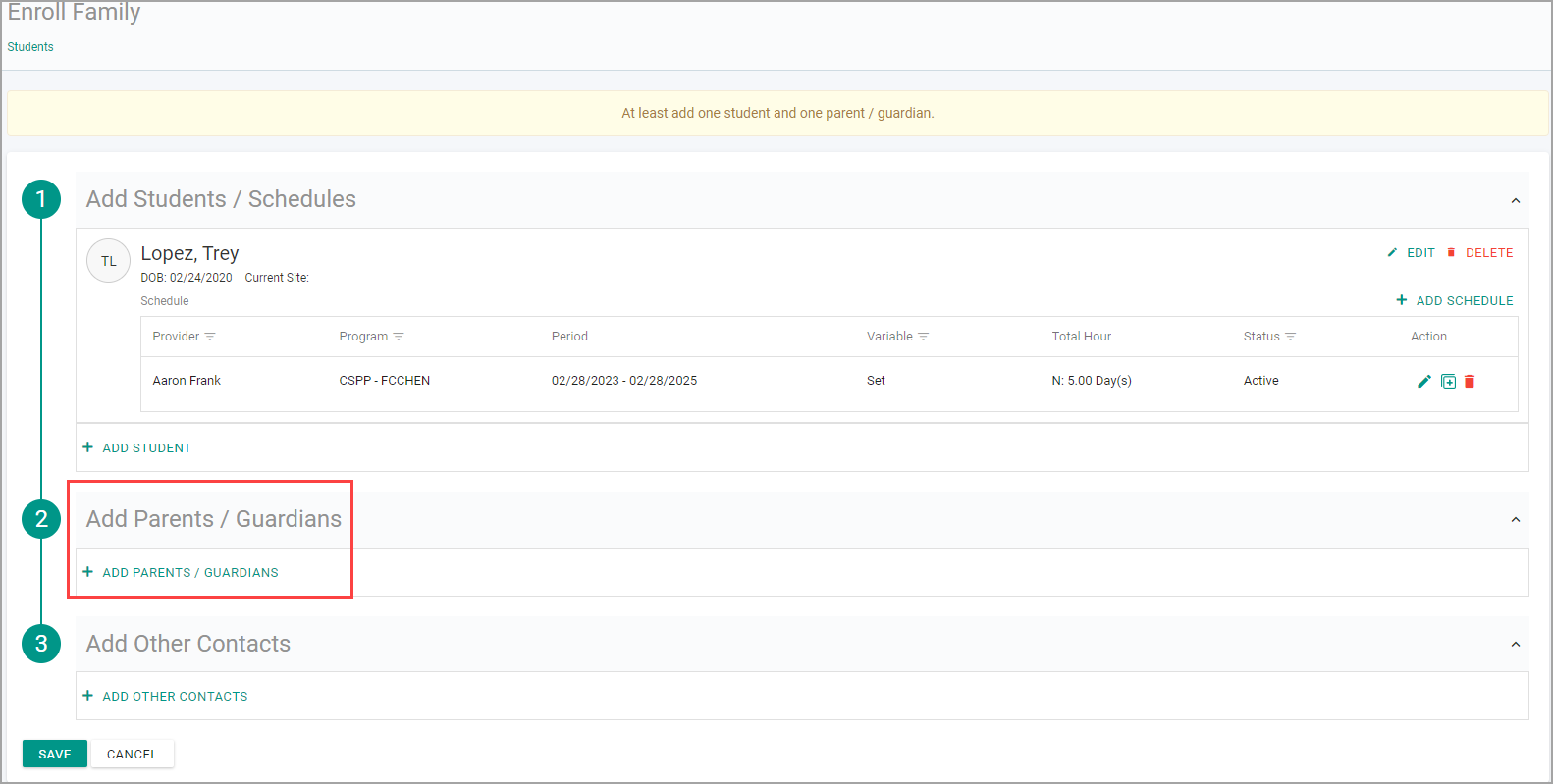 Step 5: Add Other Contacts
Click Add Other Contacts to include additional emergency contacts for the family. Enter contact details similar to Parents/Guardians.
Repeat Step 5 if more emergency contacts need to be added.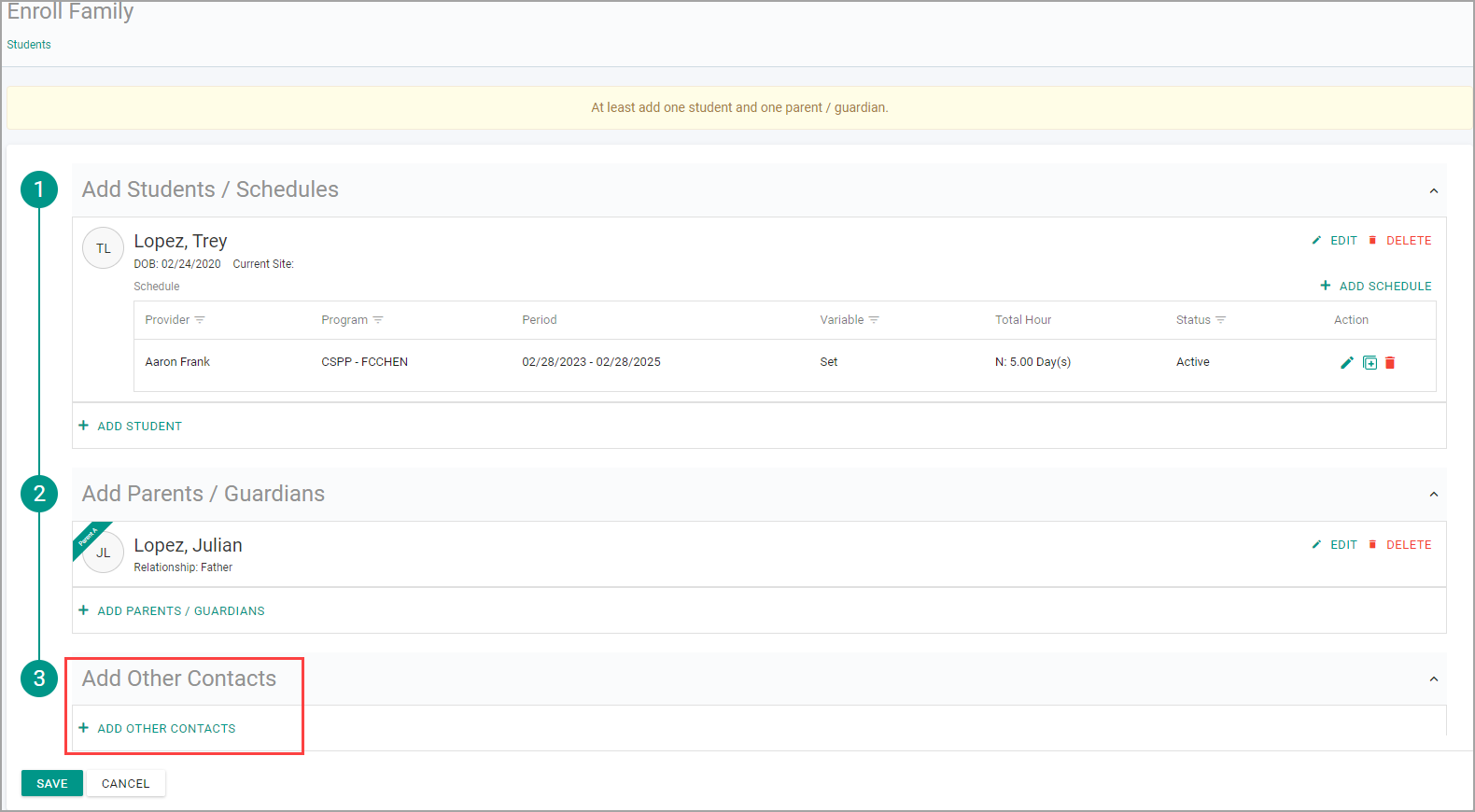 Step 6: Complete Enrollment
Once all three steps are completed, click Save to finalize the family's enrollment.

Note

: After clicking

Save

, if you've entered a parent's cell phone or email, you will be asked if you'd like to send the parent an invitation. To learn more about this process, click

here

.

You will be redirected to the newly added student/family page.
By following these steps, you ensure accurate and efficient enrollment of families with external providers in CareConnect. This process enhances the overall management and communication for these families.