English

:
Once you've successfully created your CareConnect account, and added a payment method, you're all set to pay your invoices! This article will guide you through the steps from viewing the invoice to paying it online.
Receiving the Invoice
If your connected child care Agency or School enables online bill pay via CareConnect, you will have access to viewing the invoices and pay online in your CareConnect account.
When your connected childcare School or Agency sends you a new invoice, you will receive an e-mail to notify you of the invoice. You can then log in to CareConnect and view the details.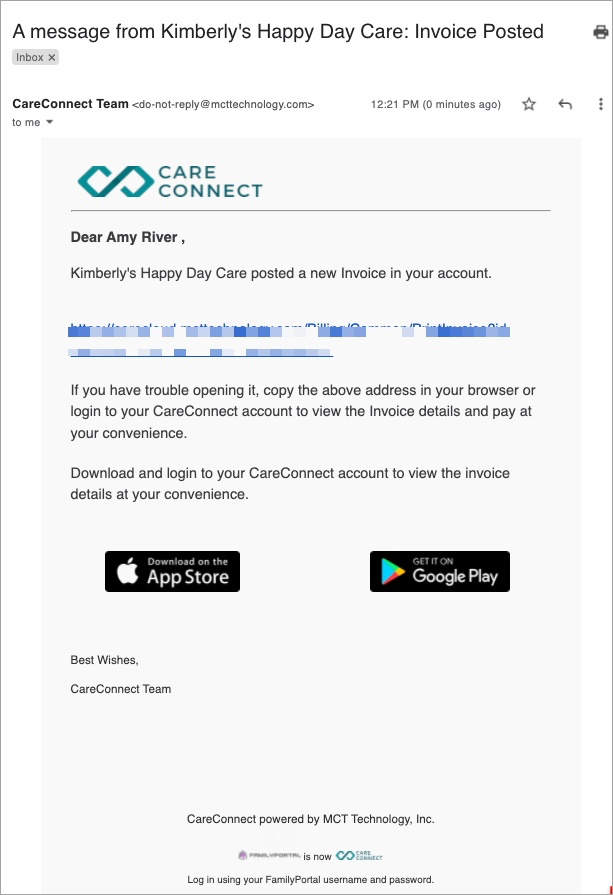 Locating and Viewing the Invoice
1. Open the CareConnect app and sign in to your account
2. Under My Connections, click on the name of your agency.
3. Tap on the
Billing
tab at the bottom right corner to
check if there are any pending Invoices for your connected childcare Agency or School.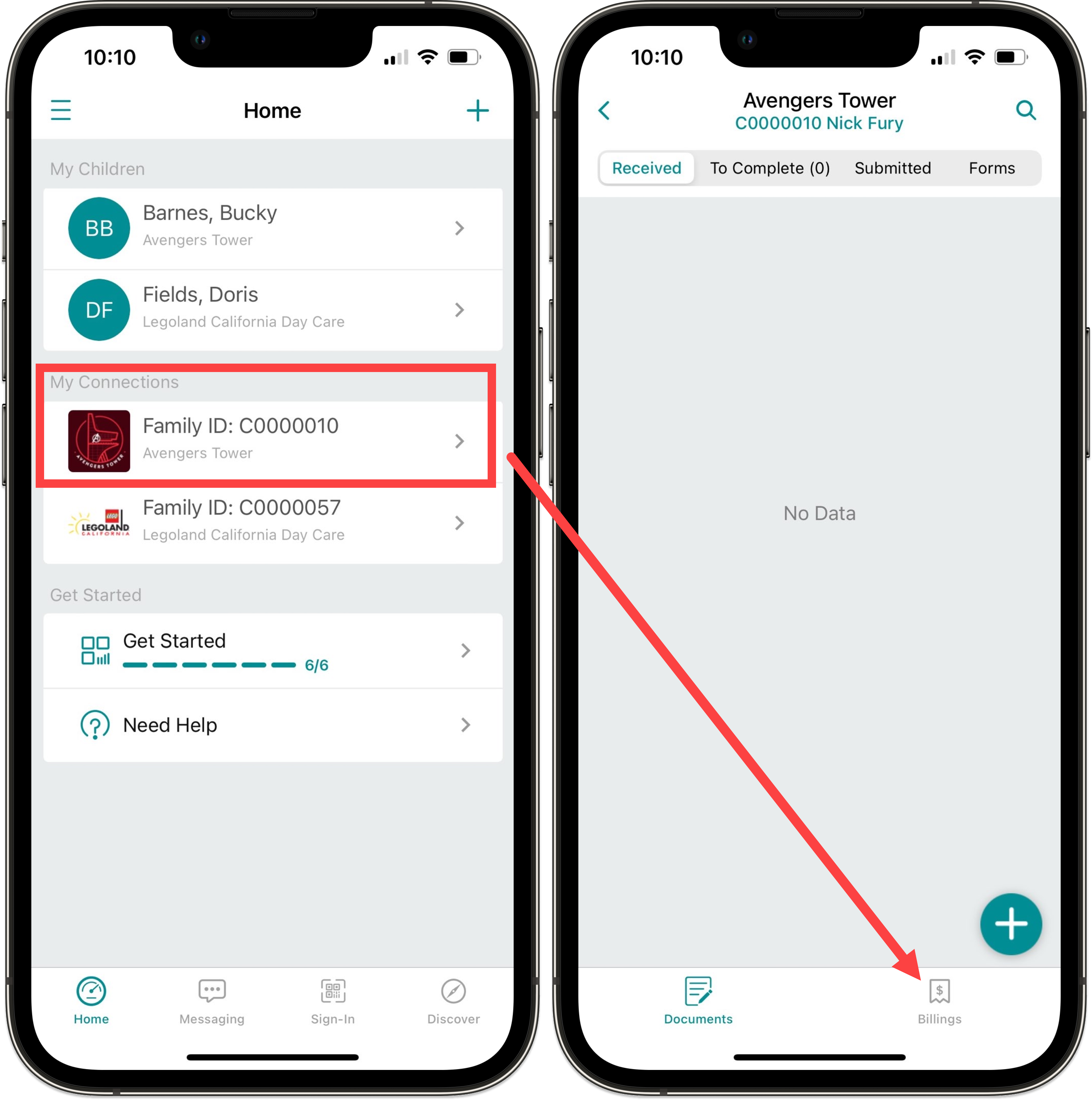 4. In the Billing section, you will be able to view a see 3 tabs:
Balance: See your account balance and payment balance if you have any credit.
Invoices: List of all Invoices
Payments: List of all Payments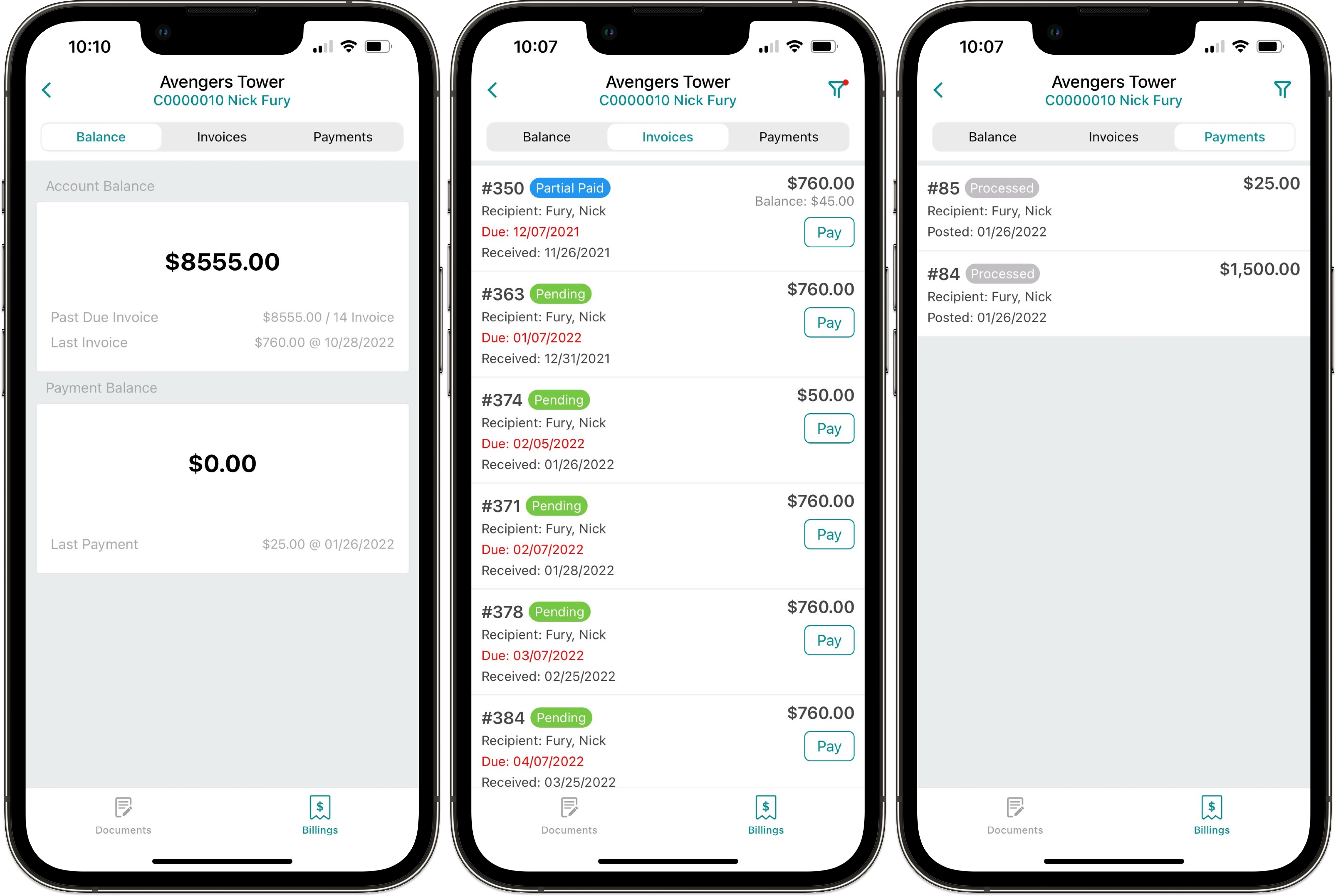 TIP: You may modify the search range and invoice status using

(the filter) option to find a specific invoice.
5. Tap on the invoice that you'd like to pay from the Invoice tab
6. The details for that invoice will be shown. Here, you will have the option to Pay the invoice using the Pay button at the bottom after viewing the invoice details.
NOTE: If any information is not correct or you have a question about your invoice, please contact your childcare Agency or School. The CareConnect Team cannot alter any invoices that were sent to you.
7. A payment screen will open with options for you to select a payment method.
TIP: If your device has Google Pay or Google Pay connected, you may also pay using that option without adding a payment method to CareConnect.
9. Once sure of which payment method to use → Select
Pay
to submit your payment.
10. After payment is made, the payment receipt is available to view or print. Refer
here
for more information.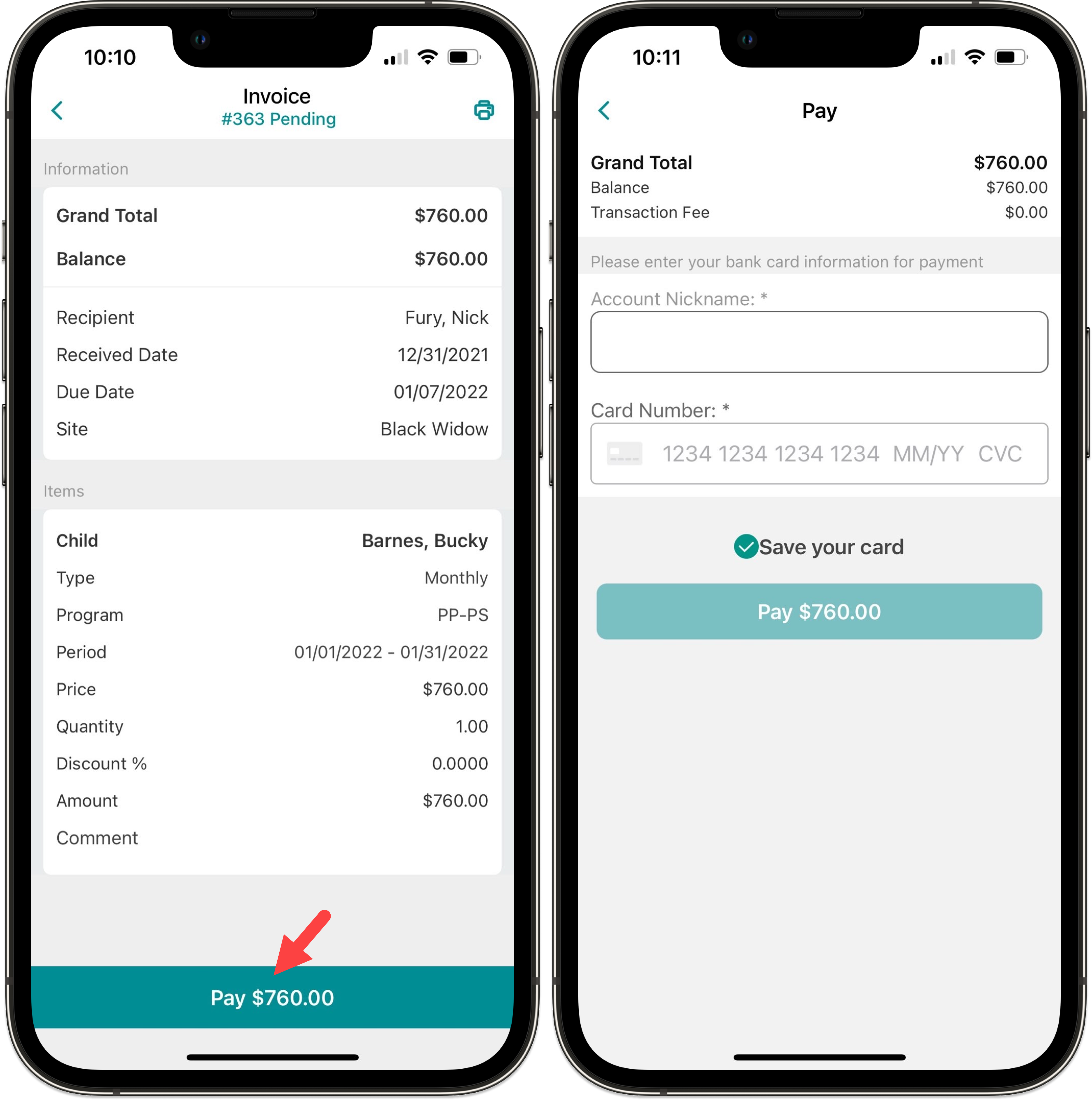 Español

:
Una vez que haya creado su cuenta de CareConnect y haya agregado un método de pago, ¡estará listo para pagar sus facturas! Este artículo lo guiará a través de los pasos desde donde ver la factura hasta como pagarla en línea.
Recibimiento de la factura
Si su agencia o escuela de cuidado infantil conectada permite el pago de facturas en línea a través de CareConnect, tendrá acceso para ver las facturas y pagarlas en línea desde su cuenta de CareConnect.
Cuando su escuela o agencia de cuidado infantil conectada le envíe una nueva factura, recibirá un correo electrónico notificándole de la factura. A continuación, puede iniciar sesión en CareConnect y ver los detalles.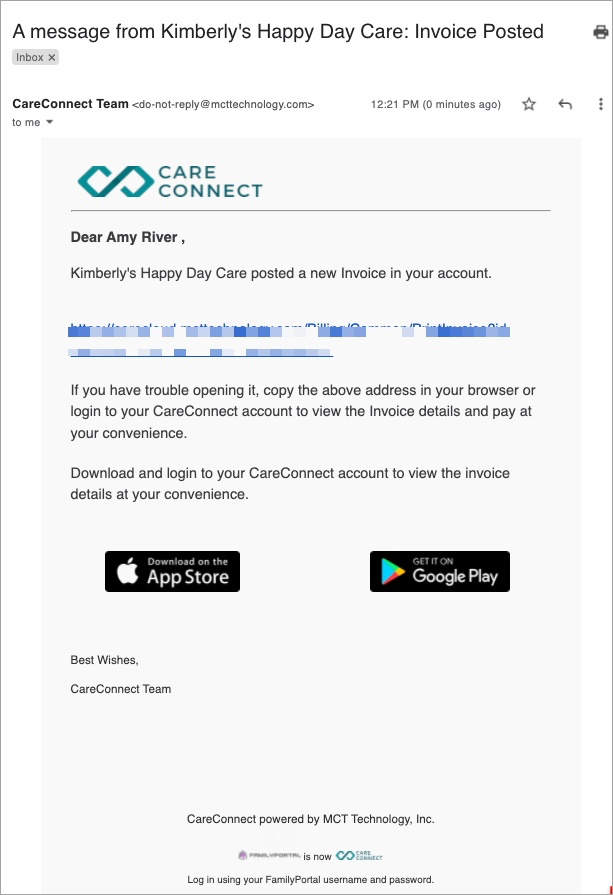 Localización y visualización de la factura
1. Abra la aplicación CareConnect e inicie sesión en su cuenta.
2. En Mis Conexiones, pulsa el nombre de tu agencia.
3. Haga clic en la pestaña de facturación en la esquina inferior derecha para comprobar si hay alguna factura pendiente para su agencia o escuela conectada.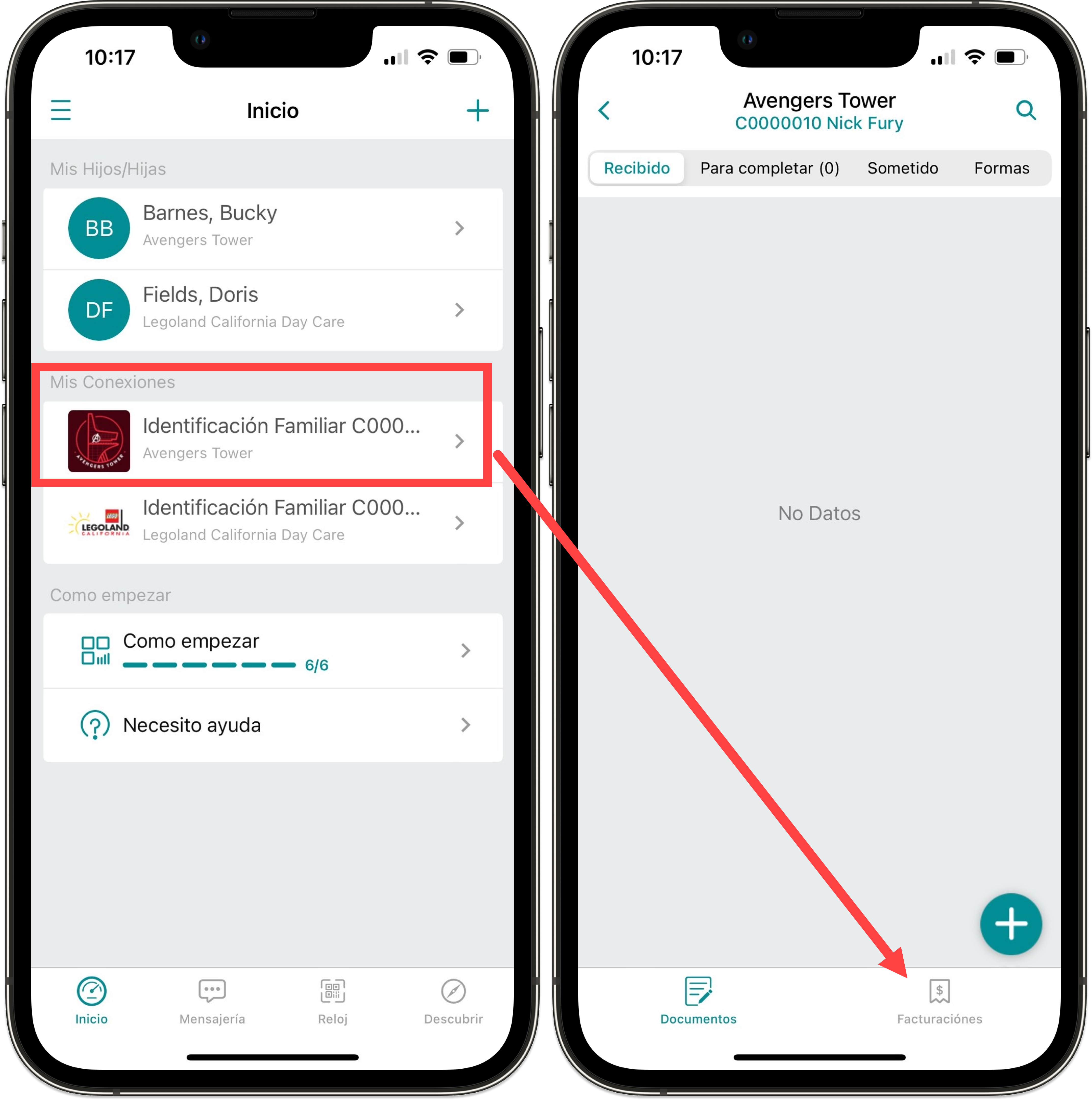 4. En la sección de Facturación, podrá ver una ver 3 pestañas:
Balance: Ver el saldo de su cuenta y el saldo de pago si tiene algún crédito.
Facturas: Lista de todas las facturas.
Pagos: Lista de todos los pagos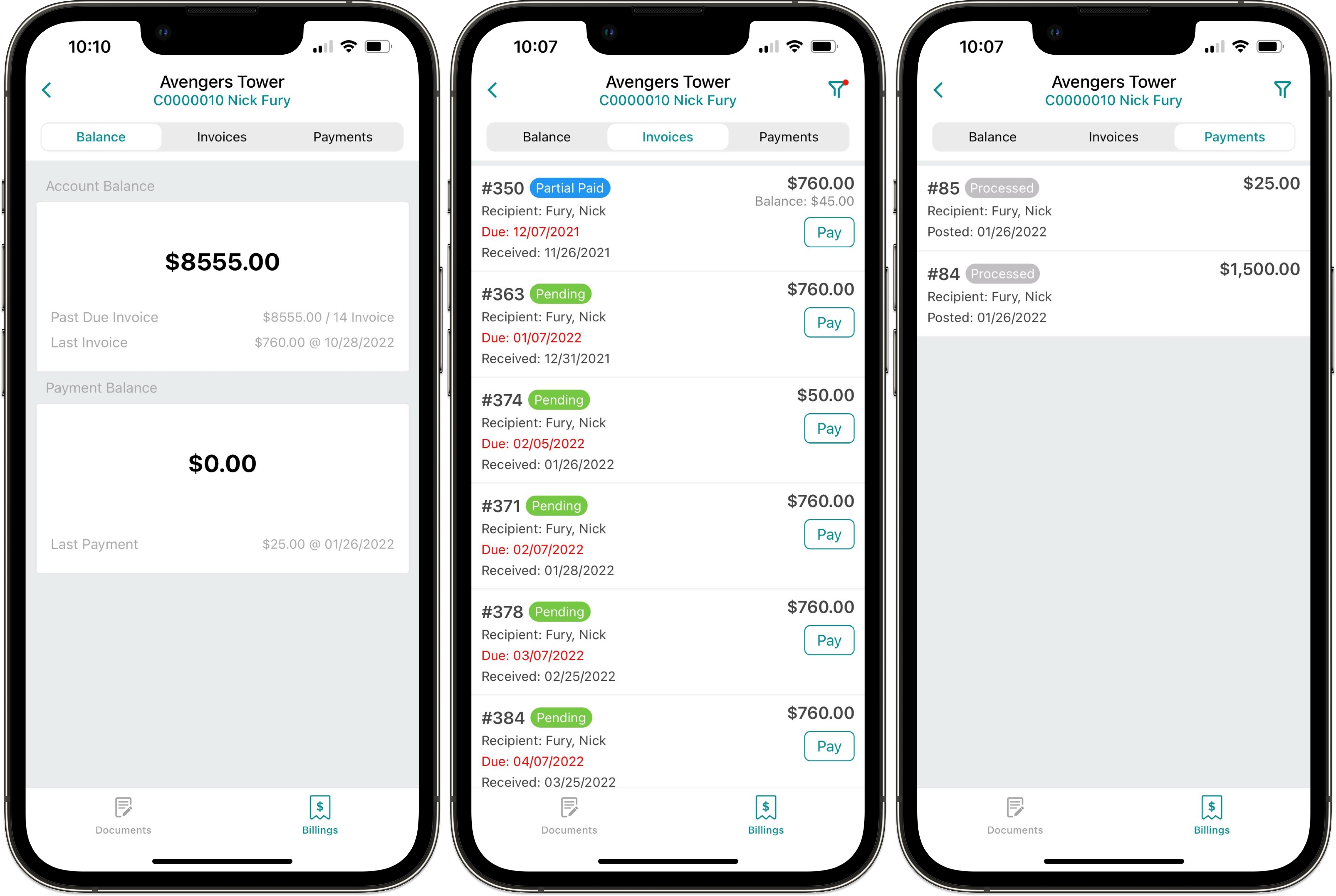 SUGERENCIA: Puede modificar el rango de búsqueda y el estado de la factura utilizando la opción de filtro para encontrar una factura específica.
5. Pulse sobre la factura que desea pagar.
6. Se mostrarán los detalles de esa factura. Aquí tendrá la opción de pagar la factura usando el botón de pago en la parte inferior después de ver los detalles de la factura.
NOTA: Si algún dato no es correcto o tiene alguna duda sobre su factura, póngase en contacto con su Agencia o Escuela de Educación Infantil. El equipo de CareConnect no puede modificar las facturas que se le hayan enviado.
7. Se abrirá una pantalla de pago con opciones para que seleccione un método de pago.
SUGERENCIA: Si su dispositivo tiene Google Pay o Apple Pay conectado, también puede pagar usando esa opción sin agregar un método de pago a CareConnect.
9. Una vez que esté seguro de qué método de pago utilizar → Seleccione
Pagar
para enviar su pago.
10. Una vez realizado el pago, el recibo de pago estará disponible para verlo o imprimirlo. Consulte
aquí
para obtener más información.