Access CareConnect Provider mobile app (iOS and Android) or CareConnect Provider Web.
This guide shows how to add/edit parent contact information for the student and explain the fields in contacts. If you need a parent to sign in/out the student, then you can create a contact under the student's profile page.
1. To locate the contact section: Student tab → Select a Student → Student Profile → Scroll to Contacts
Press

to add a new contact and press

to edit an existing contact.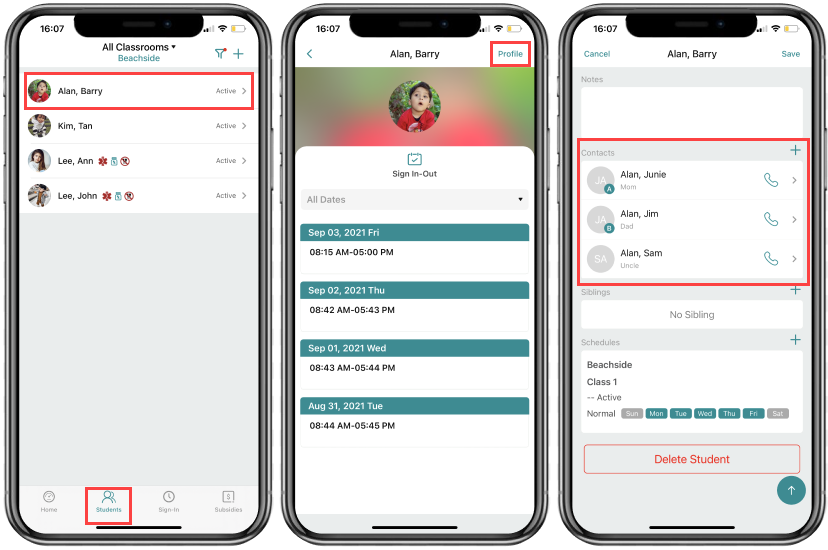 Note: If you added a phone number for a parent, you can click on

to directly call the parent.
2. After clicking on

for adding a contact, a new window will show up with different fields that you can fill out for the parent.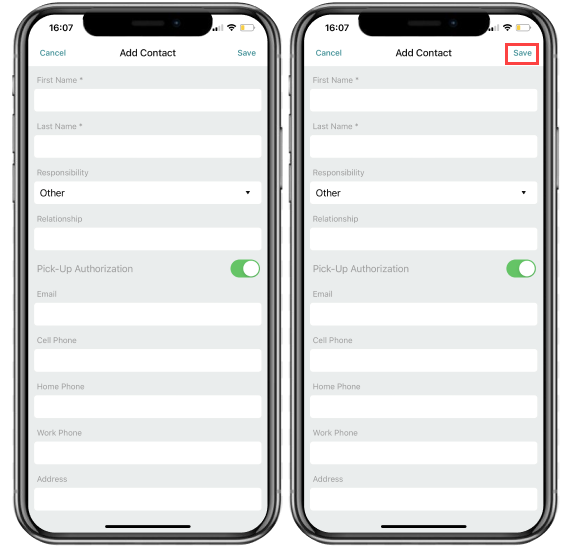 - First/Last Name: required* for creating a new contact
- Responsibility: you can select Parent A, Parent B, or Other. Assigning the contact with responsibility allows you to find primary/secondary faster when there's an emergency. you can also fill in more detailed information under Relationship.
- Pick-Up Authorization: Turning this off will disable the PIN for this Contact and as a result, they can not sign in/out the student.
- Email/Phone Number: filling out this information allow parents to receive emails/text when they forget their PIN. It also provides you with more options when you need to contact students' parents. There are additional phone number fields to fill out for Home and Work if needed.
- Address/Zip Code/City/State: optional fields for contact if you need to keep a record of the contact's address.