Access CareConnect Provider mobile app (iOS and Android) or CareConnect Provider Web.
English:
For any changes to your organization, such as a change in address or phone number, you may update them in CareConnect under the Admin tab. This article will guide you through the steps:
1log in to CareConnect --> Click on Admin tab at the top --> Click on the Organization section on the left
2. In your organization's profile --> Select EDIT to make changes.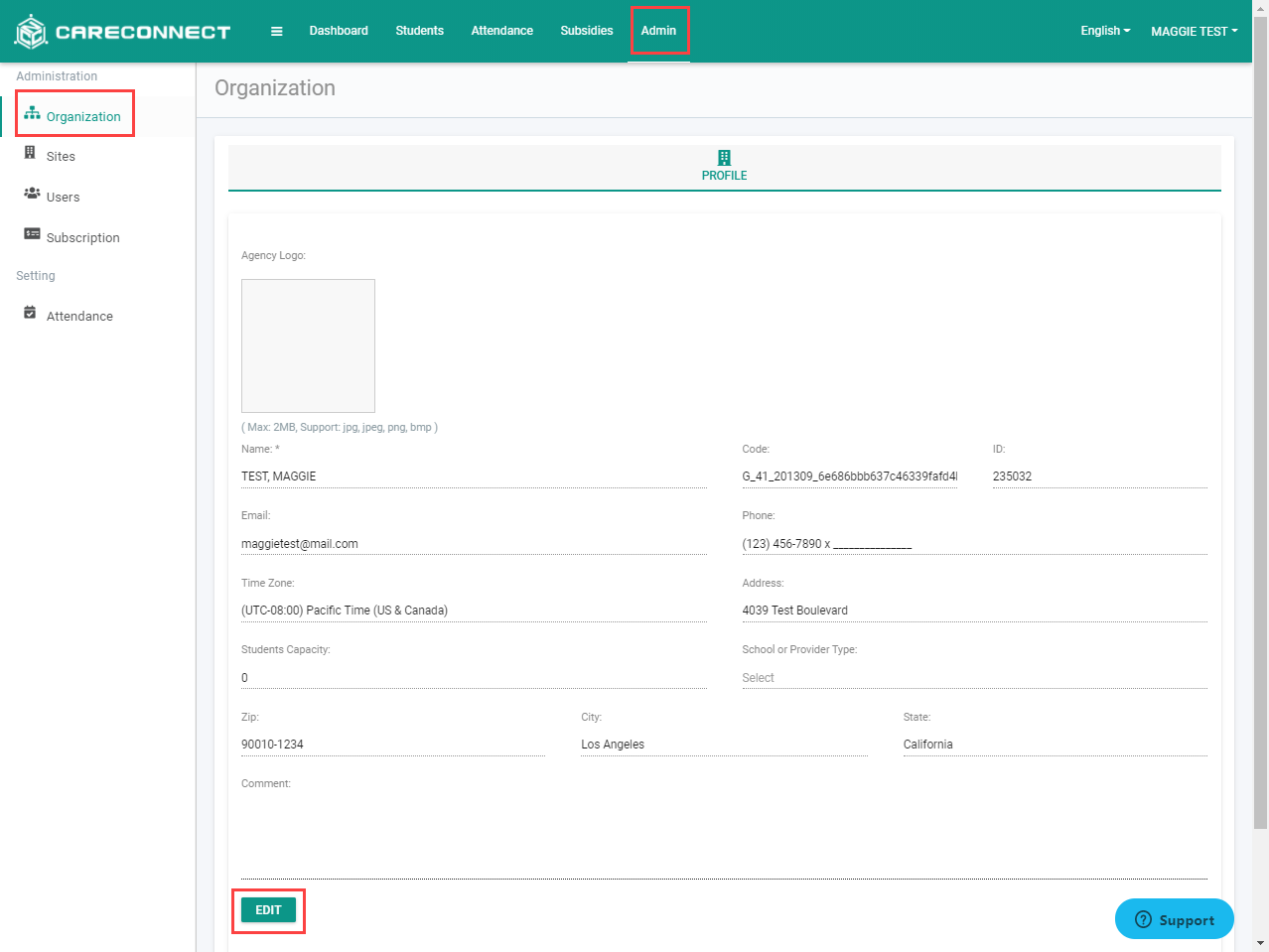 3. The following fields are available:
Agency Logo: To upload a logo, click on the Agency Logo box. The standard format is max 2MB and supports jpg, jpeg, png, bmp image types.

Name

Code & ID: These fields are non-editable fields that are generated and used by the CareConnect Team.

Email

Phone

Time Zone

Address

Students Capacity

School or Profile Type

Comment
TIP: If you are connected to a childcare Agency, you will still need to contact the Agency to update your profile.
4. Click SAVE once done.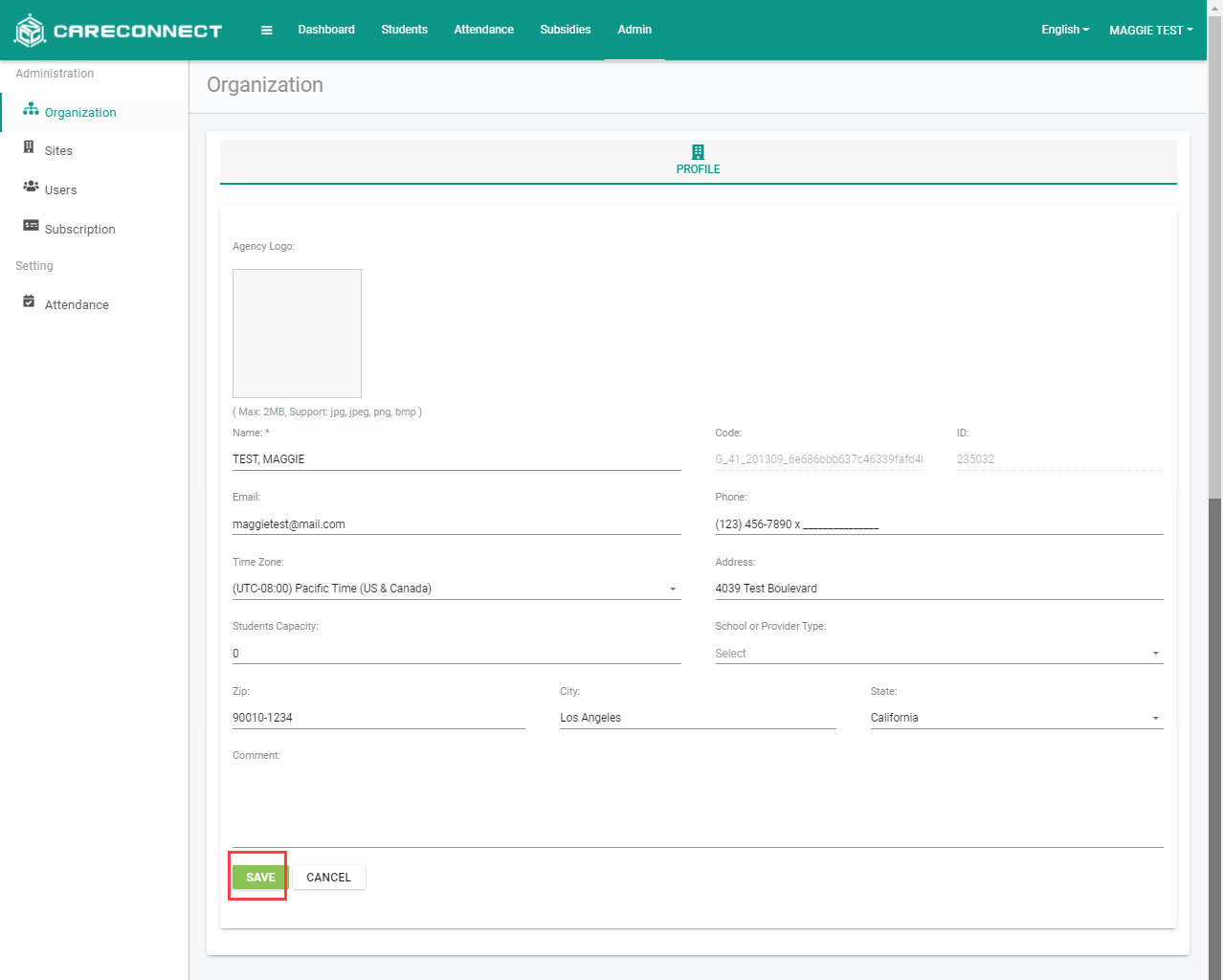 Español:
Para cualquier cambio en su organización, como cambio de dirección o número de teléfono, puede actualizarlos en CareConnect en la pestaña Administrador. Este artículo lo guiará a través de los pasos:
1. Inicie sesión en CareConnect --> Haga clic en la pestaña Administrador en la parte superior --> Haga clic en la sección Organización a la izquierda
2. En el perfil de su organización --> Seleccione EDITAR para realizar cambios.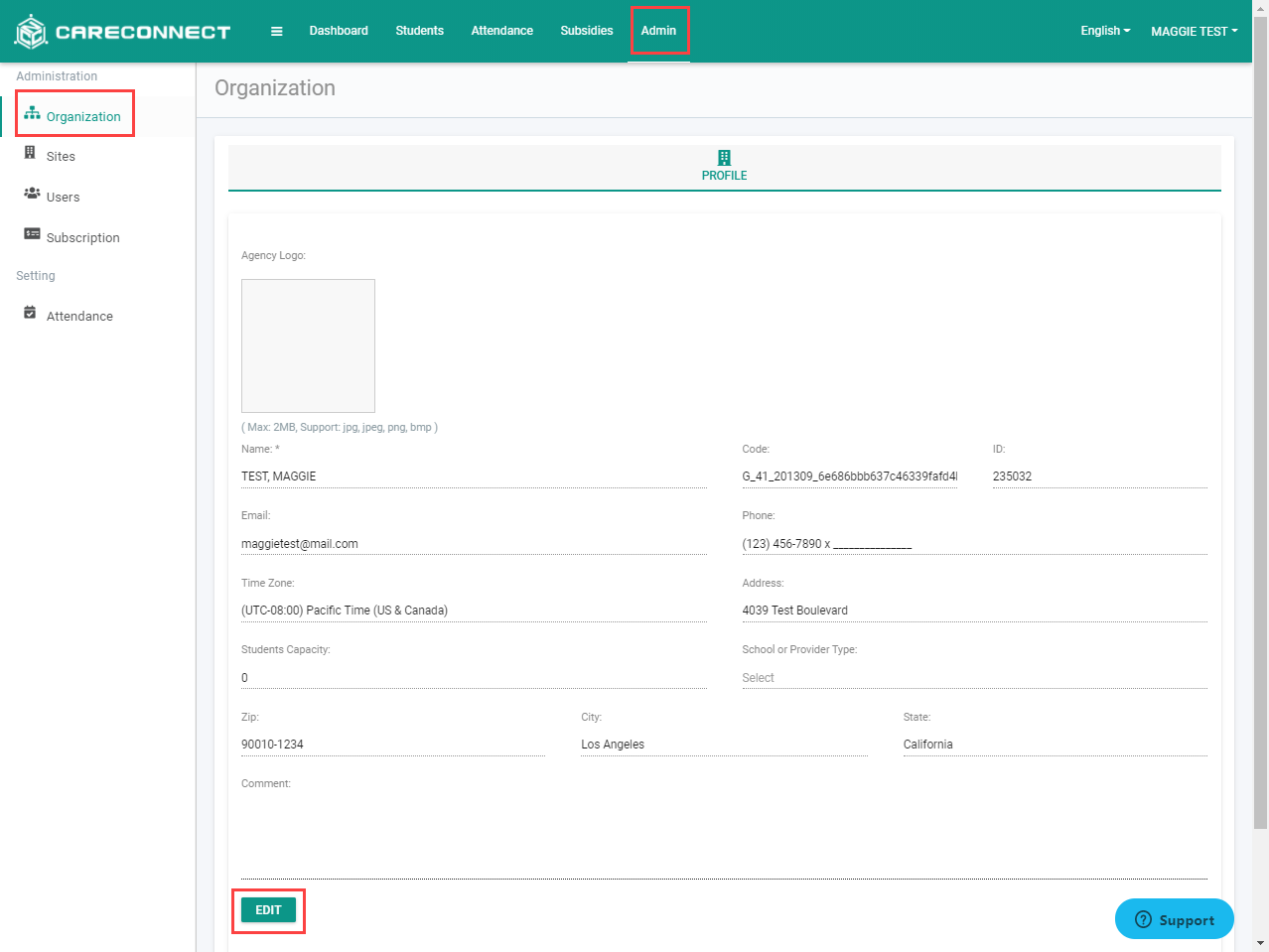 3. Los siguientes campos están disponibles:
Logotipo de la agencia: para cargar un logotipo, haga clic en el cuadro Logotipo de la agencia. El formato estándar es de 2 MB como máximo y admite tipos de imágenes jpg, jpeg, png, bmp.
Nombre
Código e ID: estos campos son campos no editables que genera y utiliza el equipo de CareConnect.
Correo electrónico
Teléfono
Zona horaria
Dirección
Capacidad de estudiantes
Escuela o tipo de perfil
Comentario
SUGERENCIA: Si está conectado a una agencia de cuidado infantil, aún así deberá comunicarse con la agencia para actualizar su perfil.
4. Haga clic en GUARDAR una vez hecho.