Access CareConnect Provider mobile app (iOS and Android) or CareConnect Provider Web.
CareConnect provides the flexibility to add single or multiple centers/locations based on your organization. This setup is available in the Admin Module --> Sites section.
A. Add New Site
1. Within the Sites section --> Click New to create a new Site location

2. A new page will open to enter information for the new Site's profile:
Name: Enter the name of your new site location

License Type: Enter the license type

Phone, Address, Zip code, City, State

FIPS: This is the Federal Information Processing Standard code that will be automatically generated by CareConnect once the location address is entered

Tax ID: Enter your Tax ID

QRIS: Enter your Quality and Improvement System (QRIS) information if available

Accreditation Status: Enter your Accreditation status information if available

Billing Account: This field is optional and may not apply to you based on your CareConnect subscription

Time Zone: Enter the timezone of your new site location
TIP: Only fields marked with * are required otherwise they are optional.
3. Select Save once done.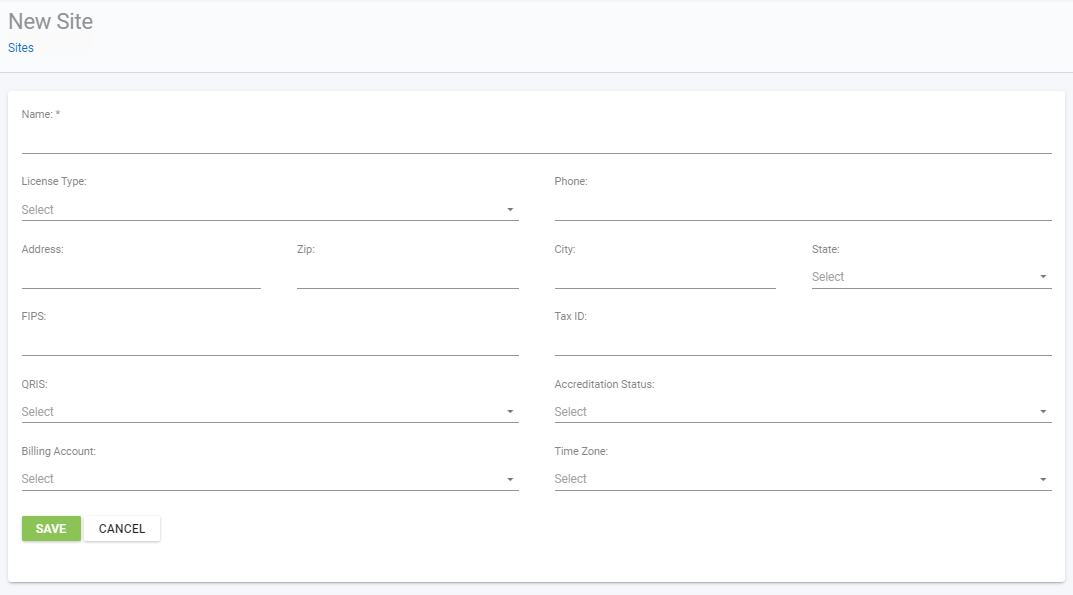 B. Edit Site Profile
1. Click on the Site's name to open the details for the site you want to modify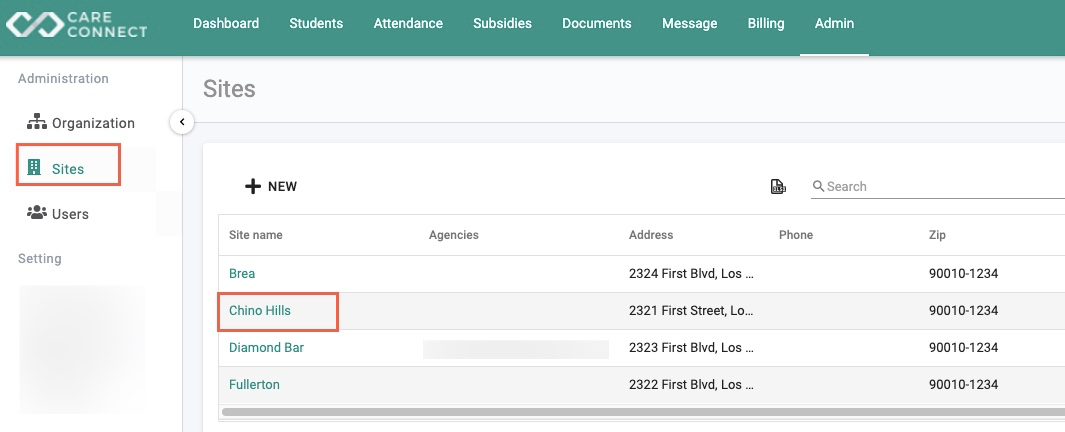 2. In the site's details there are 6 available tabs, with the Profile tab being the first tab shown
3. Within the Profile tab --> Click Edit to make changes to the Site's profile --> Click Save once done
4. To inactivate the site if the location is no longer in operation --> Click Inactivate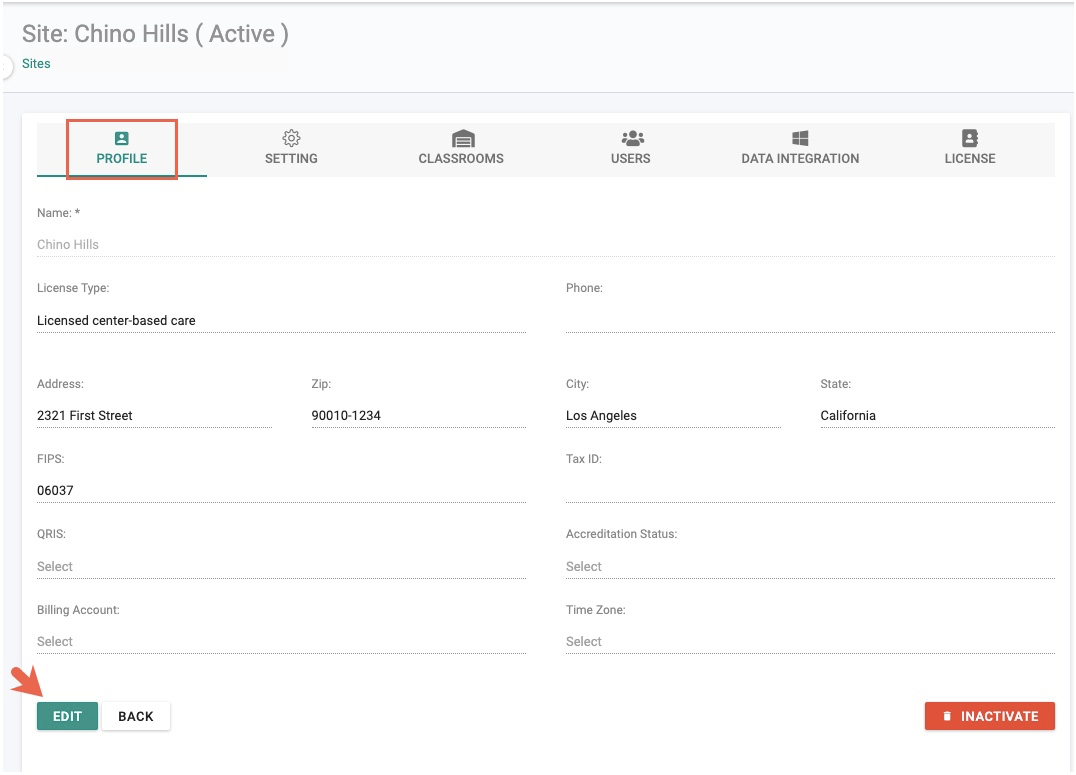 C. Add a New Classroom
1. Click on the Site's name to open the details for the site you want to add a new classroom
2. In the site's details there are 6 available tabs, with the Classrooms tab being the third tab shown
3. Within the Classrooms tab --> Click New to add a new classroom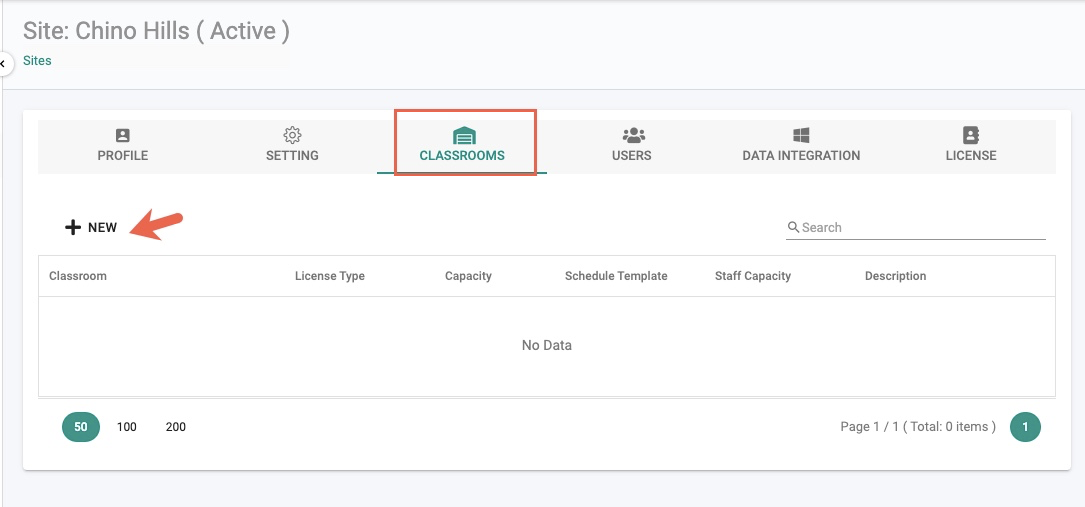 4. A new page will open to enter information for the new classroom:
Name: Enter the name of your new classroom
Mental Health Consultation Services: This is a toggle or off to allow MHCS if you are providing this services for students attending this new classroom
License Type: This will default to the license type of site, but can be changed per classroom
Capacity: Set student capacity
Schedule Template: Select a default schedule template when enrolling students into this classroom
Staff Capacity: Set staff capacity
Description
5. Select Save once done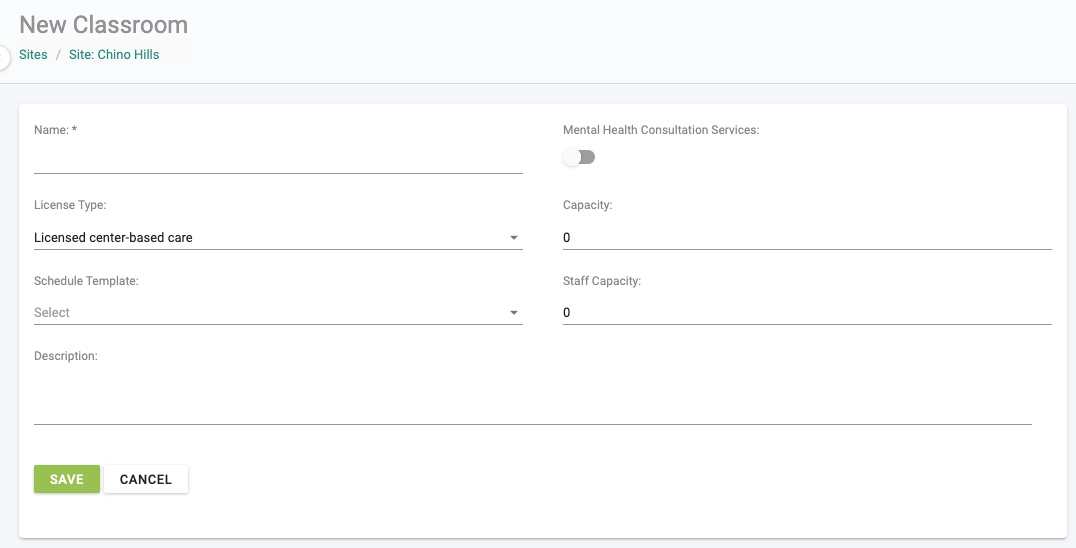 D. Edit Classrooms
1. Click on the Site's name to open the details for the site you want to edit the classroom
2. In the site's details there are 6 available tabs, with the Classrooms tab being the third tab shown
3. Within the Classrooms tab --> Click on the classroom's name that you want to make changes to

4. Click Edit to make changes --> Select Save once done
5. Click delete to delete the classroom if the location is no longer in operation --> Click Delete