English
Access CareConnect Family mobile app (iOS and Android) or CareConnect Family Web.
Within the CareConnect Application, you will find the Discover feature, which allows parents to easily search for childcare agencies and organizations within their service area.
If an organization manages its childcare waitlist with CareConnect, you may apply to that agency's childcare waitlist.
Featured Organizations
If you are new to CareConnect and have not yet applied for childcare, you will find the Featured Organizations pop-up at the bottom of the screen.
The Featured Organizations will display any Childcare Agencies that provide service based on your Zip Code.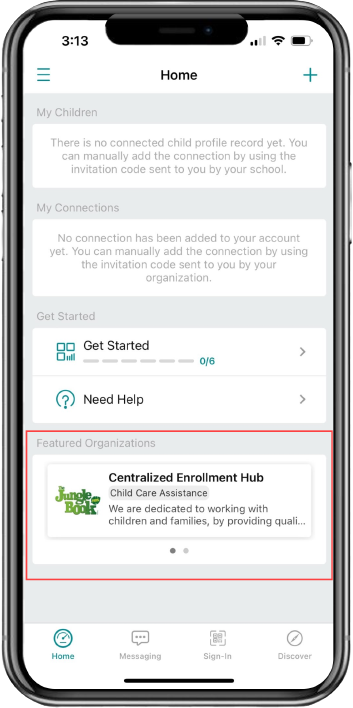 You may select any of the windows to be brought to a detailed view of that Agency's profile.
If the Childcare organization manages its waitlist via CareConnect, you will find an Apply Now button. Selecting the button will redirect you to the Agency's online application.
You will also find an organization's contact information at the top right of the Summary.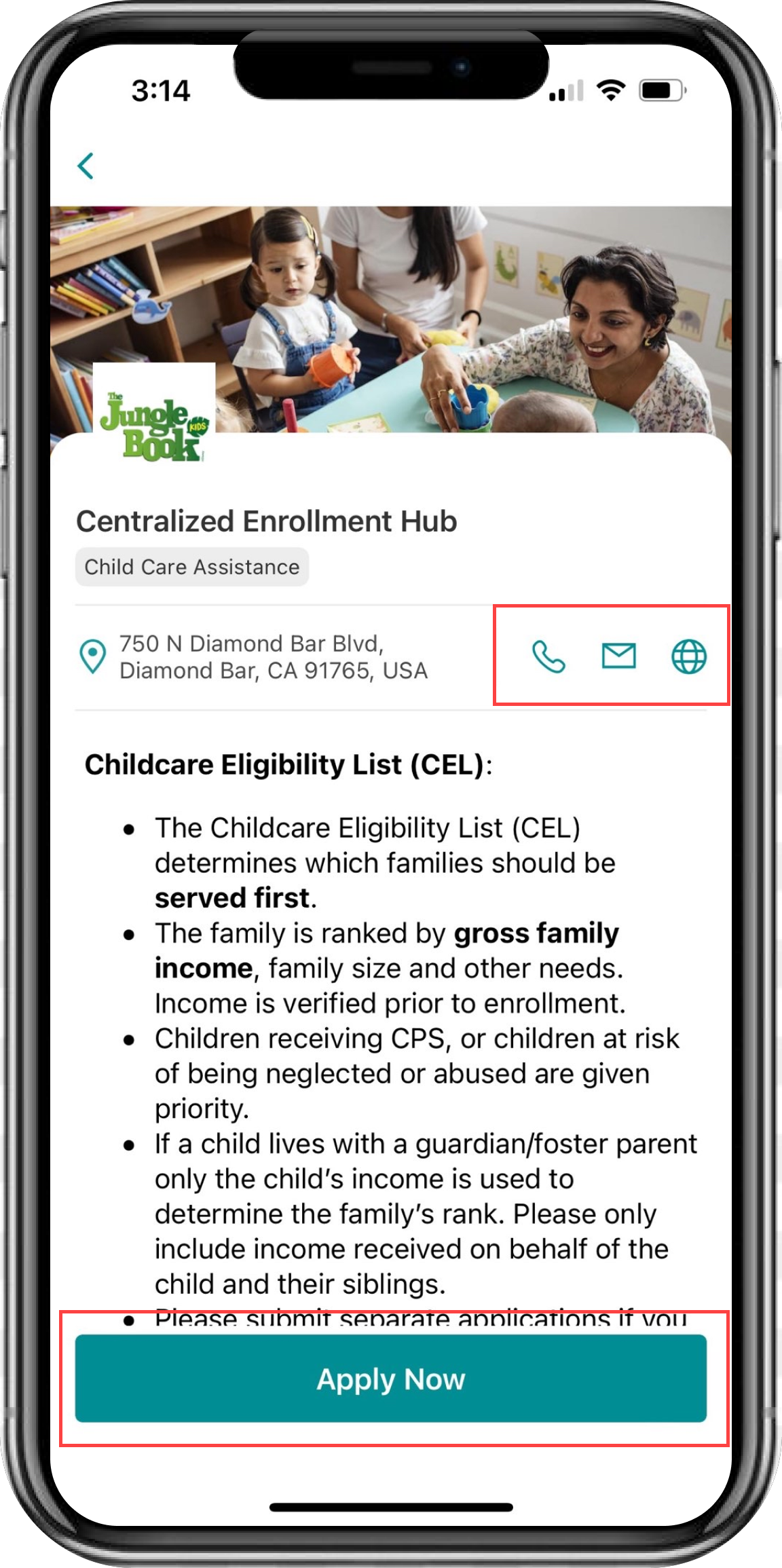 If the childcare organization does not use CareConnect to manage its waitlist, you will see a Request More Info button located at the bottom of the agency summary page.
Selecting it will prompt you to fill out a contact information form that we will forward to the agency of interest.
Discover Feature
If you do not find any organizations that suit your needs via the Featured Organizations, you may use CareConnect's Discover feature which allows you to search for any Child Care Agencies that provide service in your zip code.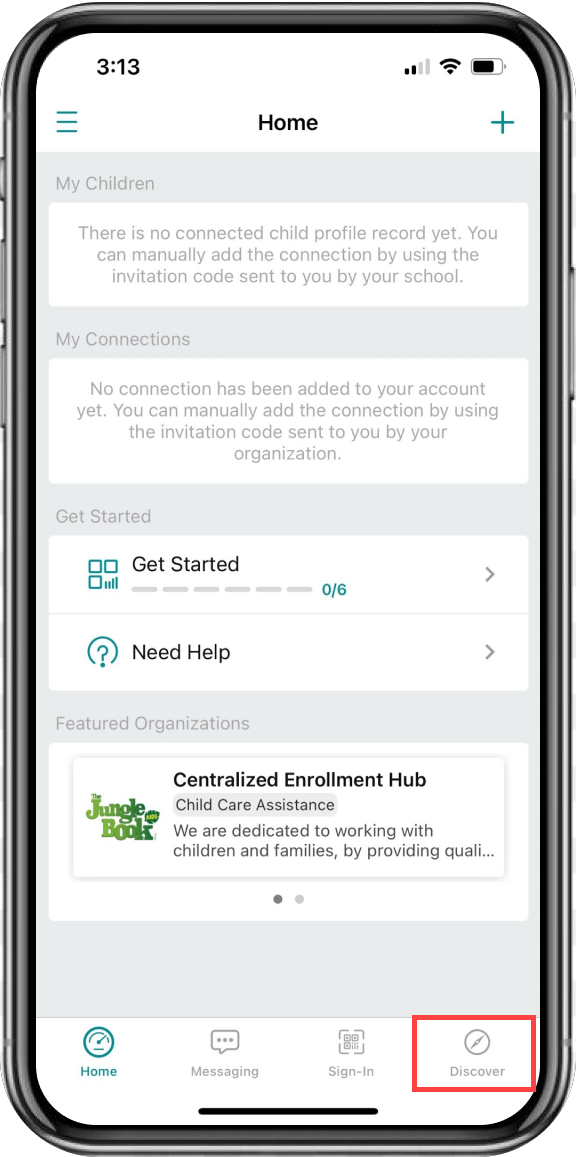 By default, this feature will pull search results based on your current location, but you may use the search bar to search by Zip Code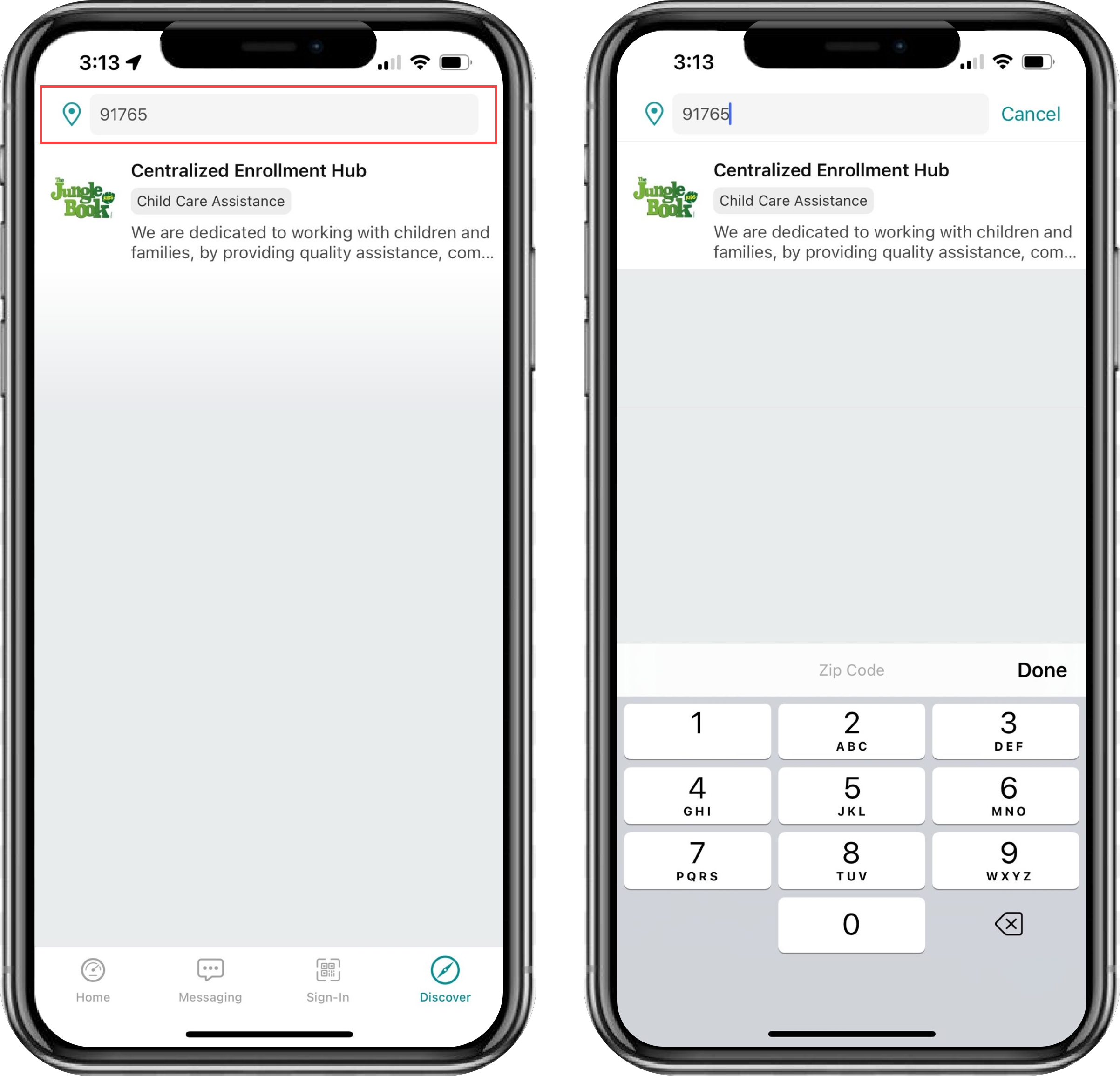 Once you've added your zip code, CareConnect will provide a list of agencies that service your location.
Clicking the agency will direct you to the agency detail page where you may view more information, Apply, or Request More Info.
If you do not find any Child Care Agencies servicing your Zip Code, you may check again at a later time as we will continue to work with more organizations.
Spanish
Buscar Ayudas Económicas Para El Cuidado De Niños
Acceder a la aplicación móvil CareConnect Family (iOS and Android) o CareConnect Family Web.
Dentro de la aplicación CareConnect, encontrará la función Descubrir, que permite a los padres buscar fácilmente agencias y organizaciones de cuidado de niños dentro de su área de servicio.
Si una organización gestiona su lista de espera de cuidado de niños con CareConnect, usted podrá inscribirse en la lista de espera de cuidado de niños de esa agencia.
Organizaciones Destacadas
Si es nuevo en CareConnect y aún no ha solicitado una plaza en una guardería, encontrará la ventana emergente Organizaciones Destacadas en la parte inferior de la pantalla.
Las organizaciones destacadas mostrarán todas las agencias de cuidado de niños que prestan servicios según su código postal.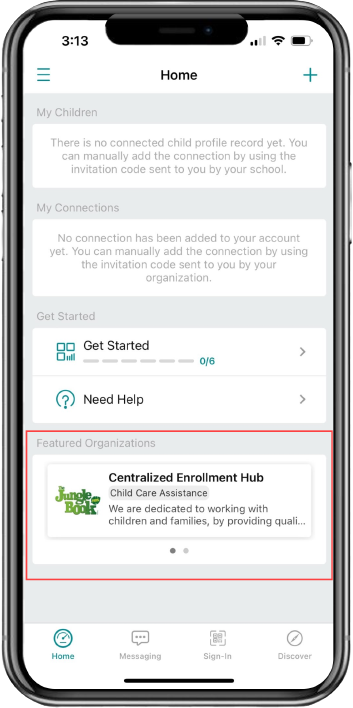 Puede seleccionar cualquiera de las ventanas para acceder a una vista detallada del perfil de esa agencia.
Si la organización gestiona su lista de espera a través de CareConnect, encontrará un botón Solicitar Ahora. Al seleccionar el botón, se le redirigirá a la solicitud en línea de la Agencia.
También encontrará la información de contacto de la organización en la parte superior derecha del Resumen.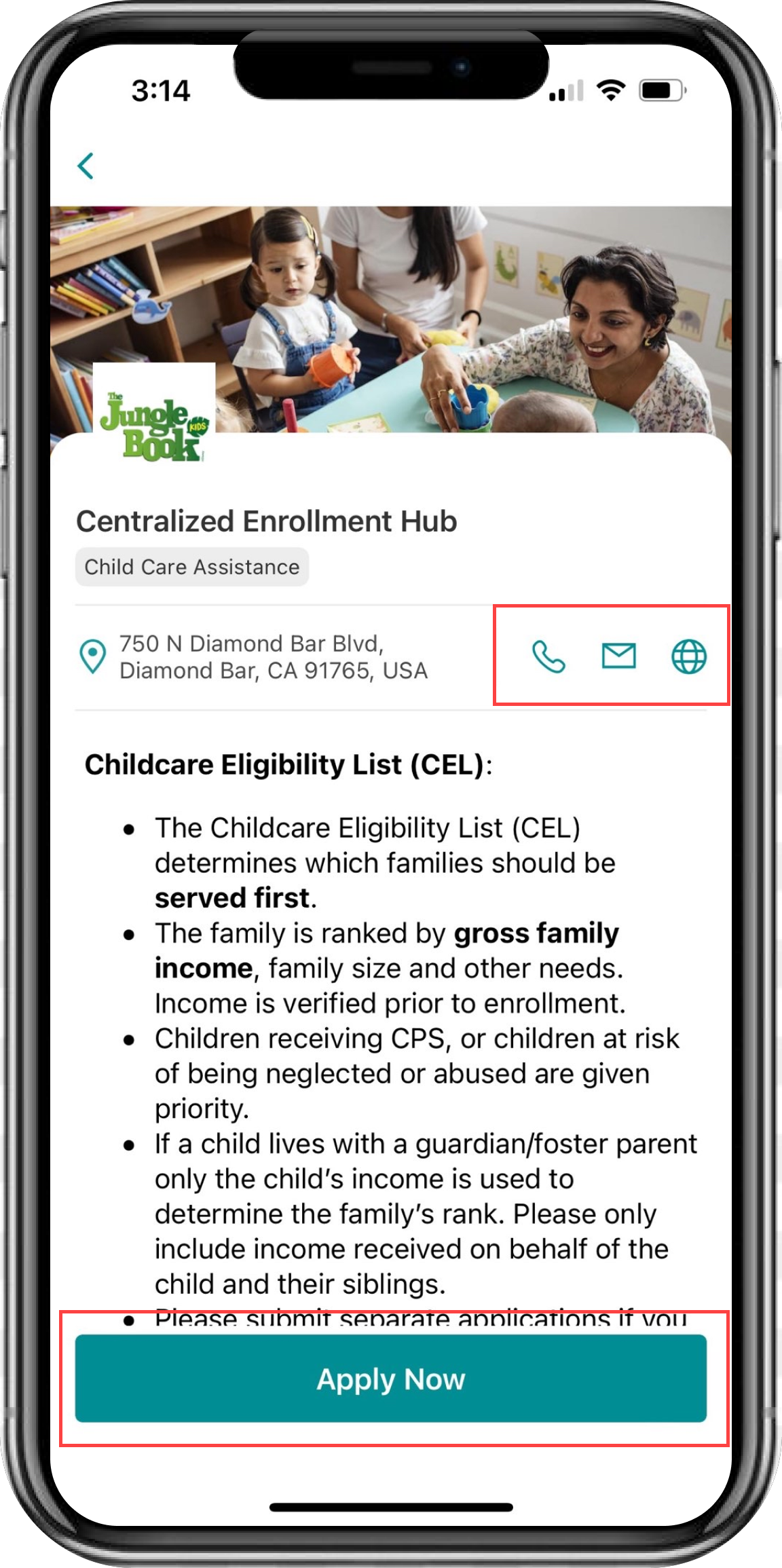 Si la organización de cuidado de niños no utiliza CareConnect para gestionar su lista de espera, verá un botón Solicitar Más Información situado en la parte inferior de la página de resumen de la agencia.
Al seleccionarlo, se le pedirá que rellene un formulario de información de contacto que enviaremos a la agencia de su interés.
Función Descubrir
Si no encuentra ninguna organización que se ajuste a sus necesidades a través de las Organizaciones Destacadas, puede utilizar la función Descubrir de CareConnect, que le permite buscar cualquier Agencia de Cuidado Infantil que preste servicio en su código postal.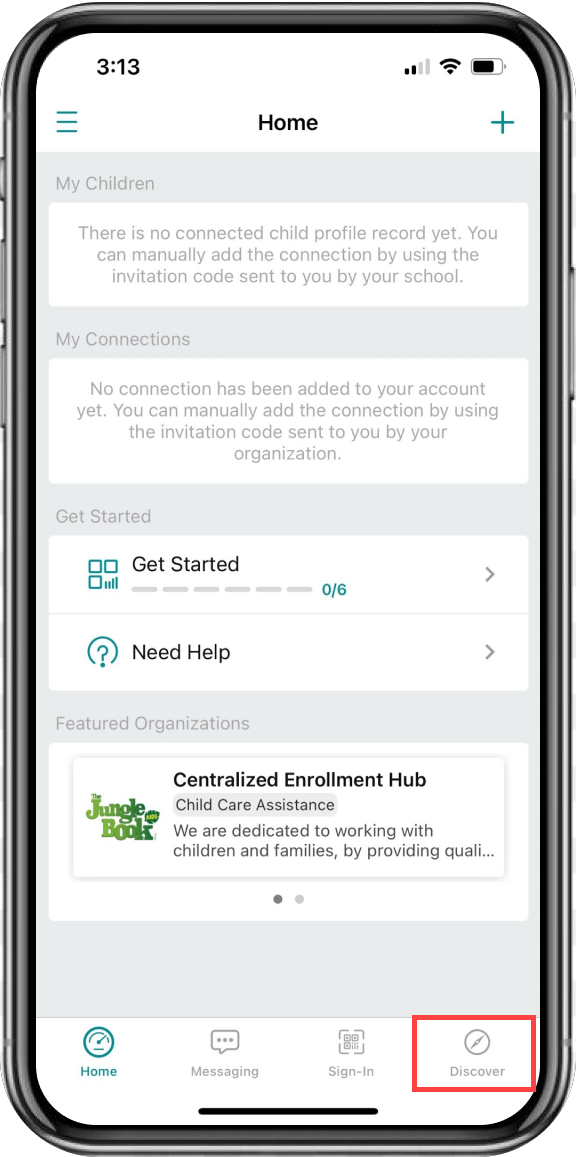 Por defecto, esta función arrojará resultados de búsqueda basados en su ubicación actual, pero puede utilizar la barra de búsqueda para buscar por Código Postal.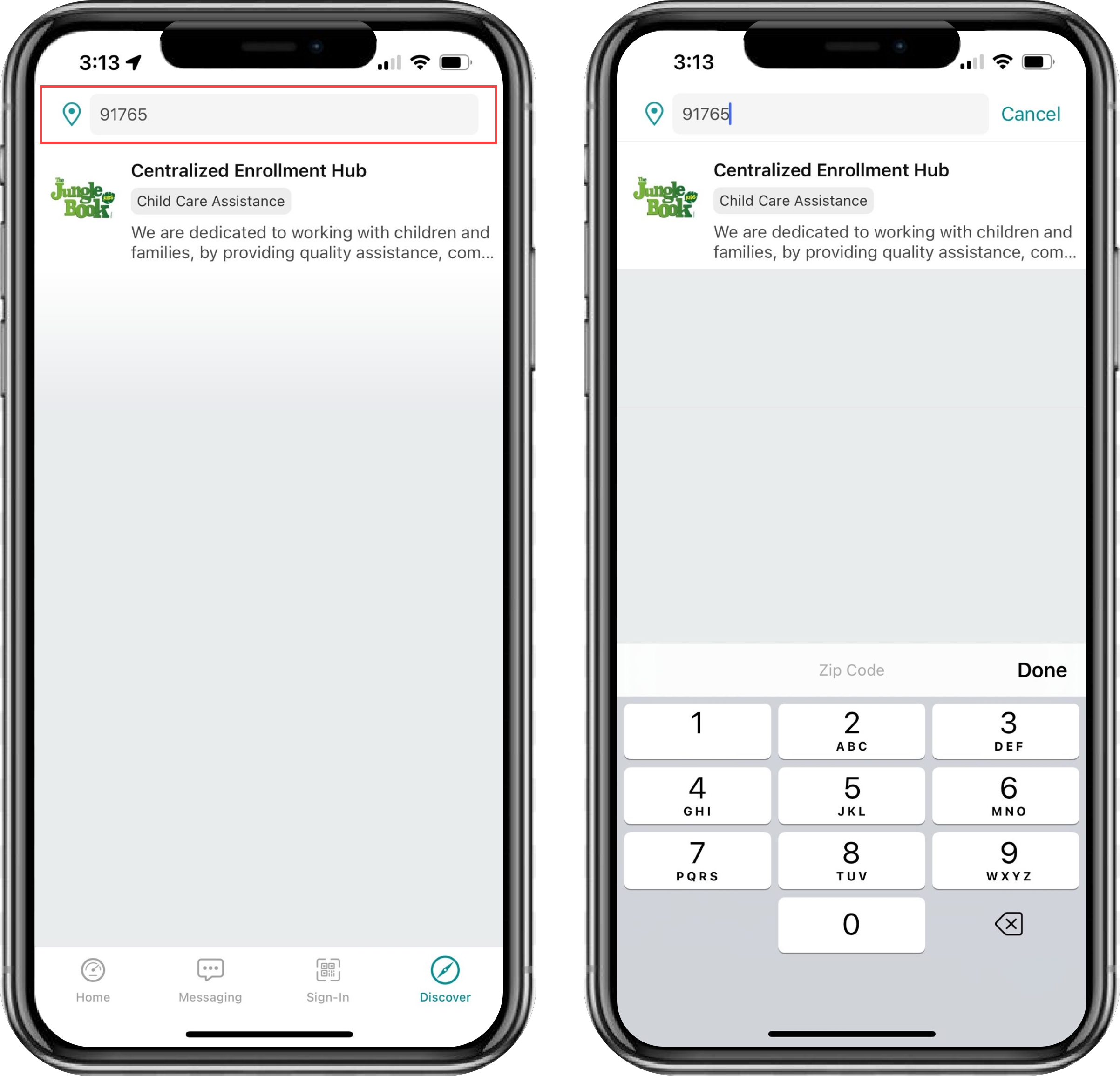 Una vez que haya añadido su código postal, CareConnect le proporcionará una lista de las agencias que prestan servicio en su localidad.
Al hacer clic en la agencia, se le dirigirá a la página de detalles de la agencia, donde podrá ver más información, presentar una solicitud o solicitar más información.
Si no encuentra ninguna agencia de cuidado infantil que preste servicios en su código postal, puede volver a comprobarlo más adelante, ya que seguiremos trabajando con más organizaciones.