Access CareConnect Family mobile app (iOS and Android) or CareConnect Family Web.
English

:
This article will guide you through the steps to View Attendance and Report Absence for your child(ren) on CareConnect Mobile. You can view the attendance record for your child(ren) and report absence for the current day, a past day, or a future day.
Steps:
1. Log in to CareConnect as a Parent.
2. Select the child that you need to view the attendance or report absence.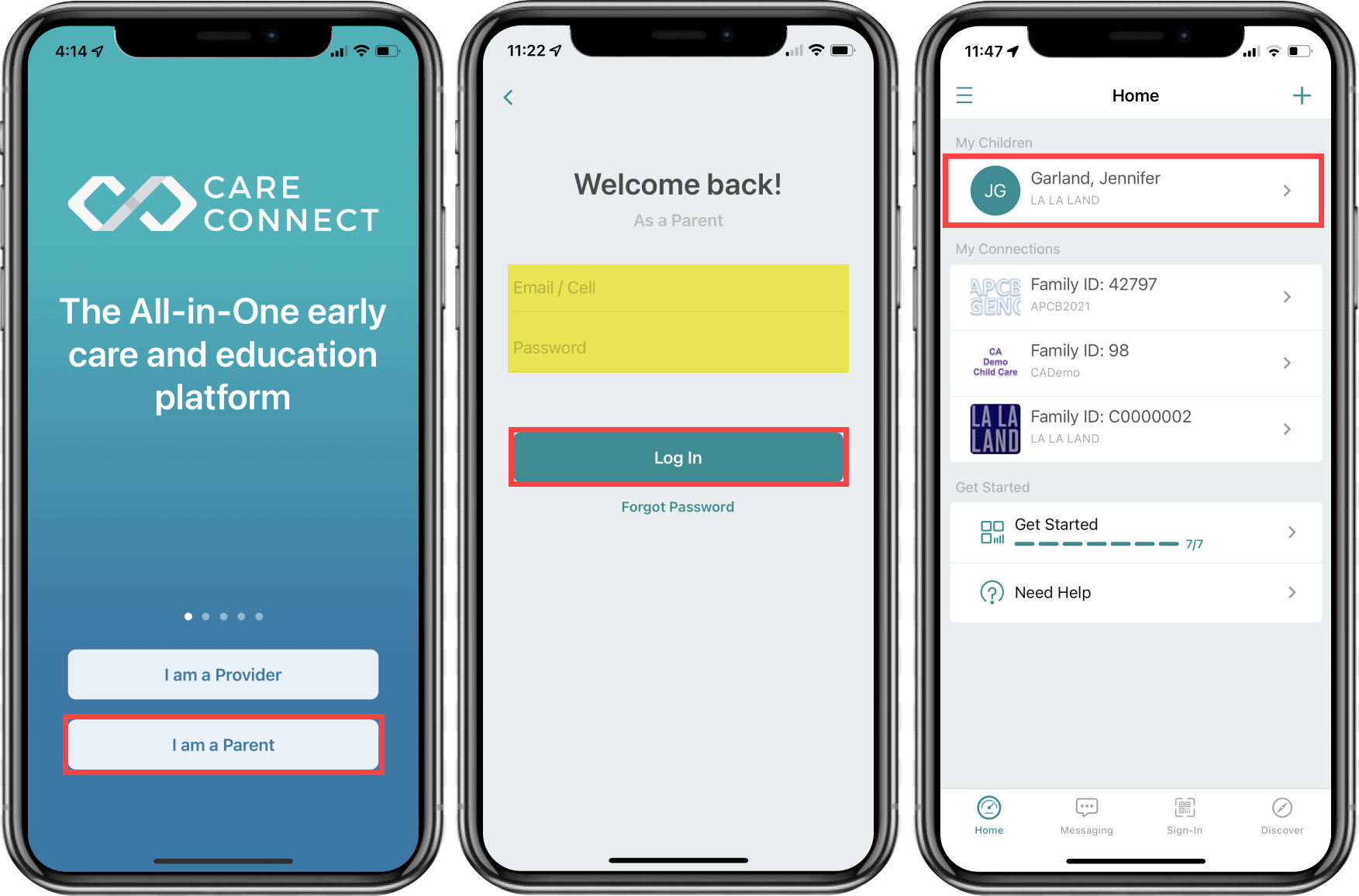 3. Here, you will be able to see all the history of attendance record. If you need to report absence, continue to follow step 4.
TIP: If you want to view the record of a specific date, you can click on

to filter the attendance record. Click here to learn more about daily sign in/out using CareConnect.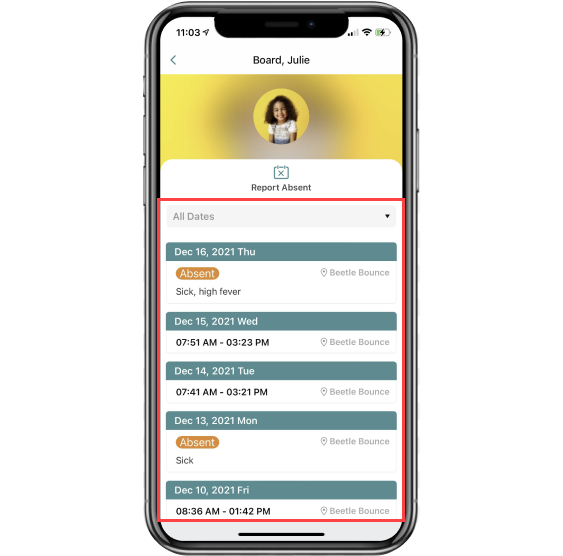 4. You can report an absence by clicking on

. This will open up a new page for you to fill out.
5. If you're reporting an absence for:
a. Today: Write a comment and provide a signature.
b. Past/Future day: you can click on the current day to open up the date picker. Then, add a comment and signature.
TIP: If you need to report an absence for a different site that your child is enrolled in, you can click on
under the Site box to select a different site.
TIP: To learn how to report an absence for 2 or more children at the same time, click here.
Once you have filled out each field, click done to save.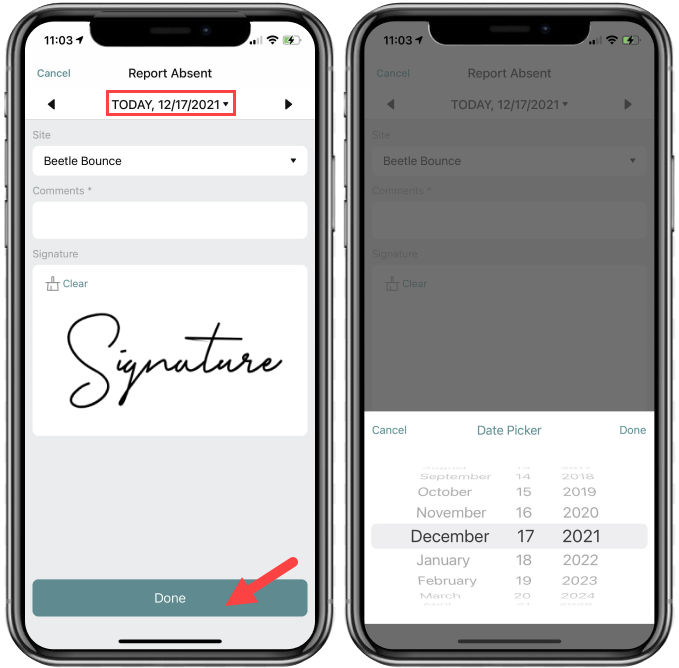 6. Now you have successfully marked the student as absent. The page will automatically jump back to the child's attendance record.
Español

:
Este artículo le guiará a través de los pasos para Ver la Asistencia y Reportar la Ausencia de su(s) hijo(s) en CareConnect Móvil. Puede ver el registro de asistencia de su(s) hijo(s) y reportar la ausencia del día actual, un día pasado o un día futuro.
Pasos:
1. Inicie sesión en CareConnect como padre.
2. Seleccione el nombre del niño del que necesita ver la asistencia o reportar ausencia.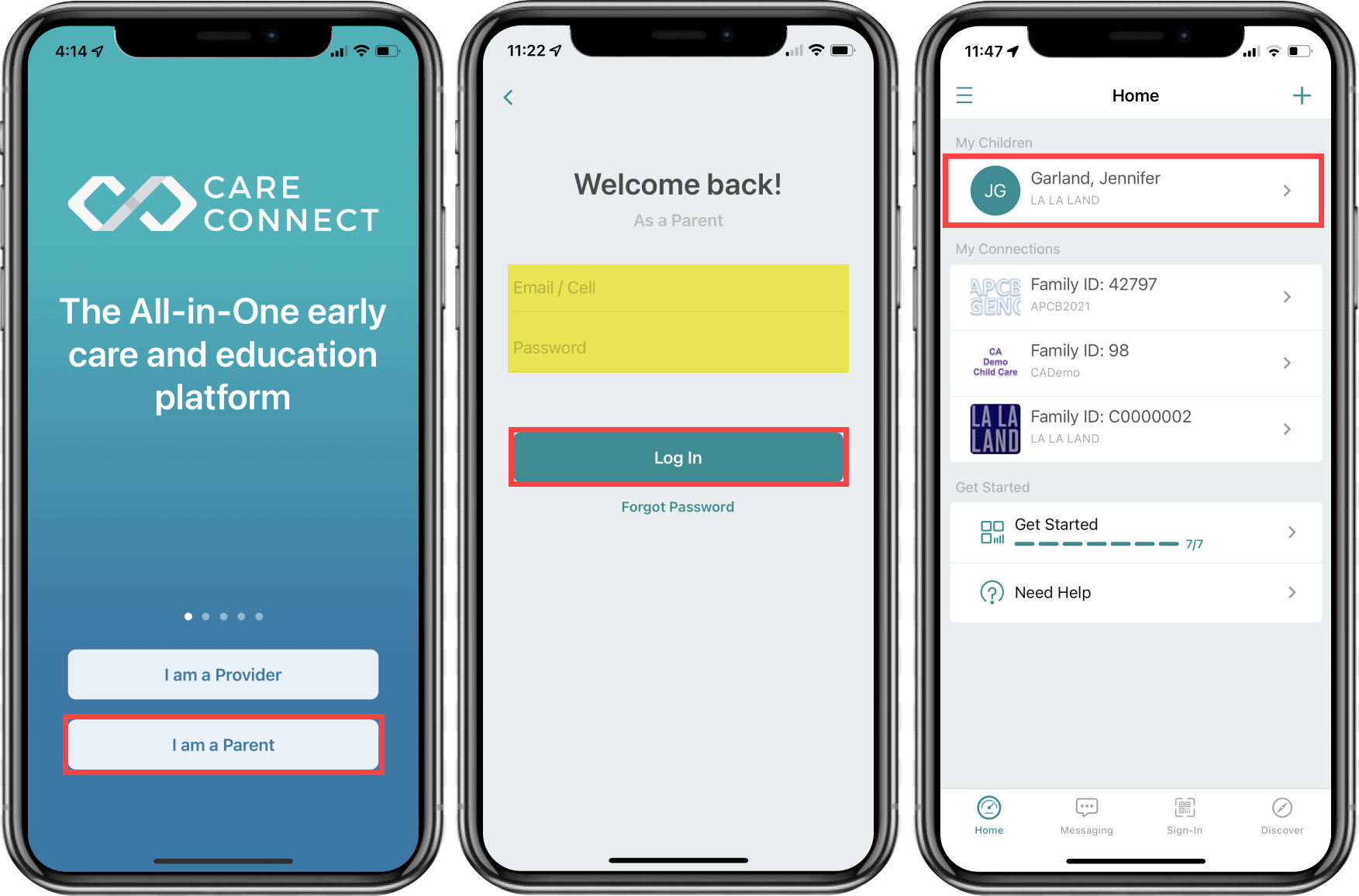 3. Aquí podrá ver todo el historial del registro de asistencia. Si necesita reportar una ausencia, continúe con el paso
SUGERENCIA: Si desea ver el registro para una fecha especifica, puede hacer clic en

para filtrar el registro de asistencia. Haga clic aquí para obtener mas informacion sobre las entradas y salidas diarias usando CareConnect.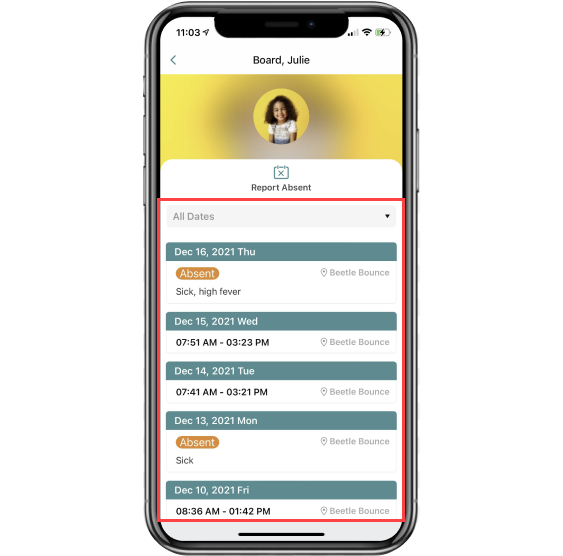 4. Puede reportar una ausencia haciendo clic en

. Esto abrirá una página nueva para que la rellene.
5. Si está reportando una ausencia de
a. hoy: necesita escribir un comentario y proporcionar una firma.
b. un día pasado/futuro: puede hacer clic en el día actual para abrir el selector de fechas. A continuación, añada un comentario y una firma.
SUGERENCIA: Si necesita reportar una ausencia de un centro diferente al que esta inscrito su hijo, puede hacer clic en
debajo de la casilla "Site" para seleccionar un centro diferente.
Una vez que haya rellenado cada campo, haga clic en hecho para guardar.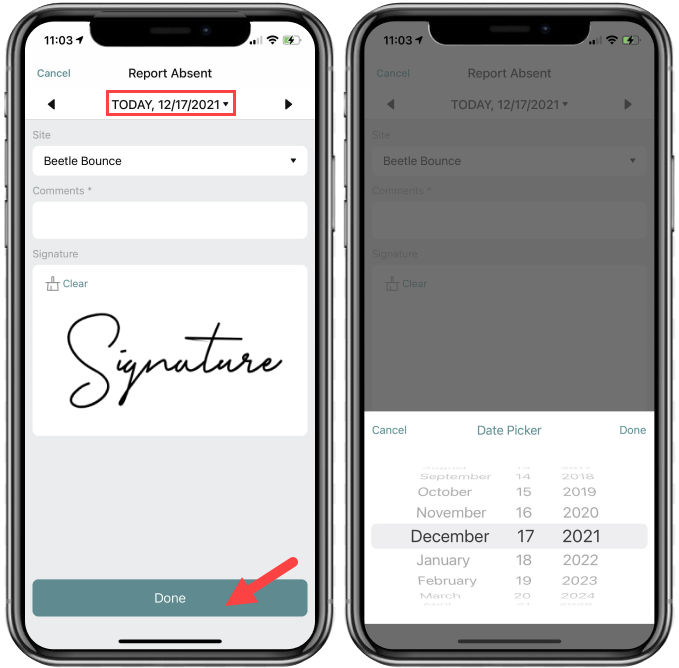 6. Ahora ha marcado con éxito al estudiante como ausente. La página regresará automáticamente al registro de asistencia del niño.