Access CareConnect Provider mobile app (iOS and Android) or CareConnect Provider Web.
English
Question:
On the website version, what do those colorful boxes represent under the attendance column?
On the mobile version, why are there colorful dots next to the input dates?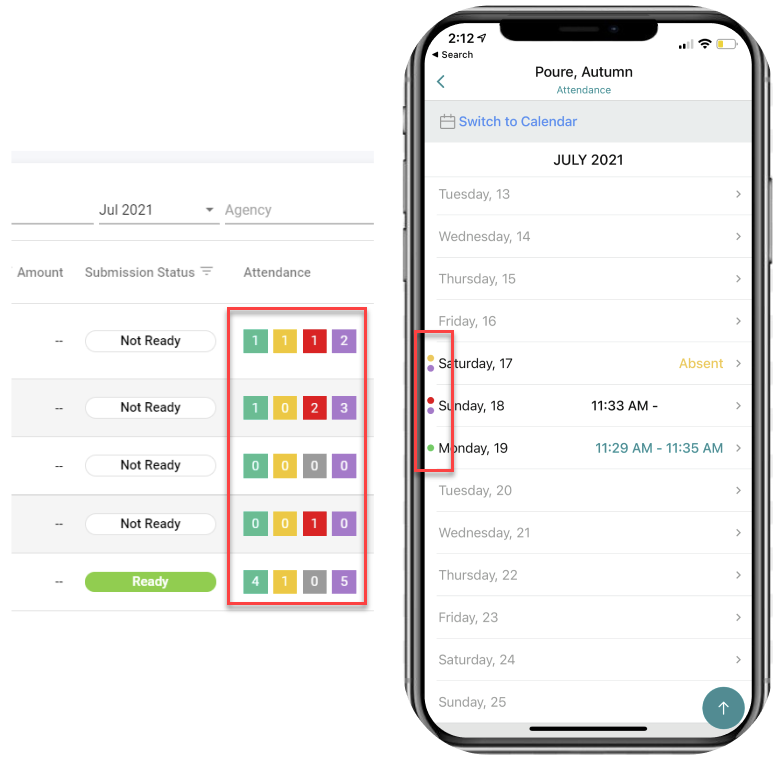 Answer:
The

green

box/dot represents students' attended days that include both their time in and time out.

The yellow

box/dot represents students' absent days.

The

red

box/dot represents an incomplete attendance day. In other words, there is a time in but no time out or vise versa.

The

purple

box/dot represents the number of days a parent needs to sign. Keep in mind, depending on your agency/organization, a daily parent signature may not be required.
Español
Pregunta:
En la versión del sitio web, ¿qué representan esos cuadros de colores debajo de la columna de atendencia?
En la versión móvil, ¿por qué hay puntos de colores junto a las fechas?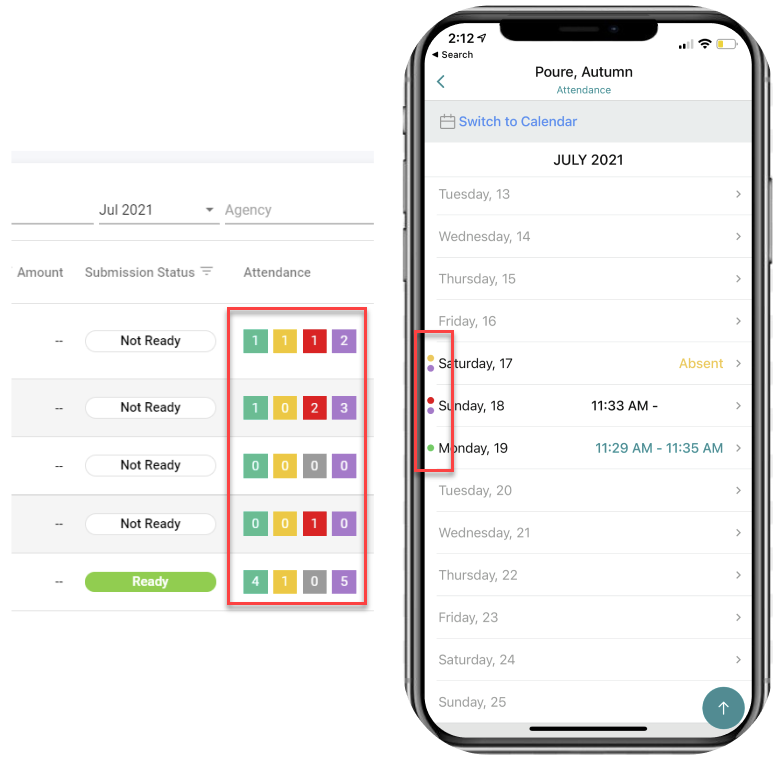 Respuesta:
El cuadro/punto verde representa los días a los que asistieron los estudiantes que incluyen tanto el tiempo de entrada como el tiempo de espera.
El cuadro/punto amarillo representa los días de ausencia de los estudiantes.
El cuadro/punto rojo representa los días de asistencia incompleto. En otras palabras, hay un tiempo de entrada pero un tiempo de salida o viceversa.
El cuadro/punto morado representa la cantidad de días que un padre debe firmar. Tenga en cuenta que, dependiendo de su agencia/organización, es posible que no se requiera la firma diaria de los padres.