Access CareConnect Provider mobile app (iOS and Android) or CareConnect Provider Web.
English:
Question:
How do you enter overnight care in CareConnect Timesheets?
Answer:
If you offer overnight care, you can enter the hours by using the day that care begins for both of the times. For example, if you provide overnight care from Monday to Tuesday, you would enter the hours on Monday of the timesheet (pictured below).
If you see a warning icon

to the right, CareConnect is simply letting you know that you've entered a time that is more than 12 hours of care. If this is true, then please disregard the warning.
The "Overnight" comment has been added for clarity but is not required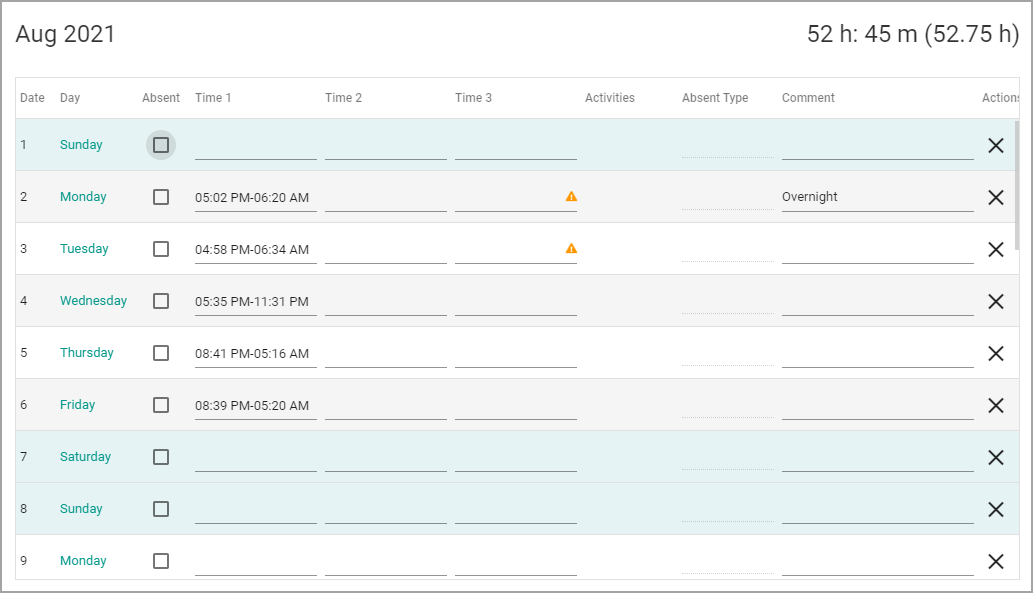 Spanish:
Pregunta:
¿Cómo se ingresa el cuidado nocturno en las hojas de asistencia de CareConnect?
Respuesta:
Si ofrece atención durante la noche, puede ingresar las horas utilizando el día en que comienza la atención para ambos horarios. Por ejemplo, si brinda atención durante la noche de lunes a martes, debe ingresar las horas del lunes en la hoja de asistencia (que se muestra a continuación).
Si ve un ícono de advertencia

a la derecha, CareConnect simplemente le informa que ingresó un tiempo que es más de 12 horas de atención. Si esto es cierto, ignore la advertencia.
Se ha añadido el comentario "Durante la noche" para mayor claridad, pero no es obligatorio.