Access CareConnect Family mobile app (iOS and Android) or CareConnect Family Web.
English

:
Once you've successfully created your CareConnect account, and added a payment method, you're all set to pay your invoices! This article will guide you through the steps from viewing the invoice to paying it online.
I. Receiving the Invoice
If your connected child care Agency or School enables online bill pay via CareConnect, you will have access to viewing the invoices and pay online in your CareConnect Family account.
When your connected childcare School or Agency sends you a new invoice, you will receive a notification to notify you of the invoice to log in to CareConnect Family to view its detail.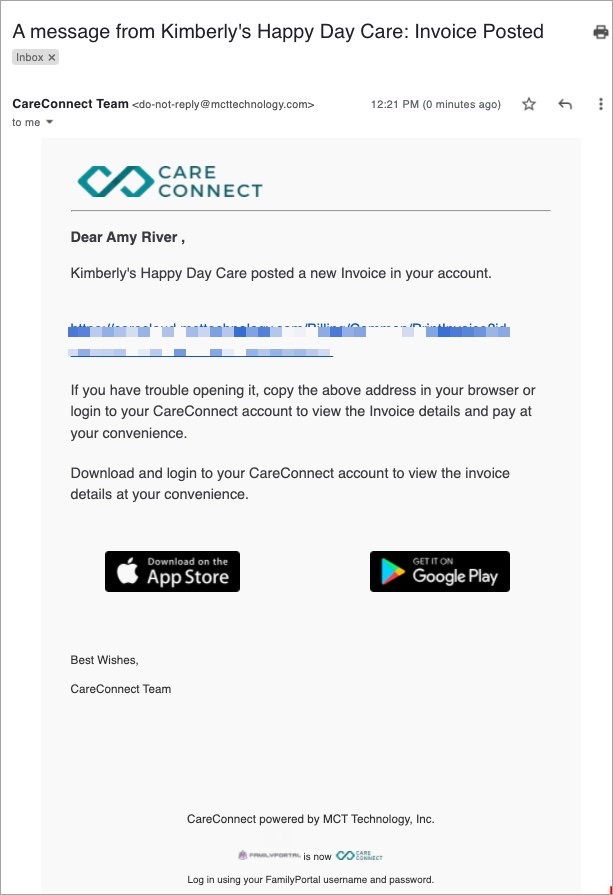 II. Locating and Viewing the Invoice
Step 1: Start by logging into your CareConnect Family account → Under the Home is where you can check if there are any pending Invoices for each of your connected childcare agencies or schools.

Step 2: Once clicked on the Billing section, you will be redirected to the Billing page to view a list of all invoice(s). By default only Pending and Partially Paid invoices are shown.
TIP: You may modify the search range and invoice status to find a specific invoice.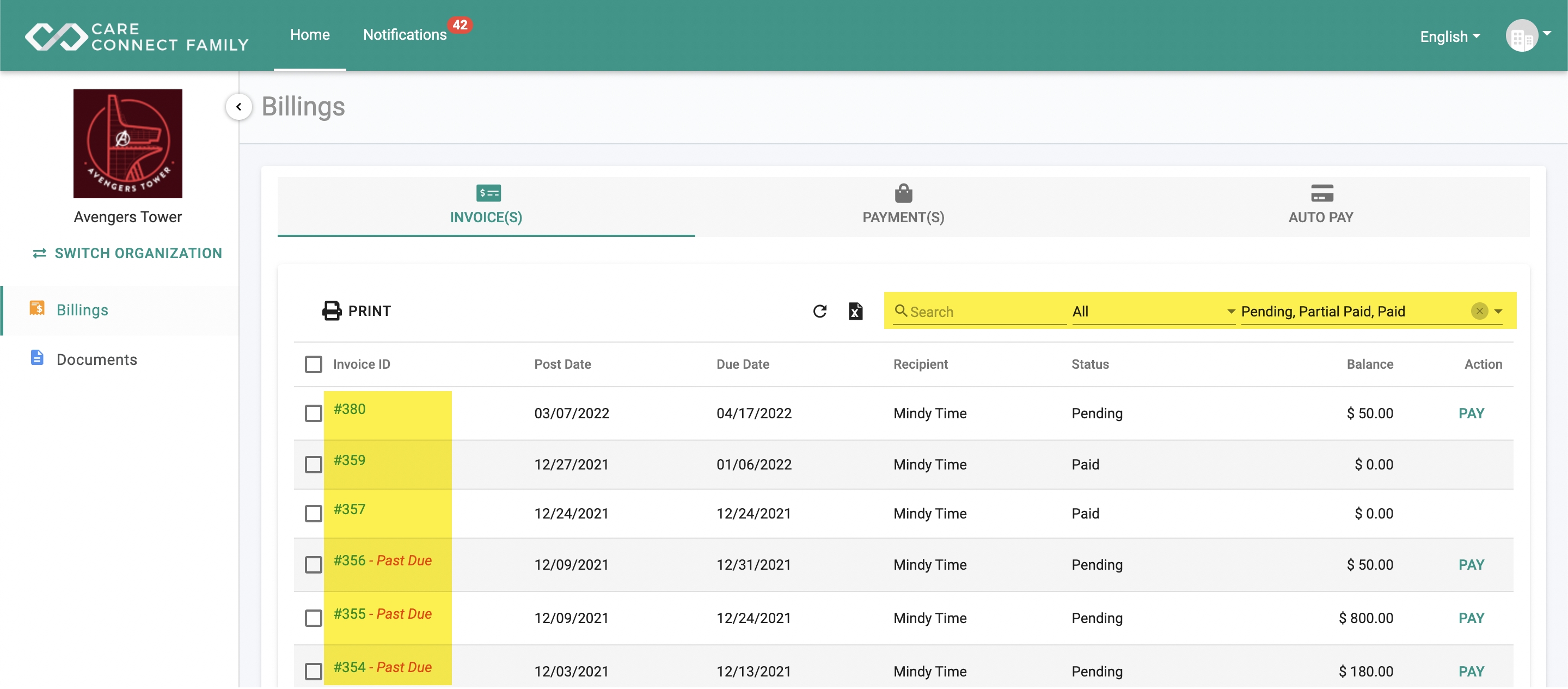 Step 3: Locate the invoice you'd like to pay.
a. If you'd like to view the details → Click the invoice number.
b. If you'd like to pay without reviewing the details → Click the pay icon at the right of the invoice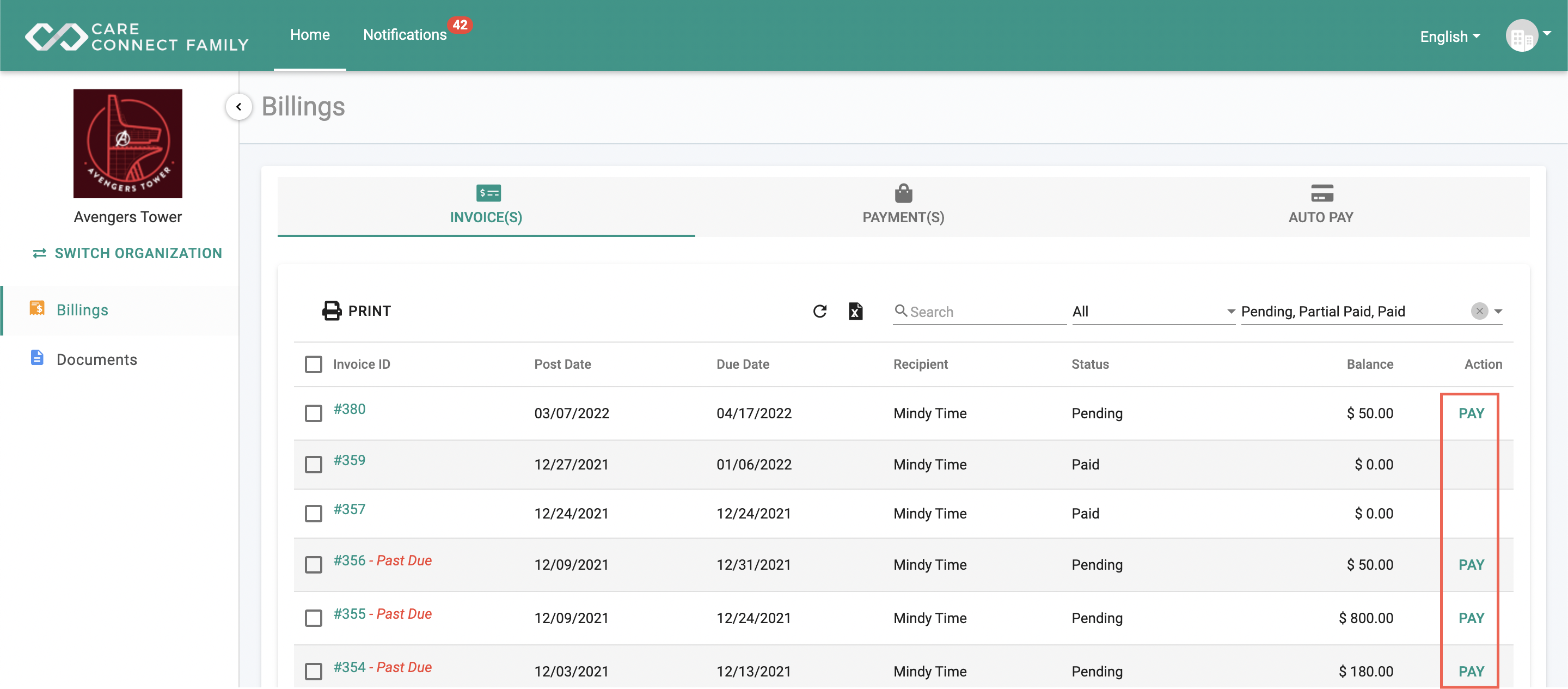 4. If you click the invoice number, the details for that invoice will be shown. Here you have options to:
a. Pay the invoice using the Pay button
b. Print the invoice statement using the Print button
c. Go back to the list using the Back button
NOTE: If any information is not correct or you have a question about your invoice, please contact your childcare Agency or School. The CareConnect Team cannot alter any invoices that were sent to you.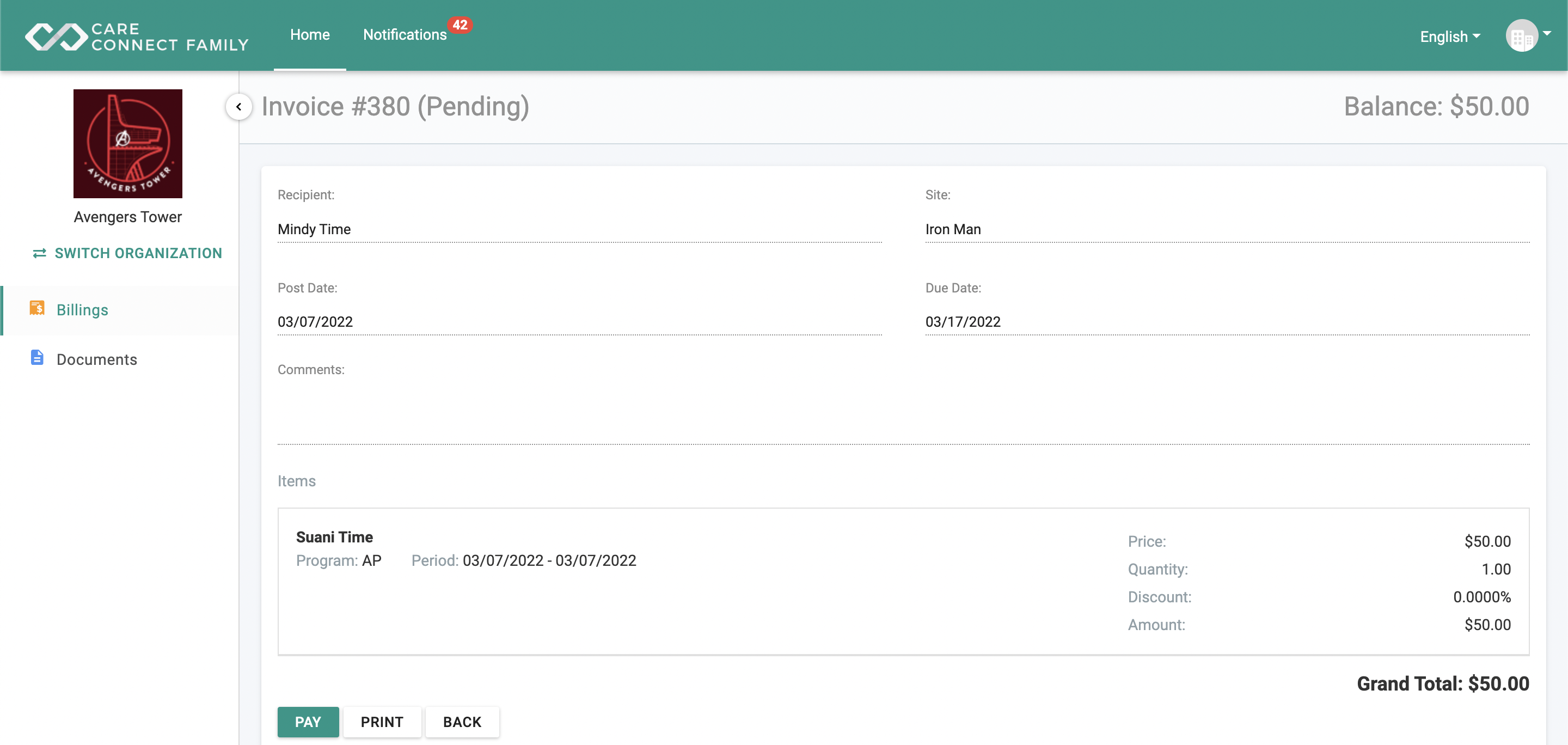 Step 5: If you selected Pay, a payment screen will open up with options for you to select a payment method.
Step 6: The payment method that was added to your account settings will be displayed here. If you did not add any payment method before, you can add it or add another payment method at this step.
Step 7
: Once sure of which payment method to use → Select
Pay
to submit your payment.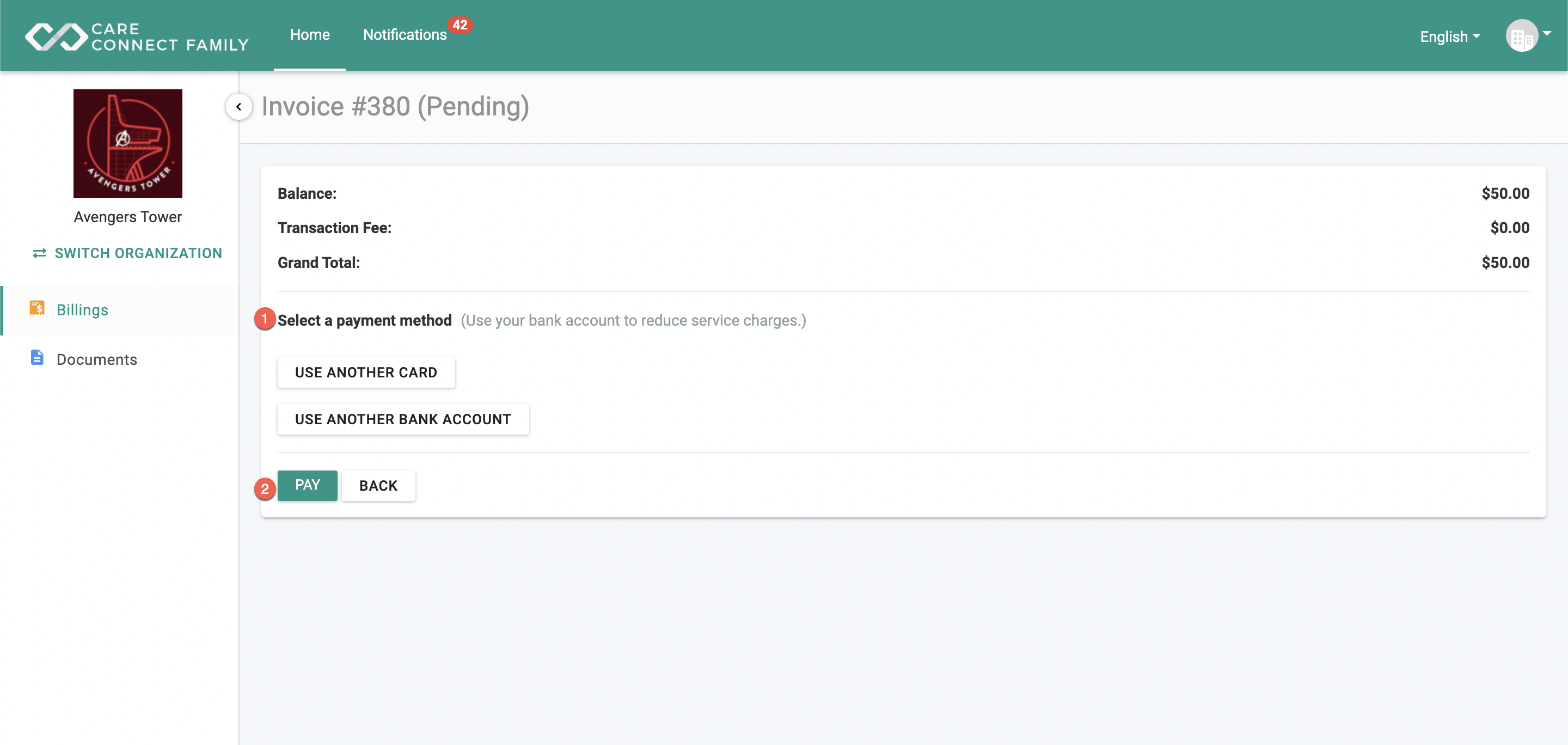 8. After payment is made, the payment receipt is available to view or print. Refer
here
for more information.
III. Setting up Auto Pay
Step 1: Within your Billing section, select the Auto Pay tab.
Step 2: You will be able to decide whether or not to enable auto-pay for the selected organization.

You can also view all of your organization's auto-pay options by selecting your profile at the top right corner and selecting AutoPay.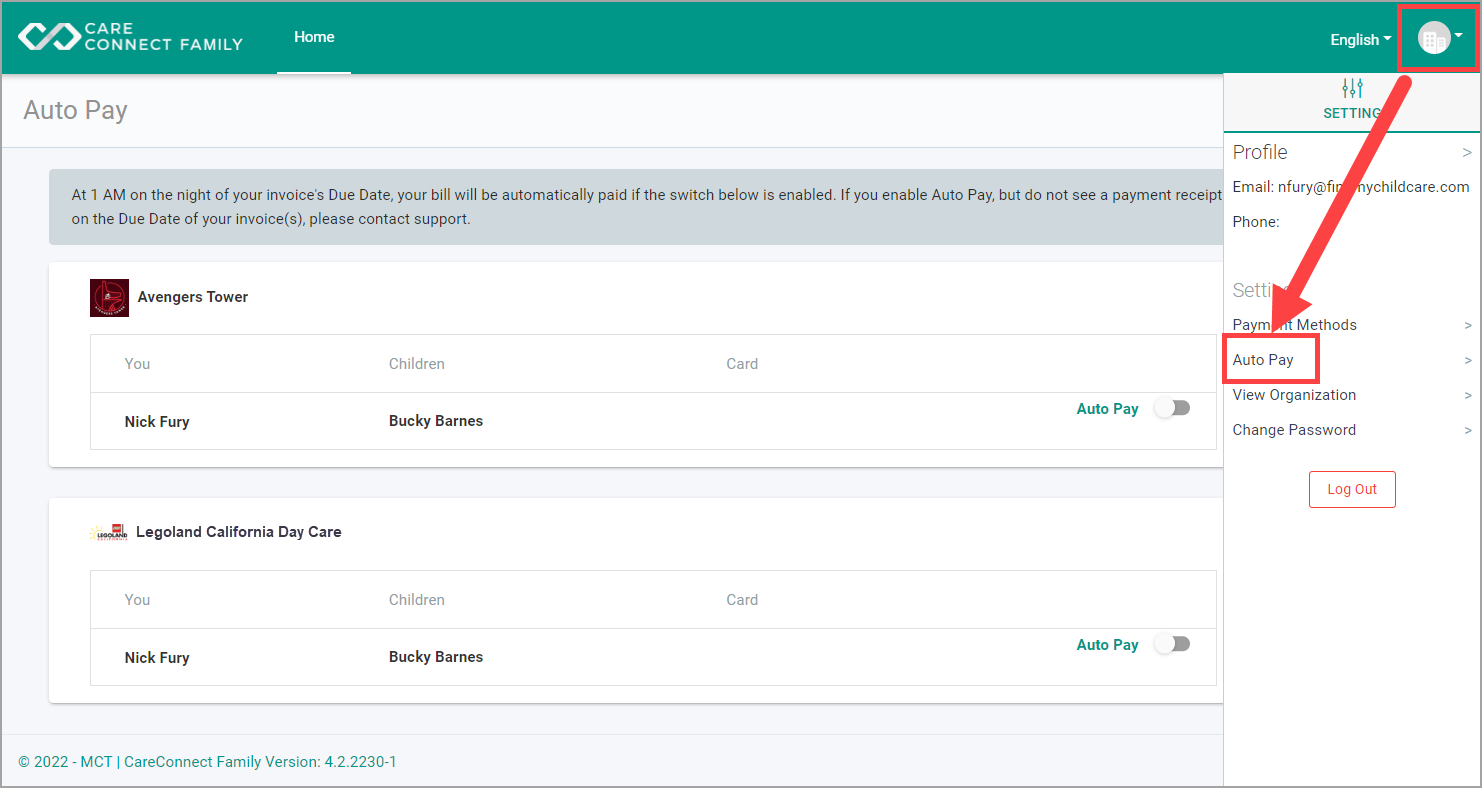 Español

:
Una vez que haya creado con éxito su cuenta CareConnect y haya agregado un método de pago, ¡estará listo para pagar sus facturas! Este artículo lo guiará a través de los pasos desde ver la factura hasta pagarla en línea.
I. Recepción de la factura
Si su agencia o escuela de cuidado infantil conectada permite el pago de facturas en línea a través de CareConnect, tendrá acceso para ver las facturas y pagar en línea en su cuenta de CareConnect Family.
Cuando su escuela o agencia de cuidado infantil conectada le envíe una nueva factura, recibirá una notificación para notificarle de la factura para iniciar sesión en CareConnect Family para ver su detalle.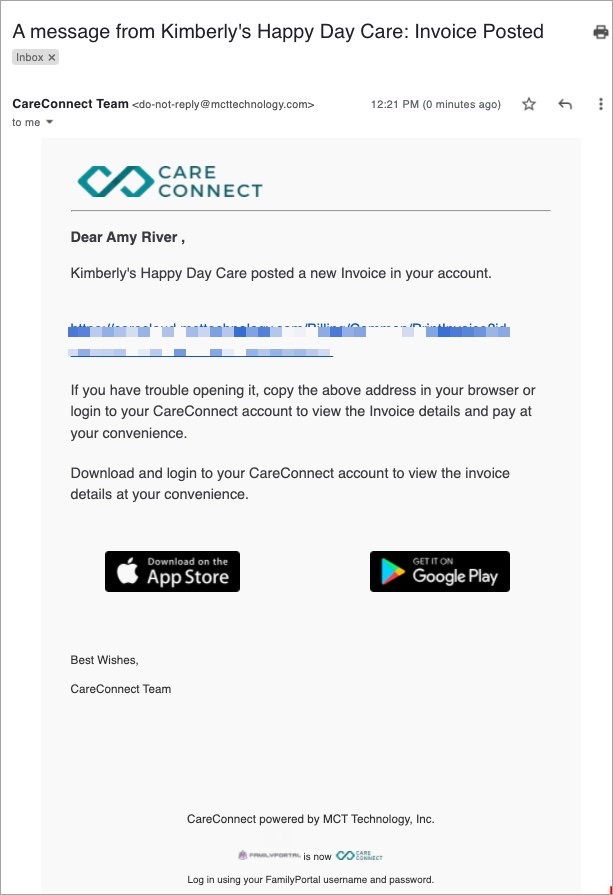 II. Localización y visualización de la factura
1. Empiece por iniciar sesión en su CareConnect Family → Debajo de Inicio es donde puede verificar si hay facturas pendientes para cada una de las agencias de cuidado de niños o escuelas conectadas.

2. Una vez que haga clic en la sección de Facturación, será redirigido a la página de Facturación para ver una lista de todas las facturas. De forma predeterminada, solo se muestran las facturas pendientes y pagadas parcialmente.
SUGERENCIA: puede modificar el rango de búsqueda y el estado de la factura para encontrar una factura específica.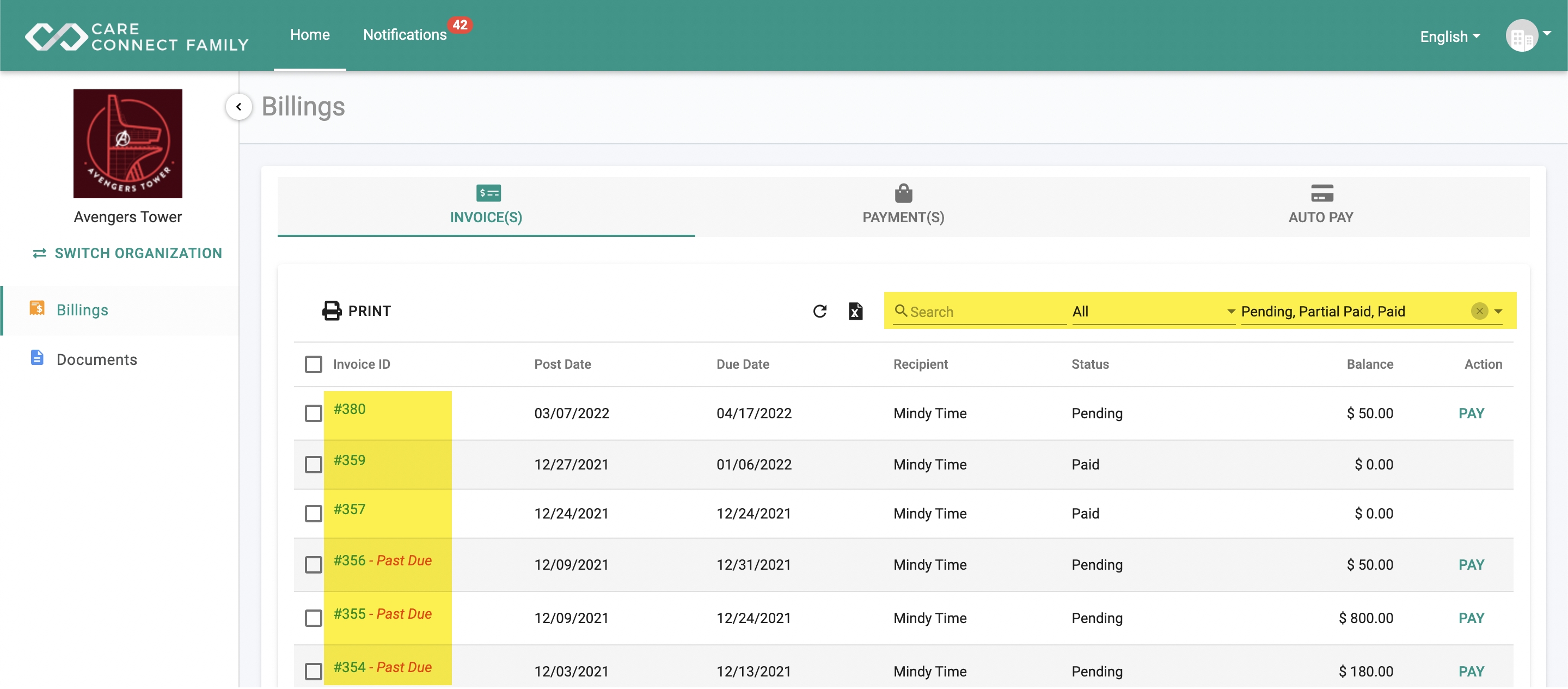 3. Ubique la factura que desea pagar.
a. Si desea ver los detalles → Haga clic en el número de factura.
b. Si desea pagar sin revisar los detalles → Haga clic en el icono de pago a la derecha de la factura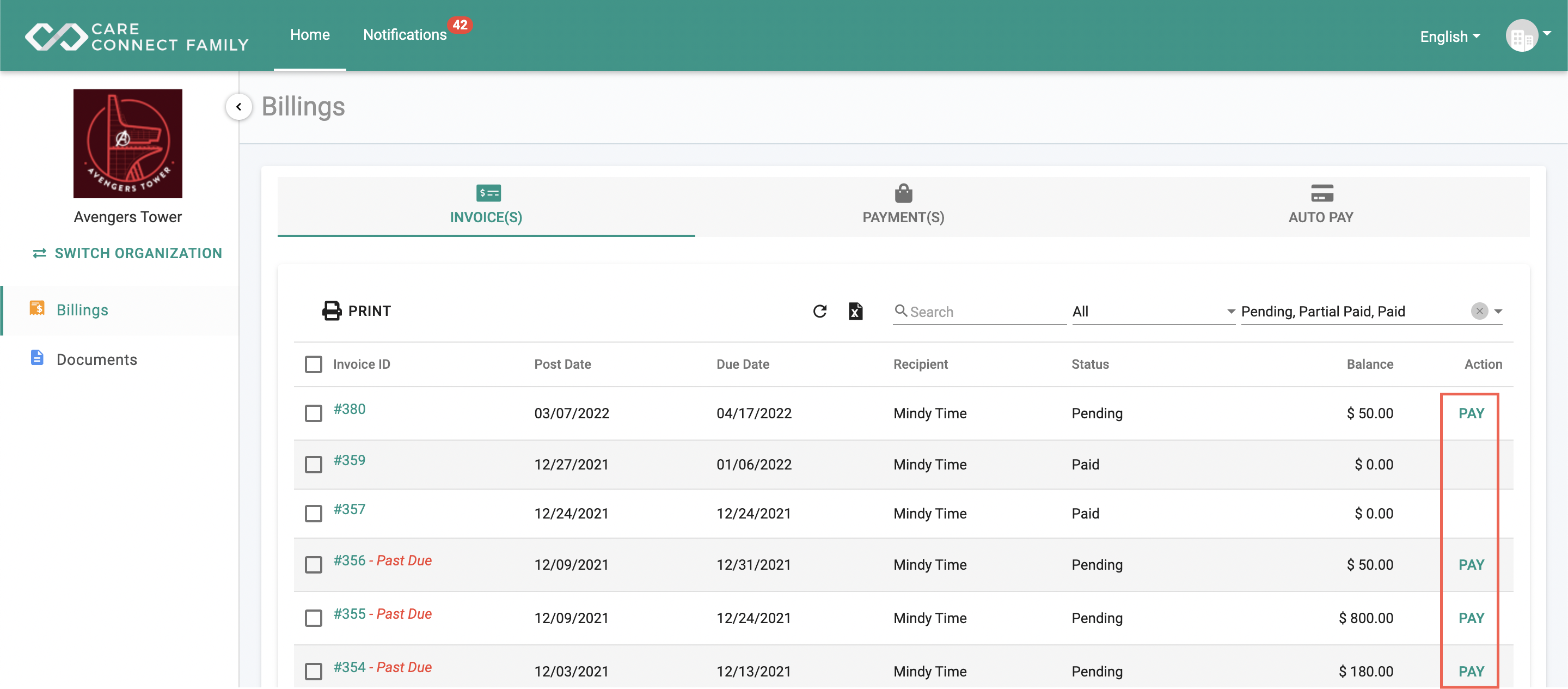 4. Si hace clic en el número de factura, se mostrarán los detalles de esa factura. Aquí tienes opciones para:
a. Pagar la factura con el botón Pagar
b. Imprimir el extracto de la factura con el botón Imprimir
c. Regresar a la lista usando el botón Atrás
NOTA: Si alguna información no es correcta o si tiene alguna pregunta sobre su factura, comuníquese con su agencia de cuidado infantil o escuela. El equipo de Careconnect no puede modificar ninguna factura que se le haya enviado.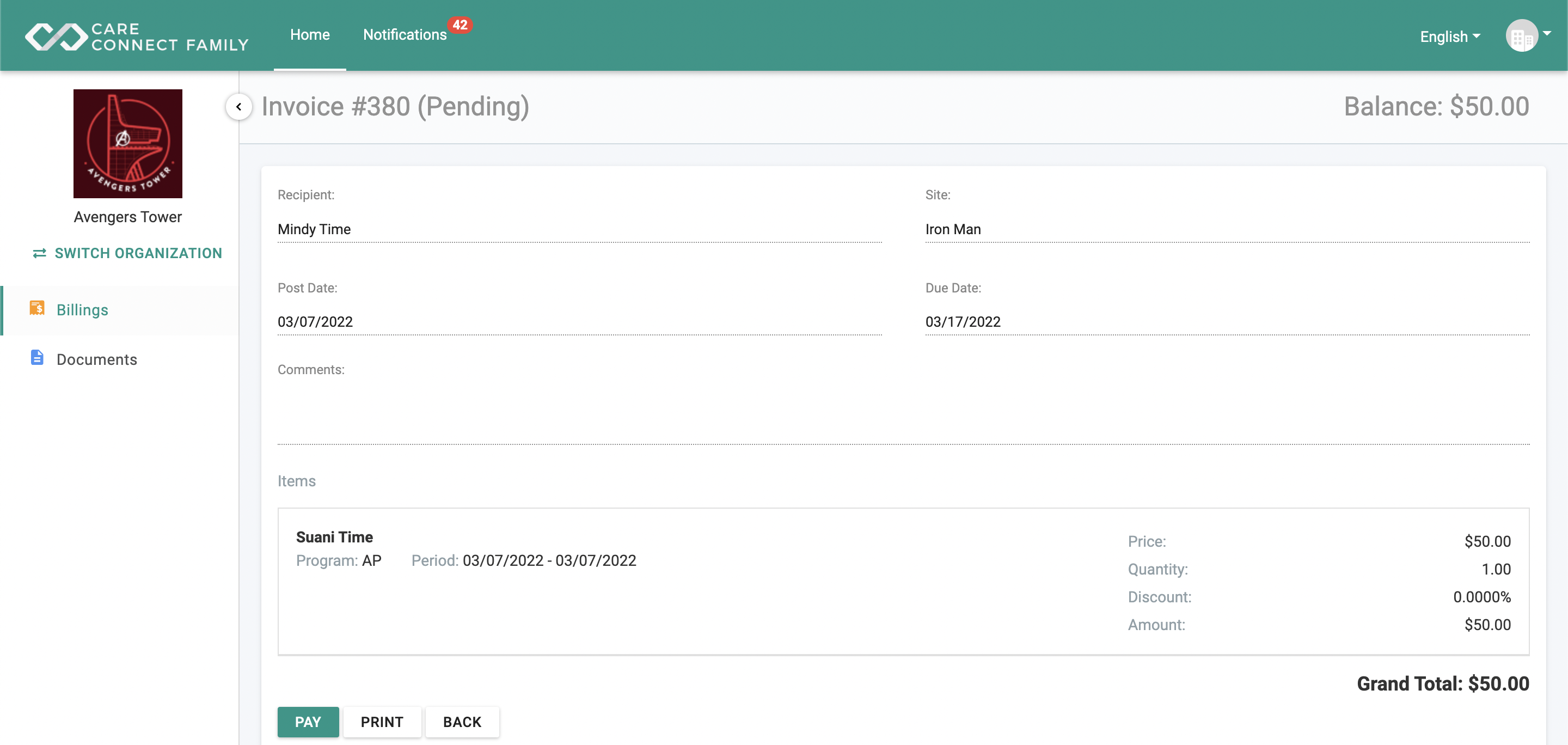 5. Si selecciona Pagar, se abrirá una pantalla de pago con opciones para que seleccione un método de pago.
6. Aquí se mostrará el método de pago que se agregó en la configuración de su cuenta. Si no agregó ningún método de pago antes, puede agregarlo o agregar otro método de pago en este paso.
7. Una vez que esté seguro de qué método de pago usar → Seleccione
Pagar
para enviar su pago.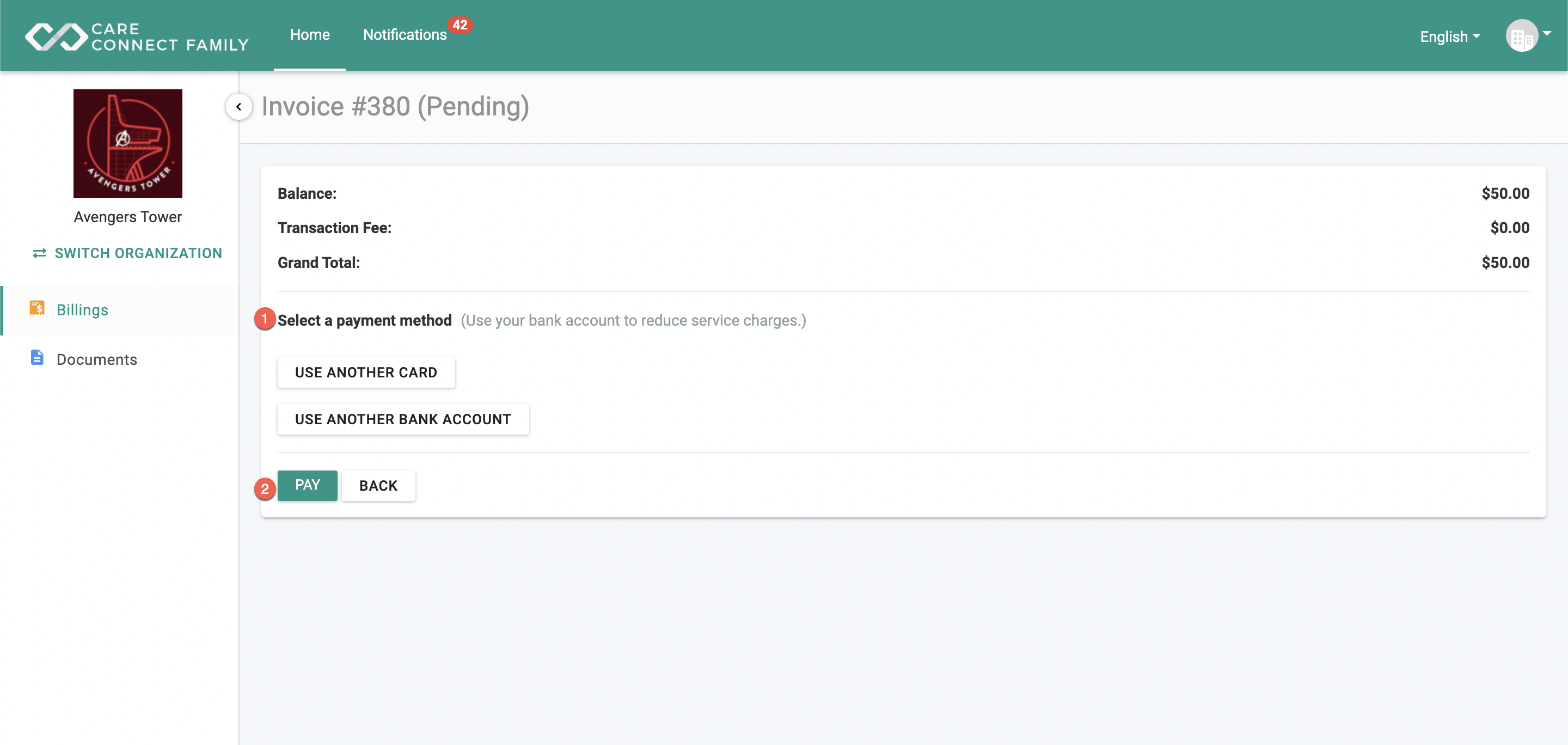 8. Una vez realizado el pago, el recibo de pago está disponible para verlo o imprimirlo. Consulte aquí para obtener más información.
III. Configurar el pago automático
1: Dentro de su sección de facturación, seleccione la pestaña de pago automático.
2: Podrá decidir si activar o no el pago automático para la organización seleccionada.

También puede ver todas las opciones de pago automático de su organización seleccionando su perfil en la esquina superior derecha, y seleccionando Pago automático.